In Julian Schnabel: A Private Portrait, Schnabel is either talking or people close to him are talking about him. On a larger screen than his own large canvases, the artist paints, revisits his journey from Texas to New York, recalls the 1980s, dives off a high platform into the Mediterranean and paints some more.
The film is a cinematic portrait that features archival footage and is directed by Pappi Corsicato, a filmmaker whose work spans profiles of Richard Serra and investigations into the ruined city of Pompeii. Schnabel, who is credited as an executive producer, says there's no special reason why the film premiered last week at the Tribeca Film Festival and will open Friday at the Quad in Manhattan.
"Maybe the reason why it's coming out now is because it's finished now," said Schnabel, 65, sitting at a table with Corsicato in the skyscraper office of Cohen Media, a film distribution company founded by the real estate tycoon Charles Cohen, owner and renovator of the Quad.
"I didn't want anybody to make a movie about me. What was important was that the work was shown. It's not trying to show something that's spectacular, but at least you can get a sense of the scale of the work," said Schnabel, who wore a warm-up jacket with a reproduction of one of his paintings on the back.
"I sort of feel like I'm a broken vase, and that he picked up the pieces and put the vase together as best he could," he said, speaking about Corsicato. That's high praise from a man who has broken his share of plates.
"It's not a biography," said Schnabel, who told me he never intended to make a self-portrait on film. "But my father said to me, when I made a film about Jean-Michel Basquiat, that I should have made it about myself."
I asked Schnabel what he said to his father after that suggestion.
" 'It's O.K., Dad,' " he remembered saying.
Schnabel also noted that he originally hadn't intended to make the film about Basquiat either. "I never thought I was going to be a movie director," he said, "but when Jean-Michel died, a Polish movie director came to interview me about Jean-Michel. His name was Lech Majewski, and he had a pretty encyclopedic knowledge of film. But he was a tourist, and I knew Jean-Michel so well and I knew what the world was. I think one of the problems with movie-making is that people don't know their topic."
Corsicato, a Neapolitan who knew Schnabel before he spent two years making the documentary, set his sights high when it came to making a documentary about the artist. "It's my vision of Julian's life. It's my personal point of view. It's like a story that you see in a movie. It's like a classic movie. In the beginning I was inspired by Citizen Kane, Charles Foster Kane, the little kid who becomes grand—but from an artistic point of view. It's really like an American dream," he said in heavily accented English.
I asked whether Corsicato saw Schnabel as Orson Welles or Charles Foster Kane.
Schnabel spoke up. "That's a good question," he said.
"Maybe it's even more of a Fitzcarraldo kind of character, in the sense of what makes you do something that is ultimately illogical, like going to Sevilla and filling an abandoned monastery with paintings," Schnabel said.
"What I do know is that history is a lie," Schnabel declared. "Everybody has their version of history.
"You were there and they were there, and it's amazing how different their perception is of an event that occurred, but that's their truth," Schnabel said, looking at Corsicato. "Somebody else would make a very different film. When he says that this is a private portrait, I would say that it's private to him."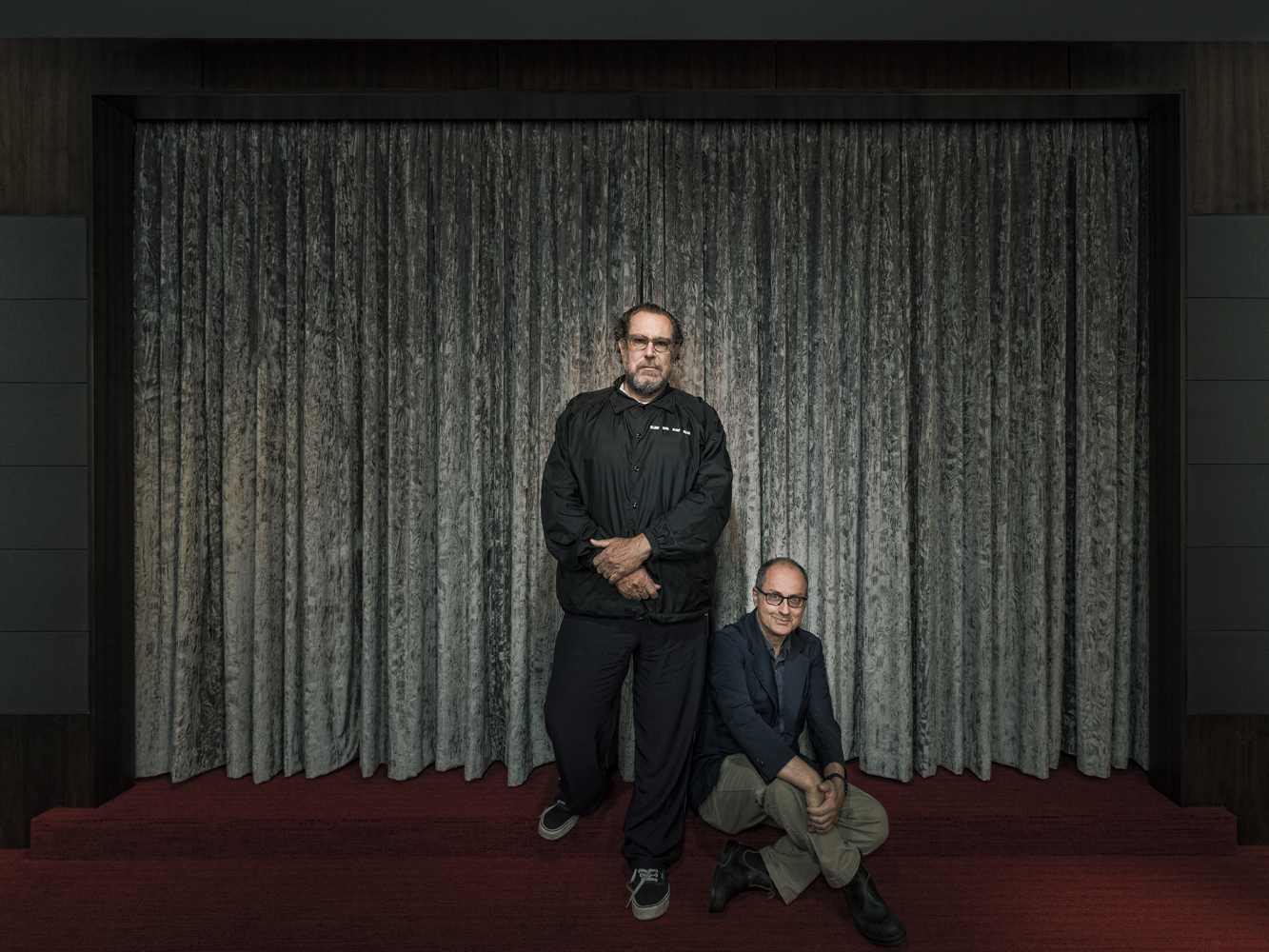 Throughout the film, family and friends recall Schnabel breaking rules and being true to his own creative spirit. Not a critical word is spoken, yet some recollections may come as a surprise. Jeff Koons, a contemporary, discusses how Schnabel helped him sell his first work of art.
"I guess it was nice that he said that. That's true, and I also got him his first exhibition," said Schnabel. "When I first came to New York, nobody really helped me. Maybe that's why I thought it was good to help other people. It was pretty tough. Nobody really liked young artists in the '70s. I supported other artists, and I still do."
Tough times indeed. Shadowman, another documentary that revisits the 1980s art scene, made its world premiere at Tribeca and was runner-up for the festival's audience award. The subject is Richard Hambleton, whose graffiti daubs of threatening figures on the corners of buildings got him more attention than Keith Haring or Basquiat in the early 1980s. Hambleton, who attended his premiere in a wheelchair with a mask covering his cancer-ravaged face, struggled with drug addiction, then and now, and would disappear from public view for years at a time. In the film, Hambleton laments that, "at least Basquiat died. I was alive when I died, that's the problem."
The Hambleton story brought Schnabel back to the theme of success in the art market. "We're talking about apples and oranges. It depends on what you make," Schnabel noted.
"There are so many different lives," said Schnabel, who has made two films in his career about artists who died young: Basquiat and the Cuban poet Reinaldo Arenas (Before Night Falls). "Look, Vito Acconci died last night. Was Vito Acconci a successful artist? I would say he was. Was he a household name? Plenty of people who you talk to won't know who he was. But I can tell you how important he was," said Schnabel.
"You can look at an [Anselm] Kiefer painting which is very large, and people can understand why you might buy one of those and hang it in your house. But what about a Fat Chair by Joseph Beuys, which generated what Kiefer does?" the artist asked. "It doesn't have the same kind of marketability, because it's a peculiar object."
"Beuys was a seminal influence for many artists—Sigmar Polke, Gerhard Richter, Binky Palermo—who were all his students. Yet when he died, his obituary might have said, 'the greatest artist on the north side of the street in Dusseldorf,' " Schnabel added.
"So many people around us have died—Lou [Reed], David Bowie, and now Jonathan Demme. It's a death sentence being born. But what do you make out of it?" the artist asked. "So if someone says that Keith [Haring], died and Jean-Michel died—and it's certainly why his paintings got so expensive—I don't know that it's the answer to say, 'I'd rather die before I get old,' like in the punk rock song."
I asked if he would be making another film of his own. The artist responded with the name of yet another artist who died young. "I've been working on something about Vincent van Gogh. I'm working with Jean-Claude Carriere," he said. Carriere, the veteran screenwriter, is one of many friends interviewed in Corsicato's documentary.
Van Gogh's myth is securely in place, but I mentioned to Schnabel that Before Night Falls, his portrait of a martyr to Castro and to AIDS, is responsible for making Reinaldo Arenas and his poetry known to a far greater public than if the film had never been made.
"That's what I was hoping to do," he said, looking across the table at Corsicato, "maybe that's what this film will do for me."