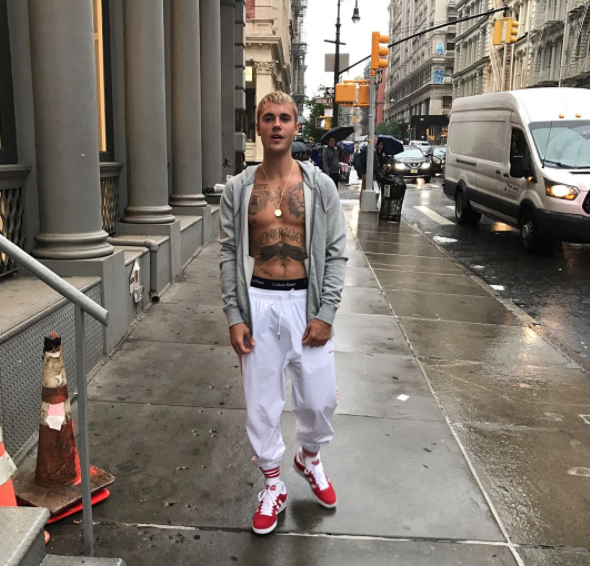 While many people have no doubt fantasized about trading punches with Justin Bieber, few have actually been given the opportunity (although Bieber has punched a teen fan). Over the past few days, the former Comedy Central Roast victim has been ready to Rumble, as he has been spotted taking group classes at the hottest new boxing gym.
No word yet on whether or not he put one of his many nemeses face on the bag, so Seth Rogen and Taylor Swift are safe for now—but it's not too late for them to say sorry, just in case.
Williamsburg's favorite musician has been spotted all over the city lately, infuriating people per usual. It wouldn't be unexpected for a line to emerge at Rumble to beat up the Biebs, especially after a particularly painful, and slightly racist, attempt at singing his remix of "Despacito."
At 1 OAK (because honestly, where else would he be?) he drunkenly attempted performing the reggaeton hit, which is the first Spanish language number one single since "Macarena" climbed the charts way back in 1996. As he doesn't know the Spanish, he stumbled over the lyrics in the song's chorus. Of course, a depraved, King Joffrey-worthy evening at a nightclub could excuse missing a word or two and apologizing profusely. But instead, he rapped, "I don't know the words, so I sing Dorito."
The "Love Yourself" singer didn't even see fit to appear in the music video, where performers Luis Fonsi and Daddy Yankee make their way through Puerto Rico, while Bieber is shown on tour.
It makes sense the former monkey owner would attend Rumble classes, as it's a mainstay for models. Noah Neiman, a former star of Bravo's Work Out New York and a sometimes model, is one of the founders. Maybe he's looking for the next Bronte Blampied. What doesn't make sense, however, is eschewing private lessons for group exercise classes with plebeians.
But again, there are plenty of model scouting opportunities available, and he hasn't been rumored to be dating one for a while now. Models Lexi Wood, Monica Cima, Lois Schindeler and Liraz Dror have snapped from the studio lately, so they could be potential options. Sorry, Bronte.