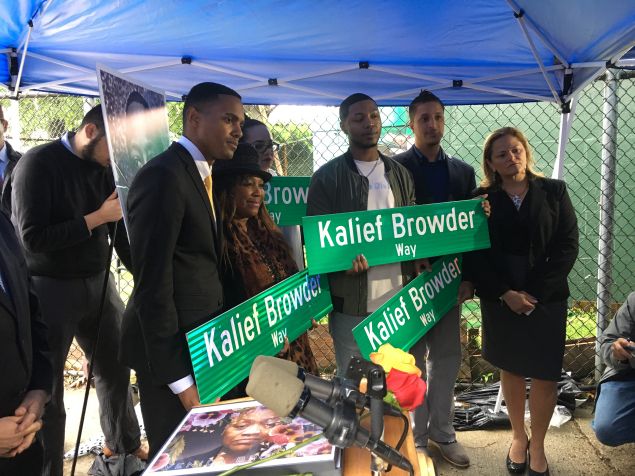 The brother of the late Kalief Browder, the young man who killed himself after being jailed at Rikers Island, used today's renaming of a Bronx street for his lost sibling to call for political unity around criminal justice reform.
Browder took his own life in June 2015, after spending three years on Rikers and more than 400 days in solitary confinement, while unable to pay bail and awaiting trial for allegedly stealing a backpack. The trial never took place and the charges against him were dismissed.
Standing with family and politicians at the corner of East 181st Street and Prospect Avenue, Akeem Browder—founder of the Campaign to Shut Down Rikers and the Kalief Browder Foundation—thanked his late brother for giving his family and others "not only a burden to our hearts, but also a legacy for us to live."
"With us, I think that we as a people should start coming together more often and start realizing that Kalief's name was to understand that all kids—not just Kalief—go through a system and we need more thought put into what we're doing and how we're doing it and the hearts that we're moving," Browder said. "My mother and my family was raised in this neighborhood and we'll always be Bronxites until we're gone 'cause this is the place that we call home, so let's bring our homes together."
He said that they aim to do "much more" with his name "and in your honor and in your memory."
Kalief Browder's story was documented by The New Yorker, which also discovered surveillance footage of him being beaten at Rikers. Rapper Jay-Z also made a docu-series about him.
The considerable attention and controversy attending his demise inspired a number of reforms to the city's bail system. His mother, Venida, died in October 2016.
Akeem Browder founded the Campaign to Shut Down Rikers to push for the closure of the famed incarceration facility after his brother's death. He also established the Kalief Browder Foundation, which strives to formulate new, hands-on solutions that will help prevent re-incarceration, advocate mental health wellness and social justice reform.
At the end of March, under pressure from left-wing activists and City Council Speaker Melissa Mark-Viverito, Mayor Bill de Blasio announced a plan to shutter the Rikers over the next 10 years and create a new, diffuse jail system. The political labors involved will all fall upon his successor, regardless of whether the liberal Democrat wins reelection this fall.
Akeem has said the mayor's plan isn't sufficient.
Bronx Councilman Ritchie Torres, who arranged the renaming and organized the ceremony, said that it is a testament to the "moral force of a story" that New York is "as close as we've ever been to closing Rikers."
"The story of Kalief Browder exposes everything that is corrupt and cruel and callous and complacent within the criminal justice system," Torres said. "At a time when Black Lives Matter has become a national rallying cry for racial justice, Kalief's story reminds us of how deeply and painfully black life can be devalued within the country we call home."
Torres said the deceased's legacy includes the end of solitary confinement for teenagers, a plan to close Rikers Island, the raising of the age of criminal liability for 16- and 17-year-olds in some cases and the "culture shift" toward alternatives to incarceration.
Bronx State Senator Gustavo Rivera and Bronx Assemblyman and Democratic National Committee vice chairman Michael Blake asserted the plans to close Rikers and to prevent the prosecution of minors as adults do not go far enough.
"Let this sign and his name on this street be a reminder, let this tragedy focus us and continue to focus us so that we do not forget that Kalief is one, but there's hundreds if not thousands of young men and women who are seeing their lives broken and if we do not change the system, will continue to see their lives broken," he said.
Blake said they have to make sure that "we raise the age right" and not just "stop where we're at."
"We're just not here to name a street, we're here to make sure we never forget," he said. "Never forget the reality is that we were able to just change a law but we shouldn't have been here in the first place."
Deion Browder, Kalief's brother, said that Prospect Avenue "has been one of the hearts of all our family."
"Not only does it symbolize the direction that Kalief has made for everyone else but also the impact on everyone's life that he has touched," he said. "Kalief has inspired me to do so much more with my life. Kalief has inspired me to speak up, to have a voice."
His sister, Nicole, noted the circumstances of his death, but emphasized the impact it would have on the future.
"As we all know, Kalief did take his life…However, I stand here and say: my brother means so much to me, not only what he has done for us but what he has done for millions of Americans," she said.