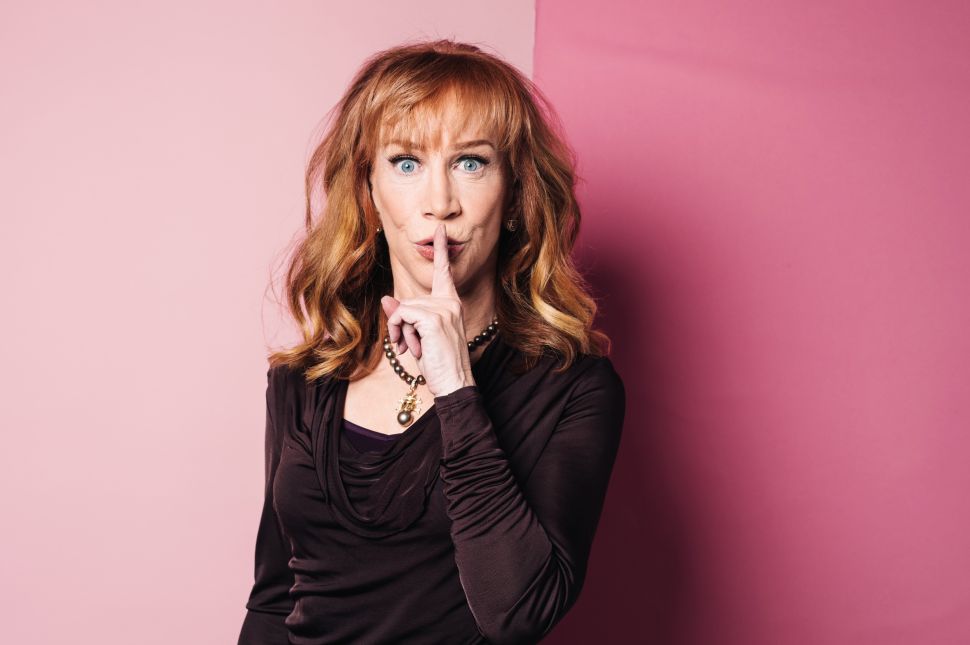 Kathy Griffin is taking a lot of heat for her recent photo shoot where she held up the bloody and severed head of President Donald Trump. But let's not pretend for one second that the fallout would be far, far greater if she or (especially) a right-leaning person were holding up the bloody and severed head of Barack Obama.
There would be no articles posing the question "Did Kathy Griffin go too far?" or writing about the photos only to cover the outrage they caused, rather than the fact that a celebrity—even a D-List celebrity (as she described herself in her own TV series)—thought it would be funny to do a photo shoot where she holds up the head of our president.
Griffin has now apologized for her antics—and lost her spokesman deal with Squatty Potty, which produces toilet stools and other bathroom products.
Though she is showing remorse, it appears to only be based on the backlash she received, because according to CNN, she knew what she was doing and was just fine with it just a day or so earlier. While at the photoshoot with photographer Tyler Shields, Griffin made it clear she knew exactly what she wanted to say with the photo.
"We have to move to Mexico today, but we're going to go to prison—federal prison… We're not surviving this, okay?" Griffin told Shields. She also said directly into the camera that she and the photographer were "not afraid to do images that make noise."
Griffin began singing a different tune after even some lefties called her out for the photos. Chelsea Clinton, daughter of Bill and Hillary and undeserving media darling, called Griffin's photos "vile and wrong." Even Keith Olbermann tweeted that "by a very long distance," Griffin went too far.
In a video apology, Griffin says to the camera that she's "a comic" (the same excuse Jon Stewart would use when one of his Daily Show bits backfired. "I cross the line. I move the line, then I cross it. I went way too far. The image is too disturbing. I understand how it offends people. It wasn't funny. I get it," Griffin said.
She continued: "I beg for your forgiveness. I went too far" and that she "made a mistake and I was wrong."
At least she didn't go with the non-apology line of saying she was sorry if we were offended.
Griffin co-hosts CNN's New Year's Eve event with Anderson Cooper, and at first the network wavered in whether it would cut ties with the comedian.
"We found what she did disgusting and offensive," a spokesman for CNN said. "We are pleased to see she has apologized and asked that the photos be taken down. We are evaluating our New Year's Eve coverage and have made no decisions at this point."
But by Wednesday afternoon, the network changed it's tune, with its communications account tweeting: "CNN has terminated our agreement with kathy Griffin to appear on our New Year's Eve program."
So, yes, Griffin is receiving quite a bit of backlash—the Secret Service even tweeted that "threats" like the one indicated by Griffin's photo "receive the highest priority of all of our investigations."
Maybe Griffin won't be allowed near the President or the White House. I doubt she would have wanted to go anyway, seeing as she has such disdain for Trump and he probably doesn't like her.
Some of the outrage against the Griffin incident comes from the double standard at play. While Griffin has received more backlash than one would expect, there should be no question that a right-leaning person doing the same with Obama's head would have had to fear for his or her life. Remember the rodeo clown who in 2013 dressed up as Obama?
He was swiftly dismissed from the rodeo, called out by politicians in the state (including the Republican governor) and the NAACP called for a Department of Justice investigation into him, claiming that the satire (albeit terrible) was a "hate crime." Because, remember, anything awful done to Obama carried with it a charge of racism.
Griffin also enjoys some privilege in her photo shoot. If a non-celebrity did something like that, they would certainly be investigated as having made a threat against the president, even if he or she claimed satire or comedy. But because most of us know Kathy Griffin, we don't for one second think she would actually attempt to decapitate Trump, even if she not-so-secretly wants it to happen.