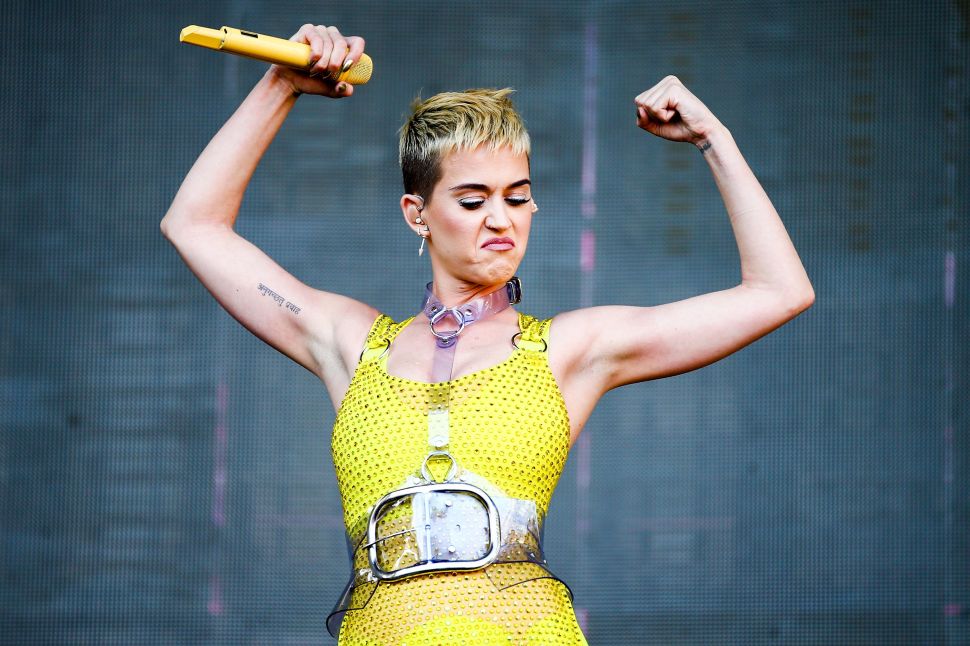 It was a cold evening in November 2011 when I first saw Katy Perry in concert during her California Dreams Tour. I have rarely been to a show where the excitement for a star was so intense. I saw people of all ages in the audience—grandmothers, small kids and punked-up teenagers. After waiting 40 minutes, the lights went off. Katy Perry, donning spinning candy-colored breast plates, appeared to gleefully sing her No. 1 hit "Teenage Dream."
That night, Katy Perry sometimes sounded off-key and danced like there was a string around her legs. But it didn't matter; the charisma Perry displayed outdid any pop star of her generation. Though she was never a belter like Whitney Houston or Christina Aguilera, Perry showed intense emotion and vulnerability throughout the evening. She held a bond with her audience for the next two hours that is rarely experienced at concerts.
Perry's success continued for the next couple of years. Although Perry's 2013 album Prism didn't meet sales expectations, the pop star still produced two No. 1 singles and played sold out shows everywhere. Her Super Bowl performance in 2015 was ridiculously good, and Perry was headed towards becoming a legend. So, what happened?
The beginning of Perry's downfall happened with Olympic theme "Rise," which was supposed to be the song of the summer in 2016. However, it became the first brand new Katy Perry song to miss the top 10. Many thought "Rise" was nothing but a reductive version of her 2013 hit "Roar." There was at least a little light with her next single, the political "Chained to the Rhythm," which peaked at No. 4 but rapidly plummeted down the charts.
Soon, Katy Perry went into reverse flop mode. She suddenly announced her bisexuality, but it seemed like more of a marketing ploy to endear herself with the LGBT community. Fellow pop stars Lady Gaga and Miley Cyrus have also been accused of becoming fake bisexuals in order to market their music. The difference is that both Gaga and Cyrus have done concrete things that helped the LGBT community throughout their careers, publicity stunt or not.
When announcing her bisexuality didn't move records, Perry became hypersexualized and released "Bon Appétit," an ode to oral sex that sounds just as convincing as Taylor Swift or Adele would if they did the same.
"Got me spread like a buffet/Bon appétit baby," Perry coldly sings before following with the lyrics "Appetite for seduction/Fresh out of the oven/Melt in your mouth kind of lovin'."
The song became a PR disaster for Perry, who was accused of being a hypocrite by collaborating with Migos, a rap group that was widely derided for making alleged homophobic remarks. Not only did Perry's fans call her out for it, but the song only peaked at No. 59 on Billboard's Hot 100 before dropping off. Attempting damage control, Perry released "Swish Swish" late last week. The song is allegedly about Taylor Swift, but isn't doing Perry any favors despite a Nicki Minaj rap in the middle.
"Swish Swish" wants to create the sound of early 1990s house music, but doesn't push the sound quite hard enough. It's as if Perry didn't want the record to sound too nostalgic, but she would have been better going all the way. The pop star also sounds distant and whiny as she sings about someone who will eventually get their karma. Nicki Minaj adds some spark to the song as she raps her insults right after the 2:20 mark, but it's too late to save the sinking ship of a song. Perhaps a remixed version will make this song a little more tolerable.
Though "Swish Swish" is doing better on iTunes than "Bon Appétit," that's not quite an achievement. The song has yet to hit the top 10, and—as of Monday evening—fell to No. 19 on the iTunes chart despite a high-profile performance on SNL with drag queens that some in the LGBT community thought was inauthentic and exploitive. Spin, the Daily Beast, and other sites have given the song negative reviews. However, unlike "Bon Appétit," "Swish Swish" is being praised by at least some of Katy Perry's hardcore fans.
It's somewhat difficult to bash Katy Perry, especially as it fits into the build-em-up-and-tear-em-down attitude the general public and critics have towards female pop stars. Madonna, Mariah Carey, Britney Spears, Lady Gaga, Taylor Swift, and a slew of other female pop stars have been torn apart, and sometimes the backlash was warranted. However, the vitriolic, fun, and sporting nature of seeing female pop stars suffer has never been aimed at their male counterparts—unless we're talking about Justin Bieber. However, he was instantly forgiven and built back up.
Unfortunately, Katy Perry makes it easy for us to bash her, simply because we expect authenticity from the pop siren. Instead of being authentic, Perry is throwing everything at the wall to see what sticks, and, unfortunately, it's all just falling apart. Katy Perry isn't over with; she has too much charisma and is, in general, a very likeable person. Perhaps the lack of success with the Witness album campaign could be the best thing for her career. After she falls hard and learns her lesson, Katy Perry will likely become herself again. She will come back stronger than ever.
Daryl Deino is a writer, actor and civil rights activist who has appeared on shows such as The Untouchables, Parks and Recreation and Two Broke Girls. Besides writing for Observer, he has also written extensively about technology, entertainment and social issues for sites such as the Huffington Post, Yahoo News, Inquisitr and IreTron. Follow him on Twitter: @ddeino.