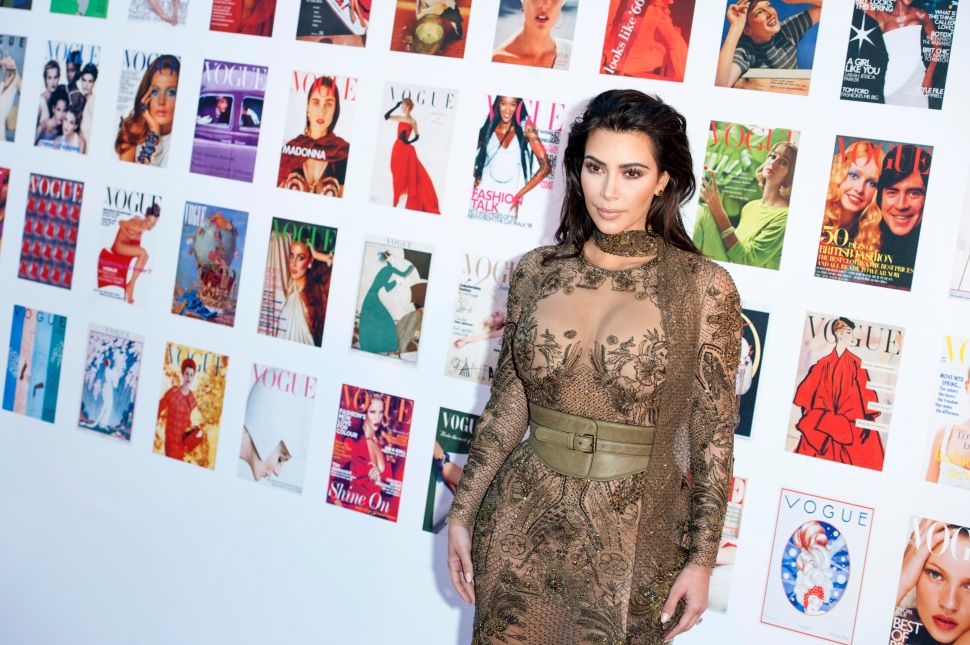 "Kim Kardashian has no talent!"
"Kim Kardashian is fading!"
"Keeping Up With the Kardashian's ratings are plummeting!"
"Kim is a bad role model for young women!"
These are just some of the things you hear about Kanye West's wife on a daily basis. It seems that to some, seeing Kim Kardashian fail is more important than the economy, worldwide famine, and diverting an upcoming apocalypse.
For the past couple of months, instead of empathizing with Kim for surviving a violent robbery, media sources have concentrated on how poorly her reality show is doing. "Keeping Up with the Kardashian Ratings PLUMMET!" screamed Perez Hilton's site in late March. "Despite Robbery Reveal, Kardashian's Can't Keep Up Their Ratings," joked Forbes. The usually outstanding and creative The Wrap came up with the uncreative headline, "Keeping Up with the Kardashian's Ratings Are Anything But Keeping Up."
According to Showbuzz Daily, KUWTK scored 1.35 million viewers on April 30 and 1.48 million the weekend before. These numbers are actually pretty good for a cable television show, even if they aren't what they were at KUWTK's peak. Furthermore, ratings are decent for a show that has been on for almost ten years. It's difficult to name a show that retains peak ratings for ten—or even five—years. There are rare exceptions such as Grey's Anatomy, but that airs on regular television and is not a reality show.
No matter what you think of her, Kim Kardashian is here to stay. KUWTK might have been her launching point, but the star's brand has gone way beyond that. A lot of people ask what her talent is without realizing she is an entrepreneur, a social media maverick, and most importantly, a professional shit stirrer. And the same people who claim they dislike Kardashian are secretly obsessed with her and would probably bow to her feet if they saw her in person.
A perfect example is the #Blogher16 conference that took place in Los Angeles last August, which this author was invited to. Before Kardashian took the stage, insults about the reality star spread around the place like wildfire. You would think that at a progressive feminist conference like this, there wouldn't be other women calling Kardashian an "attention whore," a "slut" and other misogynist terms—but there were. However, that changed once Kardashian hit the stage; everybody cheered like it was a Beatles concert. When Kim finished, many rushed to the stage to get selfies with the star.
When speaking to the audience, Kardashian defended what she does as certainly a full-time job, especially since she comes up with her own blog posts, her own emojis, her own Instagram posts, etc. She indicated that it hurts when people assume she doesn't have talent and doesn't have to work hard because it's the furthest thing from the truth.
Perhaps the most important part of Kardashian's segment at #Blogher16 was when she talked about feminism and being a role model. Kim said she doesn't think about the topics too much and that she does what makes her happy and confident. She understands where her critics are coming from, but realizes what makes her happy may not be what puts a smile on someone else's face. Kardashian said she doesn't expect people to emulate or agree with everything she says or does.
It would be difficult to say that Kim Kardashian is the perfect role model for feminism. However, one could argue that the harsh reaction to Kardashian, which many times deals with misogyny more than valid criticism, is a reason why feminism—at least the kind that supports women expressing themselves the way they want—is needed.
Sure, Kardashian may be oversharing, but does anything positive come out of shaming her for cellulite? Constantly posting pictures of herself while pregnant may be tasteless to some, but did fat shaming the star during and right after her pregnancies prove any point? Perhaps being robbed at gunpoint in a Paris hotel room should have made Kardashian reconsider her constant oversharing, but the victim-blaming that followed the incident was absolutely pathetic. Some wonder if Kardashian would receive so much vitriol if she was a man.
The obsession with everything Kim Kardashian does or fails at is the main reason she'll be around for a long time. Even if what she does doesn't fit the traditional definition of "talent," the superstar remains a formidable figure who people use to mirror their own attitudes and shortcomings. The only way Kim Kardashian will become irrelevant is if people stop mentioning her name, and that won't be happening anytime soon.
Daryl Deino is a writer, actor and civil rights activist who has appeared on shows such as The Untouchables, Parks and Recreation and Two Broke Girls. Besides writing for Observer, he has also written extensively about technology, entertainment and social issues for sites such as the Huffington Post, Yahoo News, Inquisitr and IreTron. Follow him on Twitter: @ddeino.