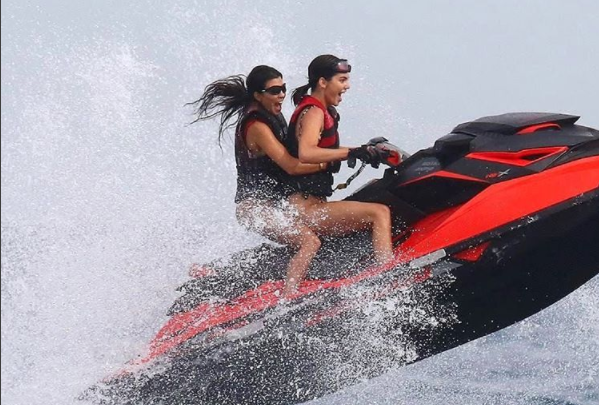 Scroll down for the top celeb Instagram posts the week, including Bella Hadid's Bulgari campaign, Kourtney Kardashian and Kendall Jenner's Cannes yacht photoshoot, Justin Bieber's ode to himself, Kim Kardashian's anniversary post for Kanye West and Rob Kardashian's snap of his daughter, Dream. There's also Jenner Lopez's #mcm for A-Rod, Nina Dobrev's New York photoshoot, Bella Thorne's birthday Instagram for her ex Gregg Sulkin and Britney Spears' red moment. 
Jennifer Lopez
Jennifer Lopez and Alex Rodriguez are very Instagram official, and now they're at #MCM status.
Kendall Jenner 
Kendall Jenner took millennial pink to a new level with this snap of the model wearing a pink bikini, atop a pink flamingo on a yacht in Cannes.
https://www.instagram.com/p/BUeZiJyjXtS/
Kim Kardashian 
Kim Kardashian shared a sweet post in honor of her third wedding anniversary with Kanye West.
Justin Bieber 
And here's Justin Bieber kindly sharing a five-photo Instagram collage of himself shirtless walking the streets of New York City.
Nina Dobrev
Elsewhere in New York, former Vampire Diaries actress Nina Dobrev was at a photoshoot at the Viceroy.
Bella Thorne
There's no love lost between Bella Thorne, Cannes and her 11-day relationship with Scott Disick, but she's still pals with her ex Gregg Sulkin, if her birthday Instagram for him is any indication.
Kourtney Kardashian
But Kourtney Kardashian had a fantastic time in Cannes, especially with her little sister Kendall aboard that yacht.
Bella Hadid
Somewhere in between the Film Festival and Monaco Grand Prix, Bella Hadid stopped in Rome for the launch of her perfume campaign for Bulgari.
Britney Spears
Britney Spears posed in a red dress on her balcony.
Rob Kardashian
Rob Kardashian uploaded an adorable photo of his daughter, Dream.
https://www.instagram.com/p/BUh5HBfhHcf/
Via visual intelligence platform Dash Hudson.