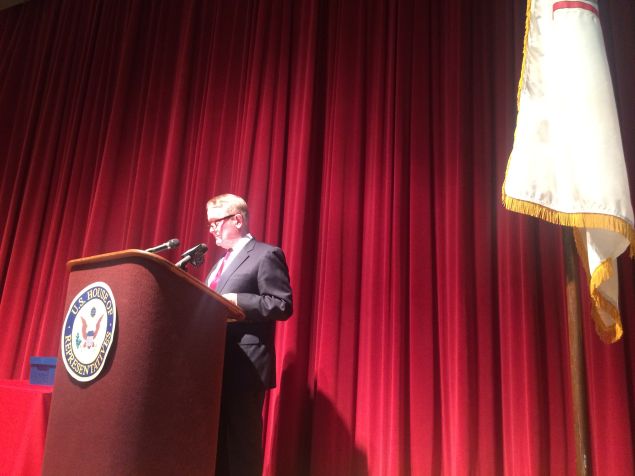 Rep. Leonard Lance told a raucous crowd of constituents on Tuesday night that he does not support President Trump's budget and that he does support an investigation into "the whole Russian situation" led by former FBI Director Robert Mueller.
Although Lance told the crowd at his fourth town hall forum this year that he agrees with Trump on some issues and disagrees on others, the areas of agreement were hard to pinpoint at Tuesday night's event at Union County College in Cranford.
Lance (R-7) has faced angry crowds in his district all year and has used the forums to remind restless New Jerseyans of his moderate record and policy stances. He told reporters after the event that he was not worried about the 2018 midterms, pointing out that Hillary Clinton won his suburban-and-rural North Jersey district by 3,800 votes in the presidential election last year, while he won by 38,000.
Judging by the answers to the questions on Tuesday night, that sense of security comes partly from the fact that he and Trump are not really on the same page on key issues.
Lance said he supports the Paris climate change agreement that the Trump administration is threatening to abandon; supports NATO and the provisions of Article V, which Trump disparaged on Twitter not 12 hours before Lance's forum; supports efforts to combat climate change and fund the EPA, at a time when the White House is proposing to gut the agency's budget.
He supports some form of legalization for undocumented immigrants who have not committed crimes, amid a deportation crackdown; supports a special investigation into the Trump campaign's potential ties to Russia during the election, which the president has called a "witch hunt"; and opposes Trump's budget and his top legislative priority, the American Health Care Act, which would undo key parts of Obamacare.
"I do not favor the budget as introduced and I do not think it will be passed," Lance said. "One wonders whether any budget will be passed." He described the Trump-proposed spending plan, which would make deep cuts to Pell grants, Medicaid, Medicare, food stamps and Social Security disability, as "merely a blueprint of how to move forward, and I think the cuts are too significant."
But after each answer, Lance typically included some caveats.
"I do think we have to do a better job in trying to reach a balanced budget, recognizing that the glide path is such that we're not going to have a balanced budget in this year or next year," he said.
The audience was made up predominantly of disaffected Republicans and liberal constituents. At one point, when Lance asked for a show of hands of people who supported a ban on using federal funds for abortions, only one woman raised her hand in an auditorium filled with hundreds.
Alan Gilson of Somerville said he was turned off from the Republican Party because of the scandals and investigations dogging the Trump White House and the lack of outcry from the GOP-controlled Congress.
"When will you call out the president and Republican leadership on the tax returns that should have been released? On the financial disclosure as we see the obvious financial self-interest of the Trump family? On the obstruction, even if legal but perhaps not ethical, of the investigation into collusion with the Russians? When will you call them out? What will it take to make a clear statement?" Gilson asked Lance.
Another constituent, Martin Carroll of Watchung, called Republicans "a bunch of spineless do-nothings."
Lance said he supported Deputy Attorney General Rod Rosenstein's decision to appoint Mueller, a former FBI director well regarded by both parties, to lead a special investigation into "the whole Russian situation."
"I am of the opinion that the president's tax returns are likely to be subpoenaed by the special counsel," Lance said. But he added that as a lawyer, he was not sure that Trump was violating the emoluments clause of the constitution, which says U.S. officials may not receive financial benefits from foreign governments. Lance mentioned that Trump owns a hotel down the street from the White House. Some dignitaries have stayed there for official visits.
"If a foreign government rents out the ballroom for an event and if the same amount of money is paid by that foreign government for renting out the ballroom as a private entity would pay for renting out the ballroom, no more or no less, does that violate the emoluments clause?" Lance said. "That is an open question, ladies and gentlemen, and I believe that should be decided by the Supreme Court of the United States."
Lance gave a shout-out to Rep. Rodney Frelinghuysen (R-11), who has been under fire in recent weeks for his vote in favor of the AHCA and for targeting a constituent who was critical of him in remarks to the media. Frelinghuysen has avoided the sort of town halls that Lance and Rep. Tom MacArthur have been holding this year with riled-up voters. But Lance declined to say whether Frelinghuysen should hold an event like his.
"I do not choose to tell other members of Congress what they should do in their own districts," he told reporters after the event. "Let me say that I think Congressman Frelinghuysen is doing an excellent job as chairman of the Appropriations Committee, and I think we should be very proud in New Jersey that he chairs the Appropriations Committee. It certainly will help us in major funding issues, for example, the Gateway tunnel."
He also told the crowd during the forum that Frelinghuysen shares his view on the need for funding the National Endowment for Humanities, the National Endowment for the Arts and the Corporation for Public Broadcasting.
Jenny Hughes of North Plainfield said she was concerned for the large immigrant community in her hometown amid a rise in deportations and enforcement actions by U.S. Immigration and Customs Enforcement.
"Their pain is real; it's serious," she said, asking Lance what he could do to help "given the environment, the rhetoric, the nastiness, the empowerment of ICE, the threat to DREAM-ers and people who are not doing anything but living their lives."
Lance said he doubted that a comprehensive immigration reform package could pass the Congress. A bipartisan bill failed in 2013 in the House after passing the Senate. But he added that a piece-by-piece approach might have success.
"We should concentrate on removing those who are not here legally who have committed crimes," Lance said. "Certainly I do not favor removal of DREAM-ers who came here as small children."
He supports "a bill that would permit DREAM-ers who have volunteered and served in our military to be able to become citizens of the United States," he said.
But what about people who aren't DREAM-ers and who aren't criminals, Hughes asked.
"I certainly don't favor deportation in that situation," Lance said. "A compromise might be some sort of legalization but not citizenship."
"Like a light green card or something?" Hughes said to laughter.
"I think it would be of a different color," Lance said.
"If they're contributing to society and paying taxes and their kids are going to school, why not a green card?" Hughes asked.
"There are many people who are waiting patiently in line who are following the rules," Lance said. "Certainly those who are here illegally can get in line."
Exchanges like this went on for more than an hour. Lance invited follow-ups and lightened the mood at times. Some of his responses got warm applause and others earned him heckles and boos and repeated interruptions.
By far the biggest moment came when a retired doctor, William Thar of Summit, made a passionate and detailed case for a single-payer health care system. The United States already runs Medicare for people over 65 and it wouldn't be too hard to expand that to the rest of the population, he argued.
"We actually know how to do this," Thar said. "We've done this for over 50 years. It's one of the most successful programs in the US. It operates more efficiently than any private health care company. … I've never figured out why we haven't made Medicare universal and improved it."
He got a standing ovation. But Lance said doctors wouldn't be able to charge as much and that a single-payer health care system couldn't even get enough support when Democrats controlled the White House and both chambers of Congress after President Barack Obama's election in 2008.
About 170 million Americans get health coverage through an employer, 70 million from Medicaid and 50 million from Medicare, Lance said. The American Medical Association and similar groups would oppose any requirement to shift doctors to a single-payer system, he said. Thar said the AMA represents only 15 to 20 percent of doctors, but Lance said similar groups for specialized physicians also would oppose the move.