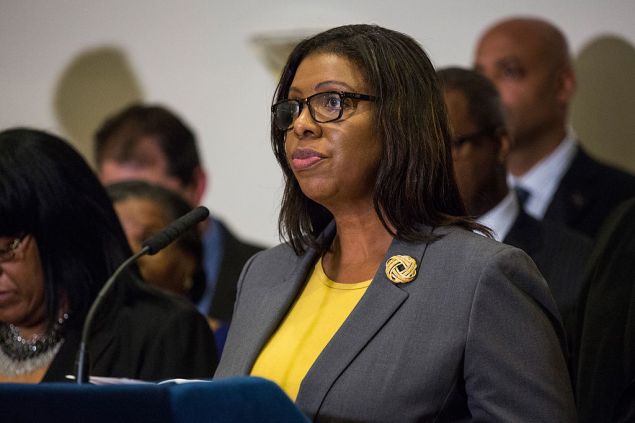 Public Advocate Letitia James called on JP Morgan Chase to end its relationship with two private prison companies that she asserted are profiting from President Donald Trump's aggressive immigrant enforcement agenda.
James penned a letter to JP Morgan CEO Jamie Dimon—an advisor and occasional critic of the president—asking him to terminate his company's agreements with The Geo Group and CoreCivic, divest whatever assets it has in the companies and to publicly reveal the amount and justification for fees and interest income received that are associated with JP Morgan's underwriting or lending activities with the companies. She also requested that Dimon donate all fees and interest income linked to those activities to organizations working to provide immigrants with legal assistance, to denounce Trump's "anti-immigrant agenda" publicly and renounce his role on the president's business council.
"We have a moral and legal responsibility to hold business leaders who are responsible for financing the Trump agenda accountable for their support of these divisive and bigoted policies, and JP Morgan is no exception," James said in a statement provided to the Observer. "New York City has long been the progressive capital of this country and we will continue to go after any company that tries to compromise that."
She asked Dimon to contact her office by May 25 to explain what JP Morgan will do to end its relationships with The Geo Group and CoreCivic as well as its plans to speak out "against the anti-immigrant abuses perpetrated and considered by President Trump."
In her missive to Dimon, James noted that The Geo Group, whose existence she says "depends on revolving credit from banks such as yours," has been accused of flouting the Trafficking Victims Protection Act—which governs how the federal government fights human trafficking domestically and globally—by forcing immigrant detainees to work without pay by threatening to put them in solitary confinement. She also said the company recently authored a Texas bill that would enable it to bypass existing law against jailing immigrant children.
And she said CoreCivic has been accused of being entangled in controversies including "turning a blind eye toward violence, the potentially preventable deaths of immigrant detainees, and prison labor abuse of immigrants."
She noted that as recently as late 2016, the private prison industry "appeared to be on the ropes" after former President Barack Obama's Justice Department announced that it would cut down on the use of private prisons. She said that even though stocks in such companies have bounced back under the Trump administration, it is clear that their fortunes are "inextricably tied to a volatile political situation."
She recalled that Trump's agenda suffered major setbacks given his temporarily-blocked executive orders barring entry to people from Muslim-majority countries and a spending bill that prohibits funding for his proposal to build a wall along the Mexican border. She also noted that private prison stocks momentarily suffered when Attorney General Jeff Sessions caught flak for giving inaccurate testimony to the Senate regarding campaign season meetings he held with Sergey Kislyak, the Russian ambassador.
James acknowledged the memo that JP Morgan's operating committee—which includes Dimon—sent to all employees stating its "unwavering commitment" to all employees in the wake of Trump's first Muslim travel ban and offering support to anyone affected by it. She also noted his support for a path to citizenship for undocumented immigrants and his annual letter to shareholders in early April in which he speaks of the risks that come with "anti-trade and anti-immigration positions."
But she said that JP Morgan is the single largest holder of both The Geo Group and CoreCivic corporate bonds and blasted Dimon's "continued presence" on Trump's business council. Dimon turned down Trump's offer to serve as his treasury secretary.
She added that JP Morgan has "millions of dollars" with the city, receives "millions of dollars" in fees as a broker, a consultant and an advisor to the New York City Employee Retirement System—and that NYCERS, to which she is a trustee, has "hundreds of millions of dollars invested in your stocks and fixed income instruments."
She said the institution's decision to make a long-term investment in the private prison industry raises red flags with respect to the "risk analysis and decision making processes employed by your firm."
The city, she said, may weigh such concerns as it decides which financial institutions with which it will continue to conduct business or to which it will grant future contracts. She added that NYCERS will make similar determinations with respect to determining which advisors to work with and companies in which to invest.
"In New York City, we plan to continue investing in our immigrant communities," James wrote in the letter. "We will do so because it is the right thing to do, and because it makes for smart policy. NYCERS has undertaken a review of its private prison holdings and as a trustee I support the efforts to divest. I want to know that the corporations we do business with share this prudent outlook."
Jonathan Burns, a CoreCivic spokesman, said the company does not draft, lobby for, promote or take positions on proposals, policies or legislation that determine the basis or duration of an individual's incarceration or detention and that CoreCivic has been operating detention facilities for more than 30 years under Republican and Democratic administrations.
He also noted that no child is held in a correctional facility and that they partnered with U.S. Immigration and Customs Enforcement to oversee the construction and management of, which he has recreation areas, classrooms and family housing units. And he added that CoreCivic's ICE-contracted facilities are contractually required and must adhere to mandated performance-based national detention standards and family residential standards.
"The allegations in the letter are blatantly false," Burns said. "We simply will not tolerate the lack of honesty in the public dialogue about our company or, even worse, the incredibly serious challenges facing our country that our company is working with our partners to solve."
On the allegations of violating the Human Trafficking Act, The Geo Group said that the volunteer work program at all immigration facilities as well as the minimum wage rates and standards associated with the program are set by the federal government under national detention standards. And concerning the Texas bill, the company said that the policies related to the use of family residential centers are set exclusively by the federal government and that it has never taken a position on those policies.
"Our company has never taken a position on or advocated for or against specific immigration enforcement and detention policies," the company said. "As a service provider to the federal government, our focus has always been and remains on providing high-quality services through private sector solutions to meet public sector challenges.
On May Day, immigrant advocacy group Make the Road New York and the Center for Popular Democracy launched the "Corporate Backers of Hate" campaign against nine corporations—including JP Morgan and Wells Fargo—they say are profiting from Trump's agenda.
This story has been updated to include comments from CoreCivic and The Geo Group.