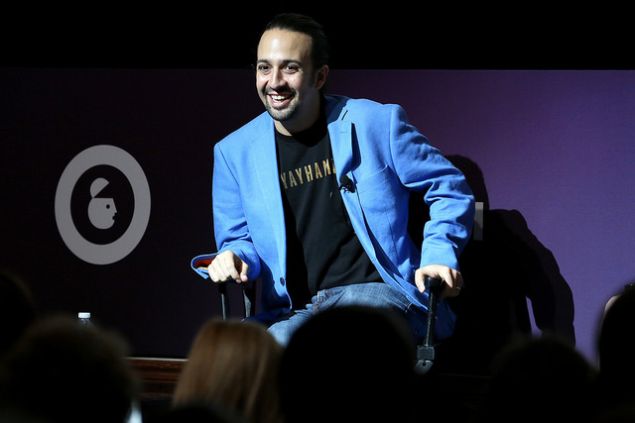 Lin-Manuel Miranda is famous for his social networking—in fact, we've written about how his Twitter account keeps us sane during crazy news cycles.
But Miranda's feed is more than just gifs and Hamilton mashups—he also tries to broaden the musical horizons of his 1.4 million followers. For example, when the Hamilton cast recording was first released, Miranda helped annotate the lyrics on Genius.
More recently, Miranda has started creating weekly Spotify playlists for his family on "Twitterico" (a nickname he coined himself, inspired by his family from Puerto Rico). These mixtapes focus on everything from cover songs to adolescence to London (Miranda's home while he films Mary Poppins Returns).
But this week's mix might be his most meta yet because it focuses on the very platform that's most dear to him: Twitter.
"What Twitter Feels Like" includes a description that reads like one of Miranda's signature rhymes.
"Hope & connections/the painful, the random/the Pornbots & poems/& puppies in tandem/There in the rarified/Air of your mentions/the terrified, Verified/app apprehensions/The bigger, the better, the badder, the bitter/The trigger the titter the tatter the Twitter. Gmorning. Gnight. Repeat," the playlist description reads.
And what about the songs themselves? Well, given that Miranda made the mix the selection is superb—the 35 tracks include music from John Legend, A Tribe Called Quest, "Weird Al" Yankovic, Lana Del Rey, Sting and Rihanna (plus Broadway musicals like Amelie and Dear Evan Hansen). And of course there are references to being "verified" (every Twitter user's dream).
But the real genius of the playlist wasn't revealed until one of Miranda's followers had listened to it all the way through:
Don't be ashamed, Danielle—no one else had figured it out either. But once they did, they just chalked it up to Miranda's mad genius:
Spend as much time as you want on Twitter, Lin—as long it leads to more awesome mixes.