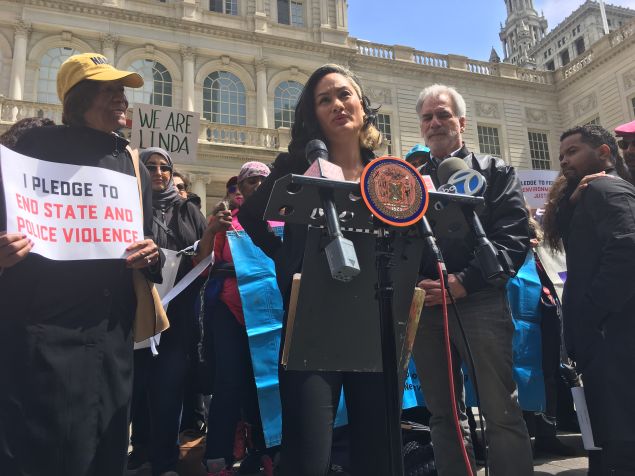 Elected officials and prominent activists rallied in front of City Hall this morning in a show of solidarity with Palestinian-American activist and Women's March organizer Linda Sarsour in the face of calls for the cancelation of her scheduled address at a City University of New York commencement ceremony on June 1.
Brooklyn Assemblyman Dov Hikind, Staten Island Assemblyman Ronald Castorina and Queens Councilman Rory Lancman—who have clashed with Sarsour in the past—have called on the City University of New York's Graduate School of Public Health and Health Policy to rescind the invitation because of her support of the Boycott, Divestment, Sanctions movement, her comments on Zionism, her past supportive statements about sharia law and her protests against Israeli military operations in the West Bank and Gaza Strip.
Sarsour's fellow Women's March organizer Carmen Perez, executive director of singer/advocate Harry Belafonte's Gathering for Justice Group, said her "pledge of liberation" following 100 days of President Donald Trump's administration is to stand with Sarsour.
"You have no right to bash a woman who sees her liberation bound in the liberation of black people, of Latino people, of undocumented people, of Muslims, of all people because Linda's religion doesn't just define who Linda is, that is part of who she is," Perez said.
A member of Gathering for Justice read a letter in support of Sarsour that blasts attacks on her and all of her work that calls on CUNY to stand with Sarsour and for leaders in state government to condemn Hikind and Lancman's comments. The letter was signed by more than 100 groups, activists, community leaders and celebrities from throughout the country.
Sarsour is known for her involvement in the Black Lives Matter movement and in Vermont Sen. Bernie Sanders' presidential campaign. Until recently, she headed the Brooklyn-based Arab American Association of New York, which receives public funding from the city.
Another Women's March organizer, Tamika Mallory said a student approached Sarsour's daughter at school with a copy of Hikind's New York Daily News op-ed, "CUNY's platform for terror sympathizer Linda Sarsour," and asked her if her mother is a terrorist. She said that they don't have time to deal with "stupid, small people" like Lancman and Hikind but that they had "no choice" now.
"Do not call her the terrorist when you are the one spewing hate," Mallory said. "And so we don't just stand with Linda, we stand in front of Linda. We will walk with her, we will be with her, we will pray with her, we will keep her because she is us and we are her."
And she also addressed critics who have brought up her comments on sharia law, comparing the prescriptions of Islamic jurisprudence to those of the Old Testament.
"We support Christianity that says that gays should be blown up, but we don't agree with that," Mallory continued. "So we don't always agree with everything that is in our religious faith."
The rally included Brooklyn Councilmen Brad Lander and Jumaane Williams, the Black Institute's Bertha Lewis, Picture the Homeless, labor union 1199 SEIU, Jews for Economic and Racial Justice, Hazel Dukes of the National Association for the Advancement of Colored People—who called Sarsour "a daughter of the civil rights movement"—and the Arab American Association of New York, which the Palestinian-American activist formerly led.
Lander, who sent a letter on Sarsour's behalf to CUNY, said that he and Sarsour sometimes disagree on Israel. But he noted that she raised more than $100,000 to repair a desecrated Jewish cemetery in Missouri, where his grandparents are buried, from "thousands of Muslims across the United States."
"She has joined in standing together in New York City with Jews and Muslims and Christians and Hindus and non-believers, standing up against hate crimes, against anti-Semitic hate crimes, against anti-black hate crimes, against Islamophobic hate crimes time and time and time again," he said.
Erica Ford, CEO and founder of LIFE Camp, Inc., said she and the mother of a man who was fatally shot in Jamaica over a parking spot in May 2014 met with Lancman. They said stopping her speech won't help Israel.
"It will do nothing, because Linda's speech is going to be like most commencement speeches, which most of us don't even remember," Ford said. "And most of us didn't agree with the commencement speaker who was their commencement speaker."
Kirsten John Foye of the National Action Network took a jab at Hikind over his appearance at a Purim party in 2013 in "black basketball player" costume.
"Dov Hikind is a blackface-wearing, misogynist, homophobic, Islamophobic, racist pig," Foye said.
Sarsour tweeted her gratitude.
Lancman pointed to Sarsour's previous statements where she said "nothing is creepier than Zionism," her support for the BDS movement and said that she promotes Hamas, "which has killed hundreds of Jewish civilians throughout Israel and the world."
"All those who stand for progressive values and civil rights for all people must stand for the rights of Jews, including Jews living in Israel, to be free of terror, boycotts, stigma and delegitimization, and this cannot mean standing with Linda Sarsour," he said.
Hikind held a press conference today in which he and a group of women discussed her past comments, including those on Zionism and a tweet in which she called a three-year-old boy holding rocks in front of Israeli soldiers "the definition of courage."
He told the Observer that it was "Linda Sarsour in her own words" and that the rally did not address "a single item that I have thrown out." And he dismissed Foye's comments as "cheap shots."
"I don't know why these people are upset at me and Rory," he said. "Why don't they want to respond to this? They shouldn't address it. Linda Sarsour has to address it."
Sarsour has also received support from Sen. Kirsten Gillibrand and Democratic National Committee Vice Chairman Michael Blake. A spokesman for Mayor Bill de Blasio tweeted recently that while he does not agree with Sarsour's stance on Israel, she should not "be banned from public life."