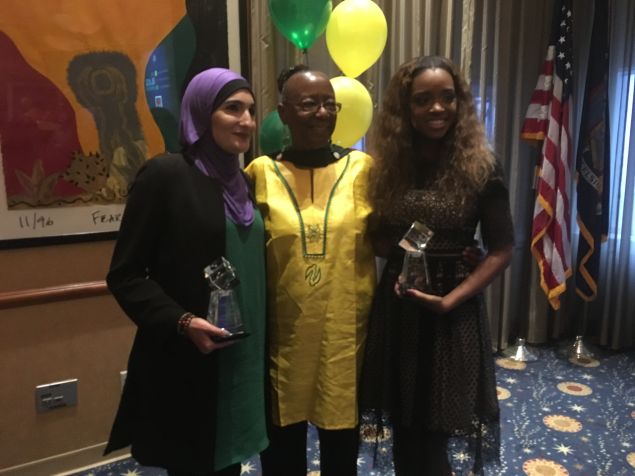 Activist Tamika Mallory, a former aide to Rev. Al Sharpton, lambasted critics of her fellow Women's March organizer Linda Sarsour as "racist, Islamophobic people"—and urged her allies at the Black Institute Ball to "talk us up and pray for us."
Yesterday, alt-right British media personality and former Breitbart senior editor Milo Yiannopolous—who himself has been embroiled in controversies, including comments on child molestation—led a protest against Sarsour's scheduled commencement address at City University of New York's Graduate School of Public Health and Health Policy next month. Brooklyn Assemblyman Dov Hikind and right-wing anti-Muslim activist Pam Geller were among the participants.
The demonstration turned violent as protesters clashed with counter-protesters.
"Today, there was a big, stupid rally with some racist, Islamophobic people against my sister and there were a lot of people who went to this rally who as far as I'm concerned are a bunch of hateful folks," said Mallory, former executive director of Sharpton's National Action Network. "And what I'm asking is not for them to stop but for us to turn up in helping to express our love and support of Linda Sarsour because to know Linda Sarsour is to know me and to stand for her is to stand for me."
Mallory, who accepted an award from the Black Institute along with Sarsour, insisted that anyone who loves her "must love my sister."
She requested that the roughly 100-plus people in attendance to "talk us up and pray for us, because it certainly is not easy."
Mallory praised Black Institute founder Bertha Lewis, who previously served as CEO of Association of Community Organizations for Reform Now, and Hazel Dukes, president of the National Association for the Advancement of Colored People New York State Conference—calling both women "exactly what I am trying to become and that is courageous, able to really speak truth to power no matter what."
"We know that the Women's March—while it was truly incredible—it really was not the beginning for us nor will it be the end," she said. "We have some real serious work that we must do, and I appreciate when our people—when people look like us, when people who love us and actually care about us—acknowledge our work."
Hikind, Staten Island Assemblyman Ronald Castorina and Queens Councilman Rory Lancman—who have butted heads with Sarsour in the past—have called on CUNY to rescind the invitation because of her support of the Boycott, Divestment, Sanctions movement, her past supportive statements about sharia law and her protests against Israeli military operations in the West Bank and Gaza Strip.
Mallory joined fellow Women's March organizer Carmen Perez and Brooklyn Councilmen Jumaane Williams and Brad Lander, among other advocates, for a rally earlier this month at City Hall to show solidarity with Sarsour.
Sarsour is known for her involvement in the Black Lives Matter movement and in Vermont Sen. Bernie Sanders' presidential campaign. Until recently, she headed the Brooklyn-based Arab-American Association of New York, which receives public funding from the city.
She also donated to Staten Island Assemblywoman Nicole Malliotakis's campaign, which has raised eyebrows as the GOP lawmaker has sought her party's nomination for mayor.
Sarsour, for her part, praised Lewis, saying that she always "has her back" and called Dukes "our mama" whom she listens to no matter what. She vowed she would not allow protesters to dissuade her from speaking at CUNY, or anywhere else.
"As your Palestinian, Muslim-American sister, I will stay committed," she said. "I will not be silent. I will not be intimidated. I will continue to speak truth to power knowing the consequences because if speaking truth to power was easy, everybody would be doing it."
Kirsten John Foy, NAN's Northeast Regional Director, also had some tough words for Sarsour's critics, calling her and Mallory "the cream of the crop."
"I just want you all to spread the word to anybody out there that may have the wrong intention when they mention their names, that they are not alone, that they will never be alone, that we will wrap our arms around them 'til the day that we die," Foy said. "And anybody that has poor intention—let me just put it like this—poor intention towards them are gonna have to face the wrath of some pretty unrefined people."
The other honorees were Joy Reid, who called Sarsour and Mallory "personal heroes," and Rev. Leah Daughtry, CEO of the 2016 Democratic National Convention Committee and daughter of renowned pastor, Rev. Dr. Herbert Daughtry of the House of the Lord Church in Brooklyn.
Lewis, for her part, stressed to the crowd that the honorees—as well as past honorees—were "not random, not pulled out of the air."
"Every last one of these sisters before they got 'bigged up,' before they took the headlines, before they became the leaders that they are—and became famous—they never forgot where they came from," she said.