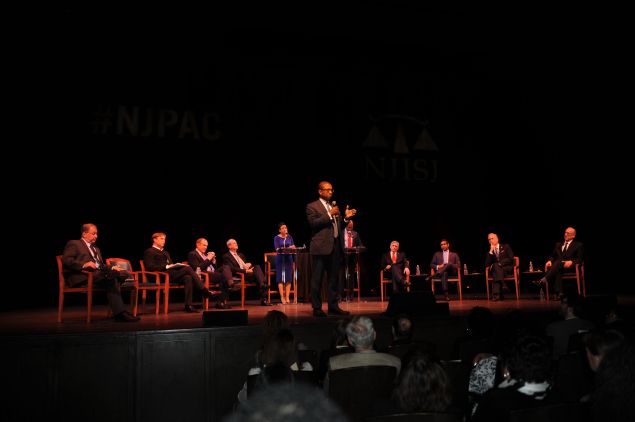 9:17 p.m.: That's All Folks
Thanks for following our live coverage. We're signing off and going to file our stories now.
Did you all hear that President Trump canned FBI Director Jim Comey tonight? Quite a night all around.
— Salvador Rizzo, Alyana Alfaro and JT Aregood
9:12 p.m.: Wrapping Up
Murphy, who hit the happy warrior thing hard all night: "We need a governor with the right temperament, skills, experience, life story. Someone who doesn't have an abstract sense of what it's like to be hanging in the middle class by their fingertips, but has lived that."
Wisniewski, who book-ended the debate with sharp attacks on Murphy: "I have got a 21-year record of standing up to the special interests and the party bosses. I believe that with the right kind of leadership, nothing is impossible."
Johnson, who had the tough balancing act of coming across as calm and level-headed while hitting Murphy: "The old playbook got us the highest property taxes in the nation. The highest rate of foreclosures. It got us Jon Corzine. It got us Chris Christie. It got us Chris Christie again … and it will get us Phil Murphy."
"What we need is Ray Lesniak for governor," quipped Lesniak, who largely stayed above the fray and repeatedly emphasized his liberal record of being an early supporter of gay marriage and a lawmaker who helped end the death penalty.
— JT Aregood
8:59 p.m.: The Pension Puzzle
Perhaps the biggest financial problem in New Jersey is the $135 billion hole in the pension system for public workers, a leading factor in the 11 credit-rating downgrades amassed by Christie.
"We need to consider raising the estate tax to make sure we're adding enough revenue," Johnson said. Christie and state Democratic leaders agreed to abolish the tax last year, costing New Jersey's budget around $400 million by the time the plan is fully phased in over several years.
Lesniak said, "I would bring back the millionaire's tax," saying it would bring $1.2 billion into the pension system. Estimates in previous years by the nonpartisan Office of Legislative Services pegged the revenue gain closer to $600 million to $800 million. Christie vetoed the millionaire's tax five times before Democrats gave up on it.
— JT Aregood
8:35 p.m.: Back to the GOP for a Second …
This is a back-to-back debate for some reason beyond our comprehension. So while the Democrats are free-for-alling it onstage, the Republicans are deep in the spin zone.
Guadagno's camp declared victory in an email blast. Evesham Township Mayor Randy Brown: "She clearly articulated her vision to create a better state by lowering taxes and auditing Trenton, and I think it's pretty easy for Republicans to imagine Kim Guadagno behind the governor's desk making the tough decisions to block the Democrat's tax and spend agenda."
Ciattarelli meanwhile tweeted a pretty tough attack ad pinning Guadagno to Christie's checkered economic record and 11 credit-rating downgrades.
— Salvador Rizzo
8:27 p.m.: Who Is This 'Reggie' Guy?
When Christie was a first-term governor during the height of the tea party fervor, he pulled New Jersey out of a regional cap and trade program, the Regional Greenhouse Gas Initiative. At the time, Christie said that climate change was real and that human activity contributed to it, but he added that RGGI was too onerous for New Jersey's economy.
But now it seems inevitable that no matter who wins the governor's race, New Jersey will be rejoining RGGI.
Johnson said he would rejoin RGGI. Wisniewski said Christie "dismantled our environmental protections" by "eviscerating our clean energy fund." He wants the state to rejoin RGGI and "expand that as a regional compact to promote the installation of alternative energy."
On the Republican side, Guadagno also has come out in support of rejoining the cap and trade agreement.
— JT Aregood
8:14 p.m.: Murphy Pushes Public Bank, Others Pounce
One of the most novel proposals in the governor's race so far is Murphy's idea to create a public bank, owned by taxpayers, to finance relatively small projects and, he says, spur economic growth.
"I'm a big believer in the notion called the public bank, a bank that we would all own as citizens," Murphy said, adding that it would issue "small business loans, working with community banks" and "small-scale infrastructure loans in communities."
Wisniewski pounced. New Jersey has made a mess of its pension system, its budget and its schools have been chronically underfunded, he said. the public bank was the same kind of "shiny object" — or gimmick — that has ended up weighing down the state's finances, he argued.
"A state bank in New Jersey would be a disaster," Wisniewski said. "If Mr. Murphy wants to create a state bank, maybe he should go back to Wall Street."
Johnson, a former undersecretary of the U.S. Treasury, said a public bank would not work. Wisniewski said North Dakota, the only state with a public bank, has said no other states should try it because it has the luxury of booming oil and natural gas revenues to underwrite their operation.
Murphy defended the public bank proposal, saying "bankers' opposition" and U.S. Sen. Bernie Sanders's support for the idea gave him "great comfort." (That was a veiled shot at Wisniewski, who led Sanders's presidential campaign last year in New Jersey but has not been endorsed by the progressive senator.)
— Salvador Rizzo and JT Aregood
8:01 p.m.: Democrats Take the Stage
Johnson, Lesniak, Murphy and Wisniewski just took the stage at Stockton University. The dynamics are sure to be different now that it's a four-person debate. Watch for a pile-on targeting the front-runner, Murphy.
Murphy has the first word and emphasizes his work as U.S. ambassador to Germany under President Barack Obama.
Wisniewski opens with a shot at Murphy, who scored all the Democratic county lines after courting party leaders, and emphasizes his work uncovering the links between the George Washington Bridge lane closures and Christie's office. "For the past year, this Democratic primary has been run like an auction, with one candidate driving up the price," he said.
Johnson also attacks Murphy for his time at Goldman Sachs, quickly mentions his work at the U.S. Treasury Department under President Bill Clinton and his work monitoring a federal affordable housing settlement in Westchester County, New York. "New Jersey is not for sale," he says, a veiled shot at Murphy and his sweep of the county endorsements.
Lesniak highlights his work as a liberal lawmaker and a key supporter of gay marriage. He takes the high road and declines to gang up on Murphy. "I'm on your side," he says.
— Salvador Rizzo
7:38 p.m.: Closing Arguments
That's a wrap for the Republican debate — what turned out to be a wonky, feisty back-and-forth heavy on tax talk and calibrated attack lines. Both candidates came well prepared, and were at their sharpest since the campaign began.
Guadagno emphasized her sweeping (and costly) plan for a new property tax credit worth up to $3,000. Ciattarelli repeatedly attacked Guadagno as the second coming of Chris Christie and said the key to the tax problem in New Jersey is school funding reform. He also made the argument that he's the only one who can beat the Democratic front-runner, Phil Murphy.
"Taxpayers do not want to hear excuses," Ciattarelli said in closing. "They do not want to hear promises of tax relief based on fantasy and phantom revenues. … The differences between the lieutenant governor and I are stark."
Guadagno closed by saying she is the only candidate from either party who would not raise taxes.
"The difference couldn't be more clear. We do agree on that. The difference is I won't raise your taxes," she said.
— Salvador Rizzo, Alyana Alfaro and JT Aregood
7:25 p.m.: Revisiting the Gas Tax Debate
Both sides came armed with attack lines on the 23-cent increase in the gas tax last year. Ciattarelli was a no vote in the Assembly, and Guadagno was an outspoken opponent of the plan backed by her boss, Christie. But they still found ways to go at each other.
Before he opposed the gas tax hike, Ciattarelli had supported the idea in previous years, the lieutenant governor pointed out. "It was only after that he decided to run for governor that he opposed the gas tax," she said. "When I had the opportunity to oppose the gas tax, I did, and I did it loudly."
Ciattarelli responded that he had been in favor of hiking the tax because the funding crisis in the Transportation Trust Fund had been staring legislators in the face for years. "Everyone saw the iceberg sitting there," he said. But in the end he opposed the final deal because it was too punishing for working families, Ciattarelli said.
Guadagno's criticism was hypocritical, he added. "It was not until after the whole deal was done, that I voted no on, that she went on the radio," he said.
— Salvador Rizzo
7:19 p.m.: Playing to the Hosts
We are in South Jersey, so there's a bunch of questions about offshore wind, transportation issues not involving Penn Station, and the ongoing state takeover of Atlantic City's finances.
Guadagno said a bankruptcy for Atlantic City would have a "snowball effect" on other cities and damage the state's ability to borrow money, while Ciattarelli said he would favor a bankruptcy rather than the current takeover plan. Guadagno needled Ciattarelli, saying she's "never seen Jack Ciattarelli in Chris Christie's office" to propose alternatives to the takeover.
(Some observers say the city may not be able to avoid a bankruptcy down the line regardless of who is running its finances — the city's debt is so high, and property tax collections and gambling revenues have been in freefall over the last several years.)
— JT Aregood
7:14 p.m.: Hard Line on Immigration
After Ciattarelli came down strong against sanctuary cities, Guadagno said "this is where Jack and I agree," adding "if you commit a crime in New Jersey, you should go to jail and especially if you committed a crime as an illegal immigrant."
— JT Aregood
7:06 p.m.: Marijuana Legalization?
"I do not believe that we should legalize marijuana," Ciattarelli said, although he said he would favor decriminalization and expanding the state's medical marijuana program for veterans. New Jersey should take a longer look at the effects in other states that have legalized the drug first, such as Colorado, he said.
Guadagno, a former federal prosecutor and Monmouth County sheriff, largely struck the same position — open to decriminalizing the drug but not full legalization.
On this issue, there is a clear contrast between the Democratic and Republican candidates. The major Democratic candidates have all come out in favor of legalization and the state Legislature has plans to move a bill once Christie leaves office in January 2018. (Christie has been staunchly opposed.)
— JT Aregood
7:03 p.m.: Obamacare
When asked about the recent House victory of the American Health Care Act — the controversial GOP plan to repeal and replace President Barack Obama's Affordable Care Act — both Guadagno and Ciattarelli agreed that a health care plan that would rollback a 2013 Medicaid expansion signed by Christie would be detrimental to New Jersey residents.
Under the GOP plan, 500,000 New Jerseyans and 24 million Americans who are Medicaid-dependent could lose coverage, according to an analysis of an earlier version of the legislation by the Congressional Budget Office.
"As I read it now, it is a disaster and we have to fix it," Guadagno said of the AHCA. But she added that Obamacare as it is was "slowly going broke." The focus should be on a way to fix the law rather than defunding it.
Ciattarelli withheld judgment on the AHCA due to the changes that will likely be made to the bill in the U.S. Senate. However, Ciattarelli did say that the next governor needs to work with the New Jersey congressional delegation to make sure that the state's working poor do not lose coverage.
— Alyana Alfaro
6:54 p.m.: Twitter Weighs In
6:52 p.m.: Talking Taxes
The heart of the policy debate between Ciattarelli and Guadagno is about how to lower New Jersey's famously high property taxes.
Ciattarelli has proposed a rewrite of the state's school funding formula to redistribute aid from urban districts such as Hoboken and Jersey City, which were historically dependent on state aid but in recent years have seen an economic boom that has lifted their property values, to rural and suburban districts that have complained for years of chronic underfunding from the state.
He also said the 2 percent cap on property tax growth is insufficient and called for an end the state's PILOT program, which lets some municipalities negotiate payments in lieu of taxes with some taxpaying entities. PILOTs have been used in Atlantic City, for example, to avoid costly tax appeals from casinos who argue that they get overcharged every year because of declining property values.
Guadagno emphasized her plan for a property tax "circuit breaker," saying New Jerseyans need relief now, not in "two or three years when Jack Ciattarelli gets his school funding formula through the Legislature."
"The circuit breaker that we have provides benefits to 1 (million) o 1.5 million people," Guadagno said.
— Salvador Rizzo
6:35 p.m.: Ciattarelli and Guadagno Face Off
The Republican debate between Guadagno and Ciattarelli kicked off with the assemblyman taking a jab at Guadagno and reminding viewers of her connection to her unpopular boss, Gov. Chris Christie. He said the state is "on the brink" and criticized the 11 credit downgrades the state has faced during Christie's administration.
"Kim Guadagno and the Christie administration had seven-plus years to fix New Jersey; they just haven't been able to get it done," he said.
By contrast, Guadagno's opening statement did not go after the assemblyman's record. Instead, she called herself a job creator and took credit for the creation of 300,000 jobs in New Jersey since Christie took office at the tail-end of the Great Recession. She also alluded to the property tax circuit breaker she proposed that would cap the portion of the bill each household pays toward schools, something that would provide significant tax relief of up to $3,000 and create a substantial budget hole of $1.5 billion a year if enacted. Guadagno again repeated claims that she could find the money to fund the program through a plan to "audit Trenton."
"I'm running for governor because we need to cut property taxes in New Jersey so people can afford to live here," she said.
— Alyana Alfaro
6:09 p.m.: The Latest Polling
A Quinnipiac University poll released last week found that the majority of New Jersey voters — 52 percent of Democrats and 51 percent of Republicans — still don't have a favorite candidate in the gubernatorial primaries, raising the stakes for these debates. Among Democrats who do have an opinion, Murphy is in the lead with 26 percent of the vote, with the other candidates all pulling in less than 10 percent. Among Republicans, Guadagno has 23 percent while Ciattarelli has 12 percent.
Tonight's debate might help the candidates gain some visibility, especially since 57 percent of voters questioned in the poll said they didn't know enough about either Murphy or Guadagno to have an opinion on them
–– Alyana Alfaro
6:02 p.m.: Handicapping the Debates with Ben Dworkin and Matt Hale
Experts say the debates will be a key test for the front-runners — Democrat Phil Murphy and Republican Kim Guadagno — who must be careful to avoid any gaffes or missteps as they introduce themselves to the larger public. Despite an early lead in the polls, Murphy, a former Goldman Sachs executive, is still unknown to most voters and will likely have to defend from attacks about his background in high finance. Guadagno, meanwhile, has seen her lead in the polls narrow as Ciattarelli has gained some momentum. Her task is to avoid unforced errors and deflect Ciattarelli's attacks. At the same time, the debate will be a chance for Ciattarelli to make a splash and grab more attention for his candidacy.
— JT Aregood
6 p.m.: Game On
The race to replace Gov. Chris Christie kicks into high gear tonight, with the first official gubernatorial primary debates at Stockton University.
Two Republicans — Lt. Gov. Kim Guadagno and Assemblyman Jack Ciattarelli — will be taking the stage first, at 6:30 p.m., laying out their ideas and probably trading a few jabs after a tense couple of months sniping at each other from afar.
Then, four Democrats — former U.S. Treasury undersecretary Jim Johnson, former U.S. ambassador Phil Murphy, state Sen. Ray Lesniak and Assemblyman John Wisniewski — will be duking it out and debating who is more progressive and more of an outsider.
The primaries are scheduled for June 6.
Follow along for live coverage from Observer's Salvador Rizzo, Alyana Alfaro and JT Aregood.
— Salvador Rizzo