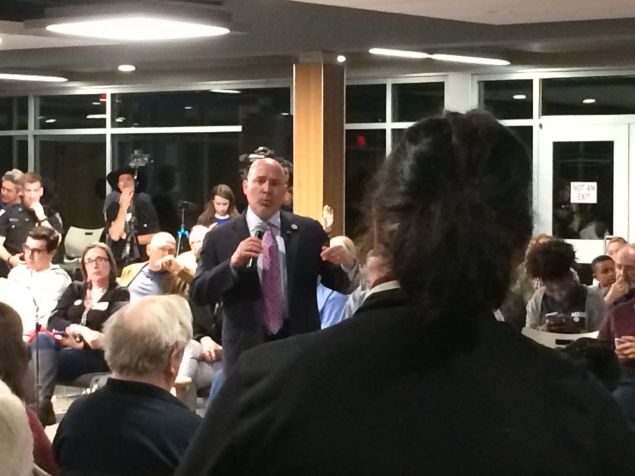 WILLINGBORO — Rep. Tom MacArthur (R-3), the man who resurrected the Republican plan to replace key parts of the Affordable Care Act, faced a hailstorm of questions from seething and plaintive constituents in one of the most Democratic corners of his swing district Wednesday night.
Over five hours — as protesters outside chanted "Hey hey, ho ho, Tom MacArthur's got to go" — those inside the room unleashed fiery speeches and excoriated MacArthur for his role shaping the American Health Care Act. The crowd also took aim at President Trump for firing FBI Director Jim Comey and raised a litany of other grievances during the marathon forum.
It was one of the most astonishing and raw political events seen in New Jersey in recent memory, far longer than any of Gov. Chris Christie's signature town halls. The encounter, equal parts riveting and wonky, was a showcase of both MacArthur's resolve and his constituents' well-informed opposition.
"I am trying to save a system so it continues to help you," MacArthur said, arguing that changes were urgent because premiums had skyrocketed under the Affordable Care Act while insurers were fleeing the federal health exchanges established by the law. But the crowd wasn't buying it, and they let him know at almost every turn that they deeply feared losing health care coverage.
MacArthur heard from a man who spent four years on dialysis (the township's Democratic mayor), a man who lost his wife, a recovered drug addict, a woman with multiple sclerosis, from a young man and a nurse in a motorized wheel chairs.
There were flashes of rage and profanity.
"You have been the single greatest threat to my family in the entire world!" said Geoff Ginter of Pine Beach, whose wife is battling cancer. He called the AHCA a "huge pile of excrement" and referred to MacArthur as "Tommy boy."
"You came after my wife! You came after my kids!" he said.
"When you make choices that hurt other people, history will not be kind to you," said Ann Cannon of Mount Laurel.
And there were lighter moments in which some of MacArthur's critics commended him for keeping his cool during hours of tough questioning — before trashing the health care bill he helped design.
"I must say I have a great deal of admiration for your tolerance for masochism," one woman said. "But I must say I don't agree with you."
The second-term congressman was a lead author of the GOP health care bill that passed the House, negotiating several amendments that got it past the finish line on a party line vote last week after a failed attempt in March.
The bill would cut Medicaid by $880 billion through 2026, according to an analysis by the Congressional Budget Office of an earlier draft. (The CBO did not have time to provide an updated score of the final version that passed the House.) MacArthur softened the blow with an amendment that provided $165 billion to cover people from age 50 and older, maternity care, drug addiction treatment and mental illness.
The prime target of Wednesday's town hall was a provision in the Republican bill that would let some states waive a requirement under the Affordable Care Act, or Obamacare, called community rating, which bars insurers from setting different premiums for consumers with different health conditions.
MacArthur defended that amendment — a late addition to the bill negotiated with the conservative Freedom Caucus — saying that the legislation also includes $138 billion to set up "high-risk pools" that would defease the higher cost of coverage for the sickest consumers with pre-existing conditions, such as cancer. Critics say $138 billion is not enough to guarantee coverage for those with pre-existing conditions.
"You brought it back from the dead, with that amendment," one man told MacArthur about the AHCA. "You own it."
MacArthur's amendment also includes language mandating that insurers may not deny coverage to anyone, and he argued — without much success in persuading the Willingboro crowd — that no one would be "priced out of the market."
The cuts to Medicaid, he argued, would push states toward tort reform and measures to drive down the "obscene" price of drugs. States should get the message that they are no longer going to get a "blank check" from the federal government, MacArthur said.
But those cuts would be particularly punishing for New Jersey, one of the most Medicaid-dependent states. An estimated 500,000 residents would lose coverage under the AHCA, according to the CBO analysis. And the state's $35 billion budget would come under deeper stress at a time when it is stretched thin. Christie accepted a Medicaid expansion under Obamacare in 2013 and the extra federal dollars have been a financial life preserver that have helped him balance his most recent budgets.
"Today, 25 percent of the population is on Medicaid, and it's on its way to being a $1 trillion a year expense," MacArthur said. "Nobody thinks drug prices are fair today. They're obscene. … Doctors do 10 tests because they're afraid they're going to get sued. We've got to change that."
At times it seemed, with a few scattered exceptions, like all the 300 or so people packed into a meeting room inside the Willingboro municipal complex were itching to scorch their congressman. For MacArthur, the town hall was a massive rip-off-the-Band-Aid moment a week after the biggest and most controversial moment of his young political career.
"It's all a lie! This is all about insurance companies making money," one woman said.
"This is more about an attack on Obama than helping us as a whole," said Danielle Colbert of Lumberton.
"Nobody with a pre-existing condition will either be declined coverage or priced out," MacArthur maintained. "This bill does not touch that issue at all. It simply doesn't."
He urged the crowd not to fall for the most sensational headlines and to get their news from a cross-section of media. "Just because someone says your premiums are going to go through the roof doesn't make it so," he said.
But he added that the U.S. Senate may make some positive changes to the legislation — and that no bill is perfect.
"Members of Congress don't vote for the bill they wish was in front of them; they vote on the bill that is in front of them," he said, which led one man to shout: "You submitted it! You were the architect!"
Willingboro is heavily Democratic; only 12 percent of residents voted for MacArthur there last year. And the Republican congressman has a big target on his back heading into the 2018 midterms. Covering parts of Burlington and Ocean counties, MacArthur's 3rd District is one of the few competitive ones left in the United States, going for Trump last year and for President Barack Obama in the two prior elections. One of Obama's White House advisers on terrorism, Andrew Kim, a Rhodes scholar, is mulling a run against MacArthur as a Democrat.
The Cook Political Report shifted the 3rd District from "solid Republican" to "likely Republican" last week after the health care vote, and national Democrats and labor groups are intent on making MacArthur a poster boy for the GOP's controversial health care gambit.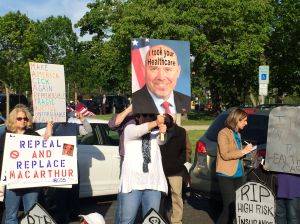 "There's no question he's on our list," said Hetty Rosenstein, state director of the Communications Workers of America union and a top labor leader in New Jersey, who was rallying protesters Wednesday outside the town hall. "He did not have to do this. He did not have to go in the direction that he did."
"We worked very, very hard on the original Affordable Care Act," she added. "It's unforgivable what he did to this state."
The congressman mostly kept his cool throughout the event, but did chafe when the attacks got a little personal. When he asked for respect at one point, Ginter retorted, "Can I be disrespectful on behalf of all the people you're going to kill?"
While MacArthur recounted the wrenching experience of losing a special-needs daughter, Gracie, at age 11, several people in the crowd shouted him down for several minutes. And Ginter later said, "I have sympathy for your daughter. But you did not learn the lessons [she was] trying to teach you."
After the event, MacArthur took questions from reporters. He didn't go to Congress "to be someone," he said, but "to fix problems." He said he expected the fear and anxiety but not the nastiness.
In his own way, he gave it back during Hour 3 or so of the town hall.
"I hear people calling their congressman an idiot. I hear people shouting out vulgarities. I wonder how any one of you would perform in Congress," he said. "This is part of what's wrong in America. There's no civil discourse."
MacArthur, who made millions in the insurance industry before first running for Congress in 2014, maintained again and again throughout the night that consumers with pre-existing conditions have nothing to fear.
A 17-year-old from Wrightstown, Daisy Confoy, grew exasperated with MacArthur after asking him repeatedly whether sexual assault qualified as a pre-existing condition that could lead to higher premiums for some victims.
"Is rape considered a pre-existing condition? Yes or no. One word," Confoy said. MacArthur said, "I will not describe a violent act against a woman as a pre-existing condition."
Neither Confoy nor the crowd was satisfied after several minutes of this tense exchange. Boos and hollers filled the room.
"No matter what I do, half the people will be disappointed with me half the time, and that's just the nature of it," MacArthur said near the end of the event. "I hope that through this night, I haven't demonized anybody. I tried to respect every person that spoke."
Confoy warned MacArthur that she would be able to vote next year.