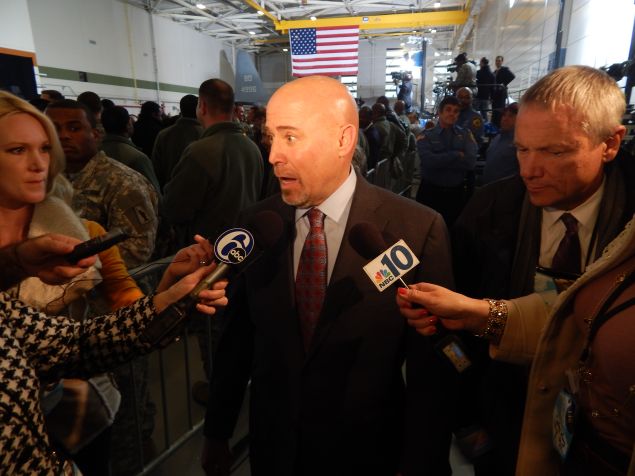 One of the architects of the American Health Care Act, Rep. Tom MacArthur (R-3), pushed back on a report issued Wednesday by the nonpartisan Congressional Budget Office that said "less healthy people would face extremely high premiums" under his plan.
The House bill to rewrite key provisions of President Barack Obama's Affordable Care Act would cut coverage for 23 million people by 2026, according to a CBO analysis of the bill that passed the House earlier this month, while reducing the federal deficit by $119 billion over the same period.
"The Affordable Care Act is on the brink of collapse and no bureaucratic government report can change that," MacArthur said in a statement Wednesday evening. "While I certainly respect the work of the Congressional Budget Office and the staff there, it is important to remember how wildly inaccurate they have been on projections related to the Affordable Care Act: Their projections on enrollment in the ACA in 2016 were off by a staggering 12 million people — or 120 percent."
MacArthur, a second-term congressman and former insurance executive, has taken heaps of criticism for his role in reviving the bill after a failed effort in March. As co-chairman of the Tuesday Group of moderate House Republicans, he had a leading role in the negotiations between various GOP factions and the White House.
The "MacArthur Amendment" he negotiated with the more conservative Freedom Caucus would allow states to waive a central requirement under the Affordable Care Act, or Obamacare, so that insurers could set higher coverage rates for some sick consumers with pre-existing conditions. To offset that change, the legislation also included $138 billion to establish new "high-risk pools" to cover sick patients, MacArthur argued.
But the CBO in no uncertain terms said, "Premiums would vary significantly according to health status and the types of benefits provided, and less healthy people would face extremely high premiums."
The end result of MacArthur's efforts was a bill that would make deep cuts to Medicaid — more than $800 billion through 2026 — causing concern for many in New Jersey, Democrats and Republicans alike.
MacArthur ended up resigning the co-chairmanship of the Tuesday Group this week, citing deep divisions after the health care vote. "You can't lead people where they don't want to go," he said.
Gov. Chris Christie accepted an expansion of Medicaid under Obamacare in 2013 and the decision has been transformational for New Jersey, providing coverage for more than 550,000 residents and freeing up hundreds of millions of dollars every year in the $35 billion state budget. The governor said at a news conference Monday that he had concerns about the Medicaid cuts in the GOP plan that passed the House and said he expected the Senate to make it better.
"This awful bill still ends federal protections for Americans with pre-existing conditions," U.S. Sen. Bob Menendez (D), said Wednesday after the CBO analysis was released, adding that it would endanger "care for millions of nursing home patients, disabled Americans, and low-income kids nationwide" and cut "essential health benefits that all families depend on, from hospital stays and prescription drug coverage to maternity care and mental health and substance abuse treatment."
U.S. Sen. Cory Booker (D) said it would cut taxes for the rich while "millions of Americans would be left with lower-quality, substandard insurance that may not even cover the health care services they need."
"And 23 million fewer people would have insurance coverage, including adults, children, and seniors who gained coverage for the first time thanks to the ACA's expansion of Medicaid," Booker said.
MacArthur said the CBO analysts, "for all their efforts … are clearly not prophets."
"While CBO projections on enrollment numbers remain in doubt, it's clear that the MacArthur Amendment will bring down premiums and make healthcare more affordable," he said. "To me, repairing the health care system has always been about protecting the most vulnerable among us, while working to drive down costs for all other families. I know that the American Health Care Act would do this better than the Affordable Care Act does."
MacArthur and Rep. Rodney Frelinghuysen (R-11) were the only two members of New Jersey's congressional delegation to vote in favor of the bill. Rep. Leonard Lance (R-7) voted no on the floor but did vote to release a smaller and earlier version of the bill in committee. The votes have emboldened Democrats to target all three congressmen in the 2018 midterm elections, with challengers coming out of the woodwork seemingly every week since the debate began.
Reps. Frank LoBiondo (R-2) and Chris Smith (R-4) voted against the AHCA, along with all Democrats.
In a rare show of bipartisan unity, two of the top Republicans in the state Assembly joined with Democrats this week on a resolution urging Congress to reject the AHCA as it is currently written.
Assembly Minority Leader Jon Bramnick and Assemblyman Declan O'Scanlon, the Republican budget officer, both said the GOP health care bill would make devastating cuts to Medicaid that New Jersey could ill afford.
"I'm going to make sure I stand up for New Jersey, and if that means voting with Democrats, so be it," Bramnick said Wednesday.
The Assembly resolution — a symbolic statement more than anything — passed 55-16 with three abstentions on Monday. Bramnick, O'Scanlon and Assembly members Chris Brown (R-Atlantic), Nancy Muñoz (R-Union), Holly Schepisi (R-Bergen) and David Wolfe (R-Ocean) voted in favor of the resolution urging the U.S. Senate to reject the bill.
"The votes in our congressional delegation were mixed," Bramnick said. "Even Governor Christie said that he would expect some changes in the bill when it went to the Senate and most people in New Jersey realize that significant cuts to Medicaid would hurt New Jersey so my position is, I express my opposition to how the bill stands as it is, just as Leonard Lance did, just as Frank LoBiondo did, and Chris Smith."
MacArthur frequently notes that premiums have soared under the Affordable Care Act and that insurers are fleeing the state-level marketplaces established by that law. Something has to be done to fix it, he says.
O'Scanlon (R-Monmouth) said "Obamacare is unquestionably failing, and that's not the doing of Donald Trump or Republicans in Congress."
But he added, "If you're a Republican in New Jersey, you have to care about those Medicaid cuts, period."
"First of all, we claim to be compassionate people," O'Scanlon said. "Number two: We care about the state's budget and the state's finances. The severe cuts to Medicaid contemplated in the House version would be devastating to New Jersey."