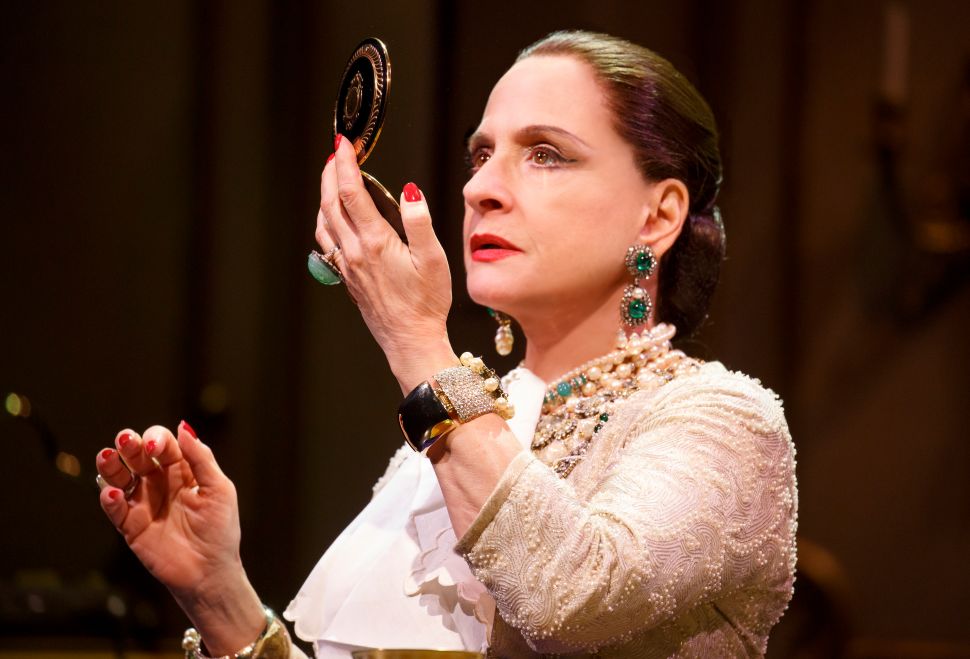 The musical War Paint starring Patti LuPone and Christine Ebersole currently beautifying The Nederlander is about makeup titans and rivals Helena Rubinstein and Elizabeth Arden. The woman behind the faces is Angelina Avallone. Over the last 25 years, she has been the makeup artist for close to 100 shows, including Cabaret, Color Purple, Hamlet, Sweet Charity, Sweeny Todd, and The Pajama Game.
Born in Bulgaria, she studied fashion in Florence, where she also did some modeling. Along the way, she earned an MFA from Yale in costume design, but her primary passion through the years has been transforming the palette of the bare face.
We recently caught up with the famed artist.
Observer: When did you first fall in love with makeup?
Angelina Avallone: I was the kid who experimented with my mother's makeup and lipstick, and I continued on. My love of theater also began as a child with crayons and color pencils. At age 7, I graduated to watercolors and a canvas and created a character from a show. I acted in children's theater and made puppets. I loved it. Helena Rubinstein said makeup was the theater of the face.
Can you describe the process involved in the makeup design for War Paint?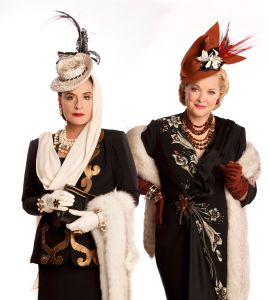 It's a period show starting in 1935 and covering three decades. Before these two trailblazers came along, makeup was not considered proper; it was for prostitutes. Back then, only 20 percent of Americans even used soap. I wanted to find out who Rubinstein and Arden were—their essence. So I went to bookstores, libraries, googled old advertising campaigns, and bought vintage products to duplicate the look of their packaging.
In a two-hour play, we subtly show the aging process. What changes is the eyebrow shape—pencil thin to thinner, then heavier in the 1940s as the brow softens.
We needed an aesthetic. Arden branded the color pink—pink powder, undertones, lipstick and blush. I researched all the period pinks. For instance, in the 1930s and 1940s there was a redder pink. Early on, Rubenstein discovered her signature look. It was highly theatrical, practically operatic with a very red lipstick, charcoal shadow, pale power and jet black hair.
I create a makeup bible for each actor with his or her colors—this is from Revlon; this is from Mac. I have color swatches in case a product line is discontinued. Some people might say, "It's only a lipstick," but we've gone to a lot of trouble to find that particular shade of red!
I need to track every scene. In scene five, Christina changes lipstick shades, and she does it stage left. Does someone hand her the tube or is the lipstick in a basket on the wall?
I was fascinated to discover that actors apply their own makeup each performance. Has that led to some interesting reactions from performers?
When I met Denzel Washington at the start of work on Julius Caesar he said, "Okay, you're doing my makeup." I said, "I'm sorry, you have to learn to do your own." On films he has a team designated just to him. But Denzel said, "Okay, it's like college." He was very committed, sitting with me, step by step, doing his makeup, even a scar. He was a pro.
You've worked on Young Frankenstein, Dracula, and Little Shop of Horrors. How difficult is it to create theatrical monster makeup?
It's challenging and fascinating. How do you create a monster? Again, it goes back to story telling. For Young Frankenstein I had to research 50 shades of green to get the right one.
Before I put any makeup on anyone, I try it myself. That includes prosthetics. You can get claustrophobic while sitting through the process of getting what's called a "life cast mould." I have to think, "Under the face and hair and costumes there is a real person. When they ingest blood, what kind is it?" For Julius Caesar, I made blood from chocolate syrup and food coloring.
Considering the artistry and incredible detail involved, how do you reconcile the fact that there is no Tony Award category for Makeup Design? 
I don't think most people are aware of how much work goes into doing makeup. True, the end result is lipstick and foundation. If men wore makeup, they would realize what went into the process, and they would create a Tony Award in this category.
I know you love makeup, but what makes it so fascinating?
It's ephemeral. You can be 10 different people in one day. Yet, psychologically makeup has such staying power—from the Egyptians and Greeks to today. It's tribal.
Makeup transforms us physically, but what about psychologically?
It's cheaper than a therapy session and a guilt-free pleasure—no calories. Go get yourself a lipstick.