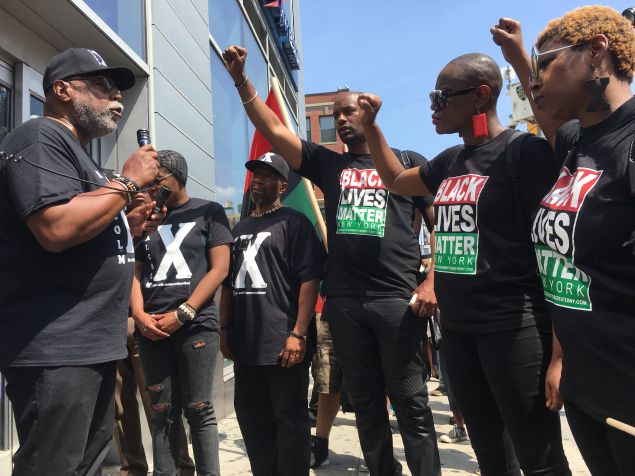 Roughly 100 people marched along 125th Street in Harlem yesterday in a show of "black power" to honor civil rights icon Malcolm X—and urged small business owners and street vendors to close shop in honor of the occasion.
The 25th annual "Black Power March" along 125th Street in Harlem, which kicked off at around noon at the Adam Clayton Powell Jr. State Office Building and concluded by late afternoon, recognized the birthday legacy of the Nation of Islam leader, who would have been 92 years old. As part of the celebration, they request that all businesses between St. Nicholas and Fifth avenues close from 1 pm to 4 pm in a "commercial show of respect for Brother Malcolm," according to the flyer.
Cleatress Brown, a member of the December 12th Movement, a black human rights organization based in New York City, said that she supports Malcolm X because of what he did not only for Harlem but for black people—"fight the power for liberation, empowerment and self-determination."
"We don't ask for much and Malcolm was a shining hero," Brown told the Observer after the march. "He was a hero of ours. So all we're asking is that you shut down and you honor that. We're not asking you to never open up again—we're asking you to honor a gentleman who was in these particular streets for whom people can come live and be in this neighborhood."
Brown said that her 13-year-old son was recently told he could not write about Malcolm X in school "because Malcolm X was violent and bad."
Malcolm X was a minister and a national spokesman for the separatist Nation of Islam—though he later left and formed his own religious organization, the Muslim Mosque, Inc., which rejected some of NOI's teachings. He nonetheless remained a strong advocate of "black power" and economic independence.
After several attempts on his life, he was shot 15 times at close range by three gunmen in Harlem in February 1965.
Malcolm X Boulevard, or Lenox Avenue, in Harlem is named after him. He spent several years based in the neighborhood, where he was involved in revolts against the police.
Clad in either all black or in Black Lives Matter apparel, demonstrators approached vendors as they marched along 125th Street between St. Nicholas and Fifth Avenues—sometimes marching in circles—to ensure that all businesses shut down. Omowale Clay, a co-founder of the December 12 Movement and one of the organizers of the march, along with other organizers, frequently blasted individuals who refused to close down to honor Malcolm X.
Some street vendors offered free water to women and kids and a number of those who were observing the shutdown had visibly covered wares by the time the marchers circled back.
When they arrived at the Popeye's Restaurant on 126th Street and St. Nicholas Avenue, Clay and another organizer went in and told the owner and one of the employees that their establishment was now closed. Patrons eventually left the eatery and workers locked it up.
Protesters shouted, "Black power!" and "Say his name: Malcolm X!" outside of the Popeye's.
"Power concedes nothing without a demand. Frederick Douglass told us that," Clay told the marchers outside Popeye's after it closed, also blasting vendors who remained open on the grounds that "individualism will kill us."
"The minute you let up, your oppressor comes back," he continued. "The ideas of your oppressor come back."
As they marched, they shouted chants such as, "Whose Harlem? Our Harlem!," "No disrespect for Malcolm X!," "Black power!," "Shut it down!" and "Too black, too strong!"
"We've struggled for 28 years to define a contribution to how Malcolm should be celebrated on these streets where he lectured us, agitated us, talked bad about us, encouraged us but most importantly, he loved us," Clay told the crowd at the conclusion of the march.
He said that the ongoing gentrification of Harlem and Brooklyn is "ethnic cleansing" and that when black men are confronted by police officers, it is about submission.
"It is to destroy, to destroy your person and so self-determination is about us becoming a whole people again," Clay continued. "The stuff we're doing to each other is because they made us half-people and we need time to heal. And we have the right to heal—to produce and encourage our own culture, to produce those things that we think is relevant."
He added that the black community has made numerous contributions in areas such as fashion and education and that "there are brothers and sisters here who speak five languages."
Hawk Newsome, president of Black Lives Matter of Greater New York, said that his group was founded in the principles of Jamaican writer and civil rights activist Marcus Garvey and Malcolm X.
"That sets us aside from some of those other groups that you may know about," Newsome said. "We're extremely organized, we're extremely efficient and we are all about being in our communities with our people. We can't march for you, we can't talk for you on TV if we too scared to go in the project and break bread with you. That's not how we move."
He also referenced one of Malcolm X's philosophies, "The Ballot or the Bullet," his 1964 speech in which he discusses the manner in which black people should fight for civil rights.
"What we must understand is that politicians are playing us for fools," Newsome continued. "Every four years, they come into our communities, they smile and take pictures with the old ladies, they kiss babies, they get the votes and they disappear."
A Malcolm X conference will also take place today.