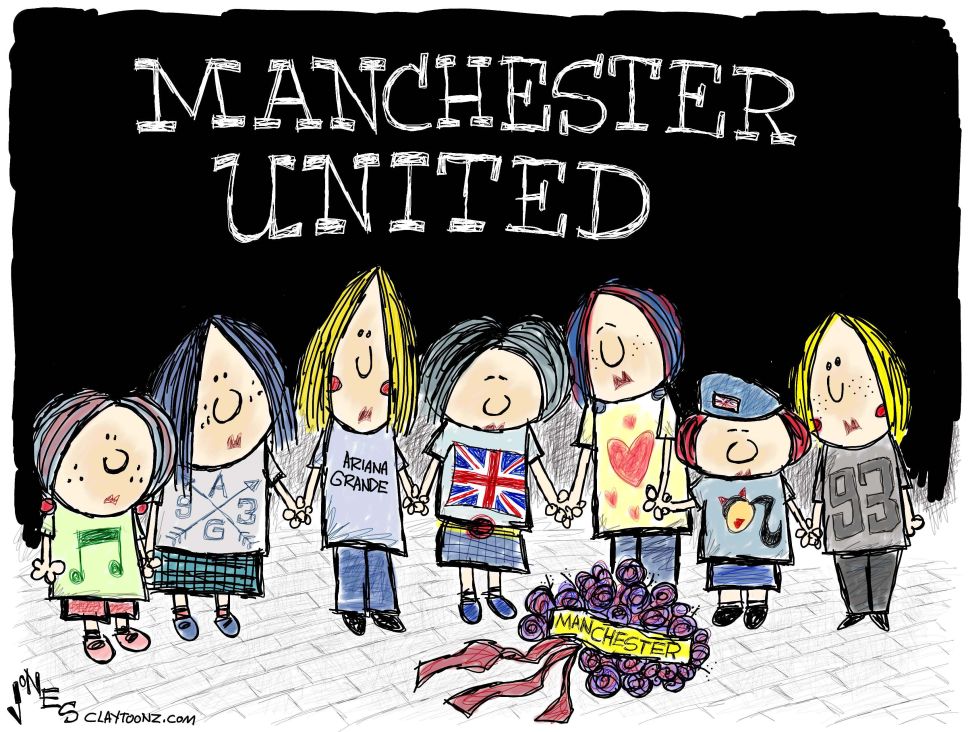 Let me tell you about Manchester. Not the Manchester that has just announced the murder of an 8-year-old girl, Saffie Rose Roussos, along with 21 others (current figure) and countless injured. Not the Manchester that is just the latest city to have been hit in a vulnerable spot by the excremental bottom feeder of all criminals, the child killing, self-styled terrorist. But the Manchester of my youth, told with the ardent nostalgia of one who has left and has no desire to return but is grateful every day for having been born a Lancastrian and grown as a Mancunian.
Americans might not appreciate that there is a firm North-South divide in England, just as there is in the United States—and the people are markedly different, with Manchester personifying the best of all the Northern English cities. Mancunians (a native of Manchester) are unusually warm and outgoing but with a small measure of restraint that does not move them to anger as quickly as Liverpudlians (Liverpool), or with the ability of the Geordies (Newcastle) to withstand low temperatures. As likely as they are to drink with a stranger in a pub, they also have that tendency to stand up for themselves if believed to be slighted, no matter how imagined. When practicing in London, one could always tell the Mancunian barrister by his demeanor upon judicial criticism: the Southerner's chin would drop, whereas the Mancunian's would rise.
With ancient roots going back to Roman times, Manchester climbed to being one of the world's preeminent industrial cities as it became the catalyst for revolutionizing the world. Since Mancunians naturally bucked the class structure—exemplified by the fierce guardian of meritocracy of my alma mater, MGS—it bears people that have changed the world fundamentally. From housing Pankhurst's Suffragette movement, having built the world's first steam railway, the first stored program digital computer, inventing House music—the list goes on.
However, this is not the first time Manchester has faced a terrorist attack. In 1996, the IRA planted the largest bomb in British history in the Arndale Centre. Admittedly, this building was a blight, but due to warnings given an hour in advance, people were injured and not killed. While slight, therein lies the difference: The attack was primarily against the structure of the city—not its inhabitants.
Yesterday, a person committed a baseless and atrocious act, fueled by a network of others with the perverse ideology that through the murder of children and devastation of hundreds of lives that a better life awaits them elsewhere. While people place digital transparencies on their Facebook pages and politicians make useless shows of unity, nothing is done for those who are fearful of tackling that which cannot be said: To achieve peace one has to fight, and this needs fighting words.
Without seeking to make political capital, this can be seen in Jerusalem, which was liberated from the Jordanians 50 years ago. Every day since then has been a battle. Yet Israel is the only place in the Middle East where the Christian population is safe and growing. This is achieved not with warm and wooly statements, but through real action from the grassroots that sparks a wildfire of change.
While the identity of the attacker has not yet been revealed—and ISIS claims every act of brutality in the world as its own—it doesn't take a Holmesian leap of logic to fairly estimate the religious motives at play. Crucially, it needs then to be recognized that a person is not sired into extremism on their own. This, therefore, must be tackled by religious leaders teaching tolerance with nauseating regularity. In the vast majority of synagogues in the UK, there is a prayer for the Royal Family every week. While I am not a royalist, the importance cannot be understated that Jews not only acknowledge but bless the history, mores and laws of the country in which they live as part of their religious rites.
This is where it starts, and the mosques of the UK need to bring this sort of constant mantra onboard in order to spark a revolution of normalcy, a battle for tolerance, and a war of integration. The Imams across the Muslim spectrum need to work together to place a religious fatwa on all those who kill others in the name of Islam. They must rally their communities against turning a blind eye, and engage with authorities on rooting out the support structures of the suicide bomber.
Importantly, we need to recognize that there are some people out there celebrating today, as they do when it happens elsewhere in the Middle East. If we accept the legitimacy of attacks abroad, we invite it into our homes.
Chin up, Mancunians. It is time to grieve, but now is the time to lead the nation in change once again.
Robert Garson is Managing Partner of Garson, Ségal, Steinmetz, Fladgate LLP, an intellectual property and international litigation firm in New York, and a leading representative of corporate whistleblowers. He is also a barrister qualified in England and concentrates on IP and First Amendment matters.