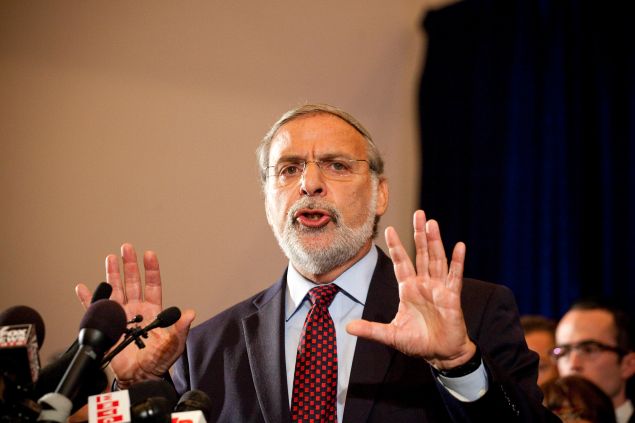 Brooklyn Assemblyman Dov Hikind is calling on Mayor Bill de Blasio to tear out a marker on Manhattan's 'Canyon of Heroes' bearing the name of Henri Philippe Petain, the leader Nazi-occupied France—two days before French voters decide whether to elect as their next president Marine Le Pen, whose National Front party has historically sympathized with the World War II-era puppet regime.
Petain's name is among more than 200 others embedded in granite along Broadway in the Financial District, a commemoration of those celebrated with a ticker-tape parade down the famed thoroughfare in years past. Petain received that honor in 1931, in recognition of his crucial command of Allied forces in World War I, particularly at the Battle of Verdun.
Nine years after that cavalcade, Petain became the ruler of the collaborationist Vichy Regime after Adolf Hitler's forces defeated France—and the marshal implemented numerous racialist and anti-Semitic policies, and oversaw the deportation of more than 75,000 Jews to Nazi camps and killing of unknown thousands of others.
"This is called the Canyon of Heroes. This guy was no hero. This guy was a horrible, horrible person who cooperated with the Nazis," Hikind, whose parents survived Auschwitz and Bergen-Belsen, said in a phone interview with the Observer.
The Orthodox Jewish lawmaker said prying out the flagstone would have a special resonance before the impending French election. Le Pen's party includes numerous individuals prosecuted for racist commentary and Holocaust denial, and she herself has falsely asserted that Vichy forces had no role in rounding up French Jews.
The controversial French politician is the daughter of National Front founder Jean-Marie Le Pen, who himself has downplayed or dismissed the historicity of Nazi gas chambers. The current candidate expelled her father from the party two years ago in an effort to rehabilitate the National Front's image.
"The fact that we're talking about this two days before the election in France, where you have this woman running, the head of a party, who has a tremendous amount of anti-Semitism, Holocaust denial," Hikind said. "There's still an element in France that wants to deny that they had anything to do with it."
"We have an opportunity to send a message: we will rip that out, because the kind of hate that was part of Vichy France, we don't forget," he continued.
Marine Le Pen officially stepped down as leader of the National Front last month following the first round of voting in the French contest, a move widely viewed as an attempt to appeal to mainstream voters. She faces a steep uphill contest against the liberal Emmanuel Macron, who leads in most polls.
Hikind argued the city should go ahead and remove the Petain memorial even given the possibility of a Le Pen victory.
"I don't think we have to be worried about anti-Semites and racists in France," he said.
The assemblyman admitted that the Canyon of Heroes is also paved with the names of other questionable and controversial figures, including the aviator Charles Lindbergh, who made anti-Semitic remarks and accepted a government medal from Nazi leader Hermann Goering. However, Hikind argued Petain's crimes outweigh those of any other personage immortalized on  the sidewalks of Broadway.
De Blasio's office did not immediately respond to requests for comment.
After the Allied victory, French authorities convicted Petain of treason and sentenced him to death. But Free France leader and President Charles De Gaulle commuted that sentence to life imprisonment, given the marshal's advanced age and military service.
Petain died in 1951.