"There's no deleting of anything," Lizzy Goodman informs me when we chat over the phone about her latest book, Meet Me In The Bathroom: Rebirth and Rock and Roll in New York City 2001-2011. Her statement applies to the thousands of hours of interviews she conducted, transcribed, and pored over the past five years, cobbling together an extensive oral history featuring quotes from rock stars (most notably, the surprisingly hilarious Paul Banks from Interpol), journalists, gadflies, girlfriends and boyfriends. In this instance, she's slamming that book shut on my personal pleas.
A week ahead of the book's first release, publisher Harper Collins issued a second pressing of the 622-page tome, and Amazon already placed a second order.
Worth noting about Lizzy, whose byline you'll find in the pages of Elle, New York Magazine, Rolling Stone, and the New York Times, to name a few: When she decides to get something, she does so with an intimidating intensity. It's not just rock 'n' roll, it's the history of the art, the social movements surrounding it, the technical aspects, and what some of the great thinkers thought about Morrissey's feud with Johnny Marr.
Music journalism was something she wanted to do ("I originally thought I'd be a lawyer," she tells me), and she took it seriously. "I used to read rock encyclopedias, highlighting, like, King Crimson," she explains, "and then go to Other Music to sort of methodically and dutifully learn my craft. That was right. That was good."
Lizzy, a native of Corrales, N.M., is the daughter of a philosophy professor and a lawyer. Her days were filled with riding horses and at night, she would listen to Bob Dylan while immersing herself in issues of Rolling Stone and the New Yorker.
Lizzy would go on to study English at the University of Pennsylvania; her college application photo featured her sitting by a haystack. At school, a boyfriend turned her on to bands she'd never heard before—Television, the Clash, the Buzzcocks—and after her freshman year at U Penn, she spent the summer crashing with her grandmother in the Manhattan apartment where her father was raised. She soon got a job at a cafe where she befriended a girl's-jeans-wearing lanky character named Nick Valensi, who introduced Lizzy to the ins and outs of downtown Manhattan. She was a thorough learner.
Another thing worth noting about Lizzy is that she over analyzes everything with the same effortlessness that Bruno Mars might have in charming your mom. She can tell you what kind of person you are before you even know it about yourself. And she'll be right. Her overly expressive eyebrows raise and lower when she talks, but even more so when she's listening. That can make a speaker feel special and actually heard. The eyebrows and the poignant questions that accompany them often cause people to speak at length about themselves or rather, explain themselves in hopes of validation. People talk and talk and talk and then they admit things to her about themselves they never would say out loud to other people, the things they might regret once they're in print. Her eyebrows double as an interrogator and a real-time bullshit detector.
This ability to get people to disarm—mixed with the fact that Lizzy met most of the people featured in her book while she was a 21-year-old school teacher and another beautiful girl who was someone's plus one or teenaged summer girlfriend—gave her unique access and insight. "This is sort of not exactly my story, but my prospective of these artists is unique and not objective in some ways because I met a lot of them when I was not yet a writer, not yet a reporter," Lizzy recalls, quasi-paraphrasing Britney Spears.
"People say it's gossipy…Am I surprised that Ryan Adams is being reactionary to that excerpt? No, I am not surprised."
"Stressing so much about whether or not I would find my way into life as a real writer was retrospectively a total waste of time."
She tells me when I ask her what she'd tell her younger self if she could, "It's a trick question, because the wisdom to know not to worry so much only comes from having worried and learned it was useless. But I would have let loose a little more and had a little more faith in the beneficent mystery of my own path and not been quite so uptight about shit. On the other hand, man, did we have a lot of fun. So I don't feel too sorry for my past self, or for any of these artists. We had a fucking blast."
"People say it's gossipy," Lizzy says of some of the feedback surrounding her book, which now famously divulges the details surrounding rock musician Ryan Adams' negative influence on Albert Hammond Jr. from the Strokes.
"Am I surprised that Ryan Adams is being reactionary to that excerpt? No, I am not surprised. That is 100 percent on point for Ryan. That is what he does. God bless him. I love that guy. He's amazing in the book—they're all amazing in the book—but these are rock 'n' roll characters. This is what they do. They show up, they play their hearts out, they write their hearts out, they sing their hearts out, they live on the emotional razor's edge of life in every way and they're extreme. Whether we're talking about Albert [Hammond, Jr.] or James [Murphy of LCD Soundsystem], or any of these people for the most part, the reactions are extreme, and that seems right on point to me."
Many of the people interviewed for the book share a similar feeling about their entries as I do: We're either in it too much or too little.
I'm thrilled to learn about the book's second pressing because it means that perhaps I can persuade someone I consider to be one of my best friends to make some edits, specifically a mass deletion of things I told her while I knew the tape was recording that ended up in the book. "Just redact it. Everybody has something that they don't want in this book that's in there. Including me."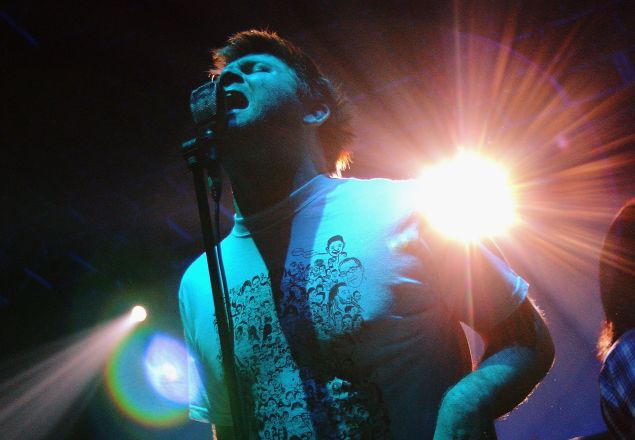 Moments earlier she was reminding me of an instance in late 2002, where she absolutely rejected the option of SPIN running a photo of her appearing possibly intoxicated, but definitely hanging out with boys in bands. At the time, Lizzy was my permanent plus one/roommate/a school teacher, and I was the 22-year-old rock reporter who somehow became an editor at SPIN Magazine, when it was still a print publication with a sense of permanence. It was an article that would go on to re-define my career for the best. But for Lizzy, it seemed like impending doom for the wannabe music journalist who was fearful of being labeled a groupie.
Yet the Lizzy that demanded protection of her image at age 21 is still there 15 years later. Missing from the hundreds of pages are the parts where people she interviewed talk about her. Sure, there's the introduction in which she shares her drunkard's walk that plunked her into the friendly arms of pre-fame Nick Valensi, but there's more to her story. She's not just the collector of tales, she was a part of the experience as well, inspiring her peers and challenging the wannabe rockstars who gazed up at her with puppy-dog eyes.
The irony of leaving so many of her peers exposed today is not lost on me. I'm genuinely excited for my friend when she tells me about the book's success, but the first thing that comes to mind is: "That's great, can you please remove the part where I say [REDACTED]."
"I would trade all this in for one more day with him," she tells me.
For the past two weeks. Lizzy has been talking about something she spent five years slaving over while at the same time mourning the death of one of its most prominent characters, Marc Spitz, the rock journalist, author and playwright.
I introduced her to Marc, who was my mentor. I owed her some money and he owed me some money, so I connected them so he could pay Lizzy directly. They fell in love and got dogs together, which they shared despite their romantic breakup. It ended suddenly on my birthday this year when Marc passed away from unknown causes.
"I would trade all this in for one more day with him," she tells me.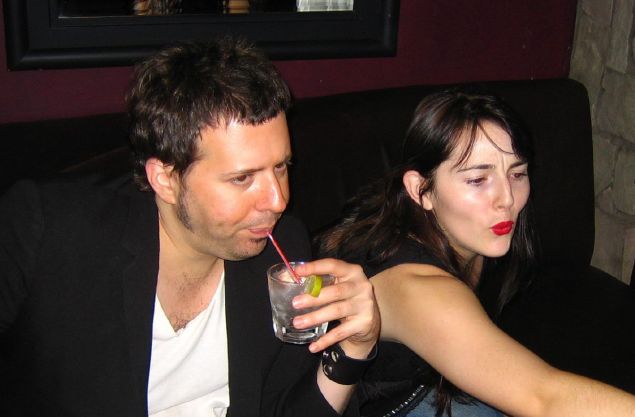 "That's the hardest part about losing someone who is such a character in your own story. The No. 1 thing you miss is knowing what they would say about this huge thing that just happened. I feel that way about his death. In some ways I'm like, 'O.K., I get it, I accept that you're dead but can you just come back and talk to me about it?' and that's a weird feeling. Like, what would Marc say about his funeral? I really want to know."
I'm assuming she's talking about the "Hot Rabbi" (as people on Marc's memorial Facebook page referred to him), and how he read all the words to Don Henley's "The Boys of Summer" during the service.
It's been almost exactly 15 years since Lizzy and I first moved into an apartment together on the Lower East Side. The large-by-New-York-standards two-bedroom apartment was in a converted school building. Only after moving in together did we find out we were living where her grandmother went to school. Lizzy's bedroom was lined with posters of Bob Dylan; her shelves were stacked with literary classics, rock 'n' roll books, and journals. Across the wall were three stripes of primary colors that she purposely used David Foster Wallace's Infinite Jest to measure.
Since moving out in 2005 she's lived in a couple of different places, including her current spot in upstate New York, where she retreated to find peace and quiet away from the evolving city she was documenting. I never moved from our apartment and over the past few years, Lizzy perched herself in my bedroom while she prepped to interview more and more people. She was able to psyche herself out by going back to where it all began for the two of us.
"That period of time is special to me because I was a kid. The rise of these artists that are documented here syncs up exactly with my development in my own professional life. I was a schoolteacher! For the first two years that I'm talking about, I probably had to get up the next day at 6:30 to go to the Buckley School to teach boys in blazers. That was my life. I wasn't a professional. I was a fan until a pretty long time later. It shapes it because I had no idea I'd ever be asked to recall any of it."
She later tells me, "I learned a while ago in journalism that you have to have vision, but you also have to report the story that's in front of you."
When it came to putting together a book proposal for Meet Me in the Bathroom, she knew exactly where she wanted the journey of this book to go.
"I was aware that we'd all lived through an important era in music and in culture and I wanted to create a literary portal to that place and time for others. I wanted people to be able to open this book and feel dropped into that place and time. I wanted to create an immersive experience, like you're overhearing the raddest cocktail party ever, with everyone who shaped that world chatting freely, as if there's no journalist in the room."
After one more plea to get parts of my quotes taken out of the next printing, it was only fitting that I ask Lizzy what piece of advice she'd give someone from that era if she herself could go back in time.
"I think I have the same piece of advice for almost all the participants in this book that I'd have for myself: enjoy yourself. It's not going to last. And it shouldn't. And all those insecurities you're indulging are real but they will also rob you of this moment. It's a metaphor for life, really."
Sarah Lewitinn is the music director for Aritzia, a writer, and a DJ living in the Lower East Side. She was an assistant editor at SPIN and co-founded Stolen Transmission Records at Island Def Jam. She has been professionally known by the moniker "Ultragrrrl" for 21 years.