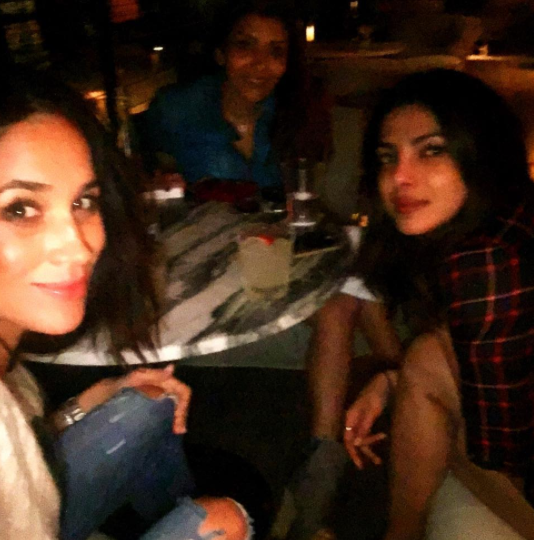 In a promotional appearance for Baywatch (which surprisingly was not titled Baewatch for the new generation) star Priyanka Chopra was quizzed by Wendy Williams about her friendship with fellow actress Meghan Markle. Before Markle became best known for dating Prince Harry, the two regularly posted selfies on Instagram, even attending Hamilton together. Now, there have been far fewer best friend posts, but Chopra says they still talk on the phone.
"We talk about more my stress than hers, she doesn't seem to have any now," Chopra told Williams. As Markle is well on her way to becoming a royal and no longer has to deal with the upkeep of a lifestyle blog, she certainly should be relaxed.
The fellow actresses have known each other for two years after meeting at a party, although Chopra doesn't think she'll be a bridesmaid. She even jokingly questions if she'll be invited to the wedding. While she was obviously caught off guard by William's line of questions, she seemed ready to give away just enough information without truly getting herself banned from the potential nuptials. After all, she doesn't want to be like Markle at Pippa Middleton's wedding, and receive an invite to the party but not the exclusive ceremony.
[youtube https://www.youtube.com/watch?v=xZmuf5SH_Qw&w=640&h=360]
During the awkward exchange, Williams refers to Markle as "Prince Harry's girlfriend." Chopra immediately responds, "also…actress, Suits, her achievements—just saying." Finally, her devoted #Suitors receive the acknowledgement they deserve. When asked if Chopra thinks they're heading to the altar she says, "I don't know, I hope so, she seems happy." Another hot topic was the paparazzi constantly following them around, although they still haven't succeeded at snapping anything other than far away shots, with the couple's faces hidden by hats or a car window.
"I think they look great together," Chopra continued, singing their praises. But she did add, "high profile relationships are so stressful anyway," something she knows from experience, as she was rumored to be dating Nick Jonas after their Met Ball appearance.
While the focus was mostly on Chopra's Carmen Sandiego-esque gown from the event, others wanted to know if she was involved with the former Jonas brother. Nick Jonas might not be a royal, but he certainly comes from a popular lineage.