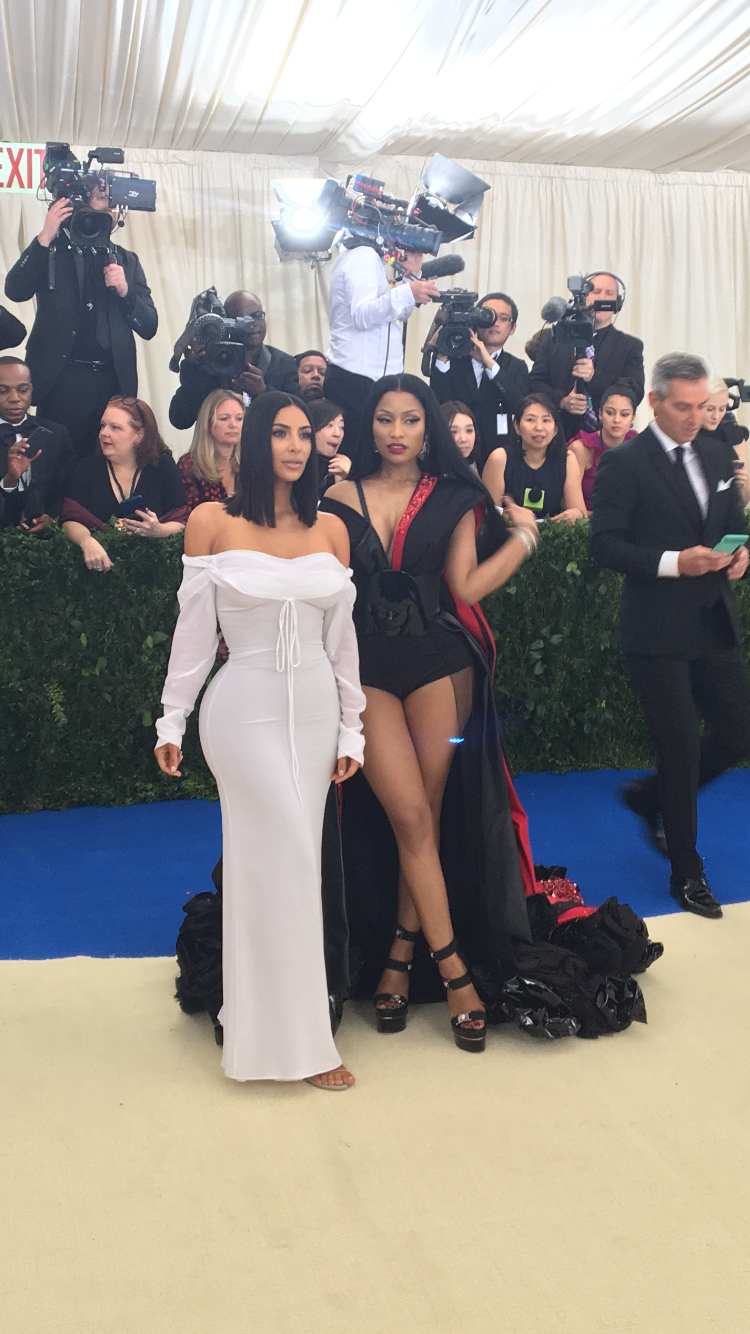 Anna Wintour ascended the steps of The Metropolitan Museum of Art at exactly 6 PM in custom Chanel earlier this evening, opening the flood gates to the masses of notable names out to support The Anna Wintour Costume Center's 2017 Costume Institute Benefit, themed this year in homage to Commes de Garçons designer Rei Kawakubo. Following in Wintour's trail were husband Shelby Bryan, children Bee and Charlie Shaffer with their respective significant others, and footballer Tom Brady with wife Gisele Bündchen  in matching velvet ensembles. The bombshell couple was tasked with co-hosting this year's festivities alongside Pharrell Williams, in a leather jacket and ripped jeans, and Katy Perry. "We have to go in and say hi to everyone," Bündchen cooed to the crowd. "We're co-hosts this year!"
Ms. Perry also stars on the cover of Vogue's special edition Met Gala issue in a red Kawakubo creation, and arrived wearing a similar look by Margiela, although rather than sporting a toothy smile, she chose to slowly process in silence up the museum's steps. Perry would later be revealed as the evening's musical performance, belting her new hit, "Bon Appetit" as the intimate crowd dined on wagyu beef and lobster & king crab topped with caviar.  
Despite the outpouring of star power, it was the woman of the hour, Rei Kawakubo, who remained the most sought after interview of the night. Much to the chagrin of many journalists and party guests, she kept silent for the duration of her all-to-brief red carpet appearance, running by on the arm of husband Adrian Joffe. What's more, many of the famous faces had never come into contact with the elusive designer themselves before tonight. "I actually don't expect to meet her at all," said Big Little Lies star Alex Skaarsgaard, who had just arrived back from filming a new movie role in the Moroccan desert and partied alongside his fellow Big Little Lies cast mates Reese Witherspoon and Laura Dern. "I have worn it before though, they sell it in my hometown shop in Stockholm." 
When some speculated as to why Kawakubo remains so untouchable, Vogue Creative Digital Director Sally Singer offered her theories. "I think Rei is incredibly shy, and she needs to be around people who she feels are on her level, for the lack of a better way to describe it," said Singer. "However, when that happens, she's all there, and present, and brilliant."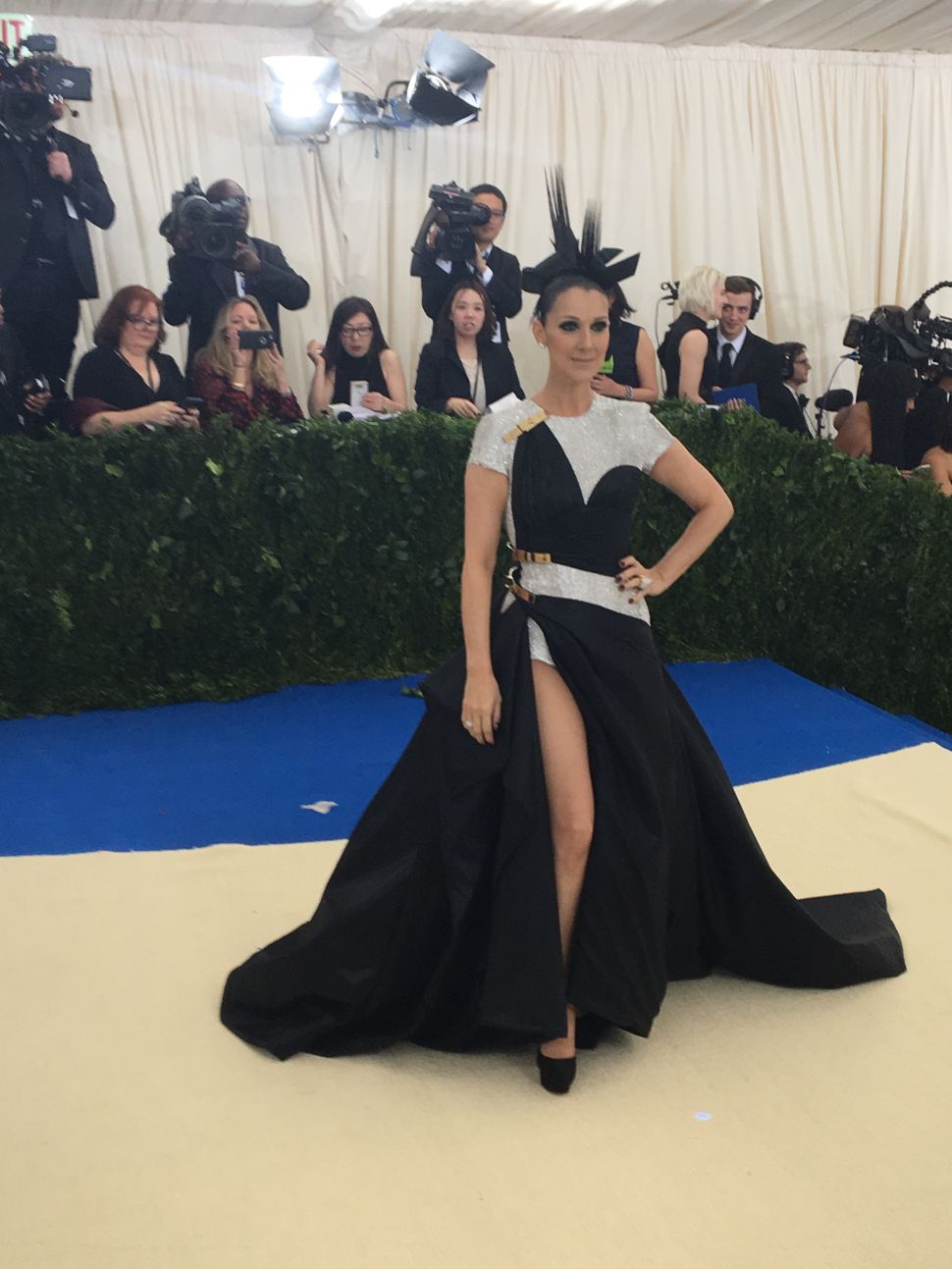 One unanticipated addition to the fracas was Hasan Minhaj, the comedian who stole the show at the White House Correspondents dinner just two days earlier in Washington, D.C. thanks to his Trump-centric humor. He was rumored to have received an invitation from Wintour, prompting him to select a last-minute tuxedo option from English tailoring stalwart, Turnbull & Asser. Also in the first timers club was, shockingly, Celine Dion who sparkled Atelier Versace selected for her by stylist Law Roach, who famously spearheaded her foray into the European fashion show circuit last July.
However, there were plenty of seasoned veterans, namely Kim Kardashian, who bucked her usual taste for Balmain, arriving in a simple Vivienne Westwood frock on the arm of Nicki Minaj, leaving many to think, "Kanye who?" Her younger sisters, Kendall and Kylie Jenner, arrived separately, with Kendall in La Perla accompanying cosmetics honcho John Demsey and Kylie on the arm of a sequin-clad Donatella Versace. Close pals of the sisters were out in full force too, including Bella & Gigi Hadid, Hailey Baldwin, and Cara Delevigne who paired her metallic Chanel pantsuit with a coat of silver paint on her newly bald head. "It's fucking hot under here," Delevigne exclaimed, pointing to the faux locks. 
While she may have suffered for her daring look, there were in fact very few who committed to the full Commes des Garcon experience, which often demands little or no mobility thanks to the brand's shape shifting designs. Pharrell's wife, Helen Lasichanh, was ushered up the stairs looking armless, and Julie Macklowe flapped by in a square-shaped, plaid Kawakubo creation. "I have to wear special underwear with this thing," Macklowe quipped. "I feel like a flying squirrel." How will she eat exactly? "I'm hoping someone next to me will feed me." Rihanna took a page from the same playbook, in a top-heavy Commes des Garçons minidress that required assistance from stylist Mel Ottenberg. 
Other moments of note were the return of Gwyneth Paltrow, who infamously cursed the gala as "boiling" and "unfun" in 2013, vowing to never return. Most speculated that her return is due to a new partnership with Anna Wintour and Condé Nast on Goop Magazine, a quarterly lifestyle bible edited by Paltrow herself. In other oddities there was Jaden Smith, who clutched his severed dreadlocks as he posed for photos, as well as rapper Wiz Khalifa who showed off, what most assumed to be, a joint. 
On the couples front there was Jennifer Lopez and Alex Rodriguez, and while the two have done little to hide their romance, they counted this year's Met Gala as their official debut. The same was done by Selena Gomez and crooner The Weeknd. Serena Williams took the night as a chance to reveal her burgeoning baby bump in a Versace gown selected by stylist Kesha McLeod, celebrating alongside fiancé and Reddit co-founder, Alexis Ohanian who summed up the sentiments of most of the evening's guests. "I'm just excited to eat," he said with a wink before walking through the museum's doors.