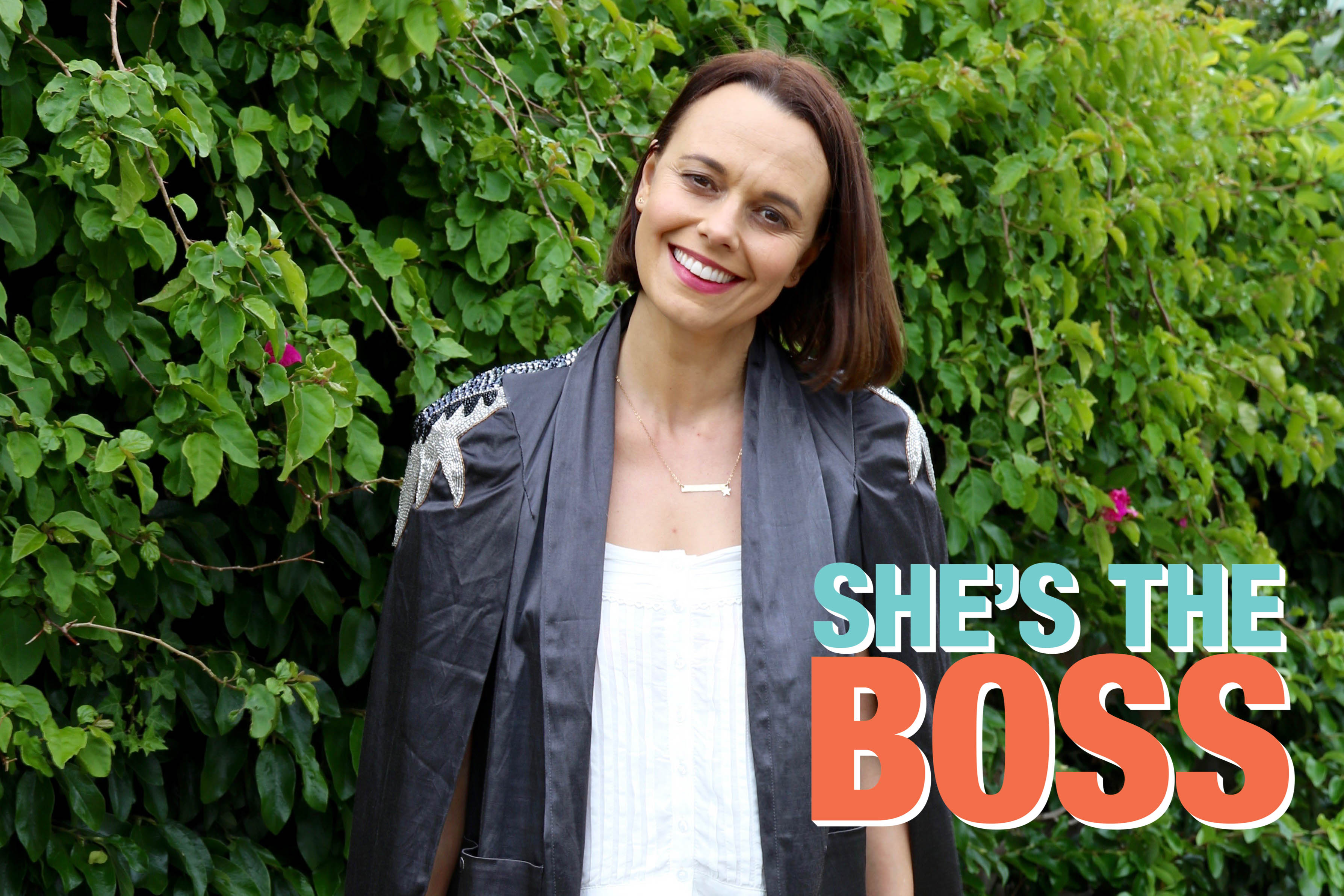 Welcome to She's the Boss, a column spotlighting kickass businesswomen who are making waves as founders. Each week, we'll chat with a new entrepreneur about herself, her business and her thoughts on the issues and challenges women face in the business world. 
Mia Freedman was editor-in-chief of Cosmopolitan Australia by the time she was 24 (making her the youngest EIC in the history of all 64 Cosmo publications), but she was only getting started. She took the know-how that helped her bring the publication to an all time high in circulation, readership and ad revenue and transformed it into the driving force behind her own publication, Mamamia Women's Network— Australia's largest women's media company reaching one out of every four women in the country daily.
Now still reaching for the stars, Freedman recently moved into the U.S. media market with a new site called Spring.St that's offering content for women on issues ranging from politics and pop culture to work and family. We chatted with Freedman about her new site and perspective on being a woman in business for She's the Boss.
Can you tell me about your company?
We've recently launched a website called Spring.St as our American iteration of Mamamia. We've been looking to move into the U.S. market for some time, and about 12 months ago, we got to talk to American women. It was actually during the election campaign, but they were already saying to us then that they were looking for an online destination for women 30 years old and up—because there are so many already aimed at millennials—that helps them be informed but does so in a positive way. Because the last 12 months have been a really intense time in the news. Even before the new president was elected, there was a lot of terrorism, the political campaign was grueling on both sides. And it makes sense that women want to be informed but without being sort of assaulted by the news every minute of the day. So we really wanted to capitalize on that niche, and we saw there was really a gap in the market for a site for women who want smart content in a positive way.
We cover work, family, pop culture, news and current affairs, but instead of looking at it through topics, we look at the content we produce through three emotional filters: heart, humor and help. In that way, you have heart, which is how women connect through stories that make them feel something whether it is happy or inspired. Humor is really important and a very powerful tool for conveying information, and that could cover a video of a baby animal to the signs of the Women's March. Help could be hacks for life or information about what's going on in Washington at the moment. Help is another key driver to women's engagement online, because women not only like to help each other and be helpful and be helped, but they like to be seen helping people by sharing things on their social networks.
"I was talking to a male advertising executive and I was trying to explain the idea. He said, 'Oh women, that's an interesting niche,' as if it were a site about Golden Retriever puppies. It's like, that's 51 percent of the population buddy—that's hardly a niche."
What's your background?
I started in women's magazines as an intern at Cosmopolitan when I was 19 in Australia, and I worked my way up to editor-in-chief when I was 24. That was at a time when I got to work with Helen Gurley Brown, Kate White and some other titans of American magazine publishing in the 90s and early 2000s. Seeing the move towards online, I left the corporate world and quit my job and started a blog called Mamamia. I didn't want it to be a personal blog and I knew I wanted it to be about a lot of different things women are interested in, and about a year and a half in, my husband joined as its co-founder, and that's when it became a business. Now we have more than 100 women than we employ in five offices around the world, including in New York. And we have about 25 percent of Australian women visit our site every day. So that kind of set the scene for us moving into the American market.
What kind of issues do you see women in the industry facing?
I think one of the biggest challenges for women is that it is a male-dominated industry. I know that when we first started Mamamia and I was talking to a male advertising executive and I was trying to explain the idea. He said, "Oh women, that's an interesting niche," as if it were a site about Golden Retriever puppies. It's like, that's 51 percent of the population buddy—that's hardly a niche. The idea of women and women's buying power is very, very underestimated by the industry. We know that women are responsible for 85 percent of all household purchases, and not just breakfast cereals, but big ticket items like insurance and holidays and cars and mortgages. So, I'd say the first issue for women in the industry is how we are underestimated. And the second one is that we see many media companies for women that are owned and run by men, and they're trying to make money off women. But I guess that really does give us a point of difference, because our intention is to make the world a better place for women and girls. And that's not just in our content but in our business practices as well. When you employ more than 100 women (and we only employ three men) you also see the challenges that women face in trying to balance their lives. So whether they've got young children or aging parents, whether they're single and suffering their own health or mental health challenges, there are many times in a woman's life that she can't lean in and she has to lean out. And I think that the ebb and flow of women from their own ambition and in the workforce is something that most employers really struggle to deal with.
What can be done to solve them and make business better for women?
I think one of the first things we need to stop doing is talking about work/life balance with women. I think it's something we almost only talk about in terms of women, not men. There are very few times in your life where you're balanced, and that's just life. You're not balanced when you have a baby, you're not balanced when you're involved in a startup and your life is not balanced when you have a child in a final year of school or you have a health crisis. So I think this idea of holding up work/life balance as the ultimate and the most desired state for women is really holding us back. Because you have women worried every single day that they're not leaning in enough or are leaning out too much. And it adds this whole layer of beating ourselves up over circumstances which are challenging enough.
Is there anything you want to add?
I think there's never been a better time for women to have their own lives and own careers. This idea of what we're doing at Spring.St—that you can be informed without being overwhelmed—is really, really important for women. We need to pace ourselves for the next four years and beyond, and that means having a laugh, staying empowered and supporting each other at the same time.