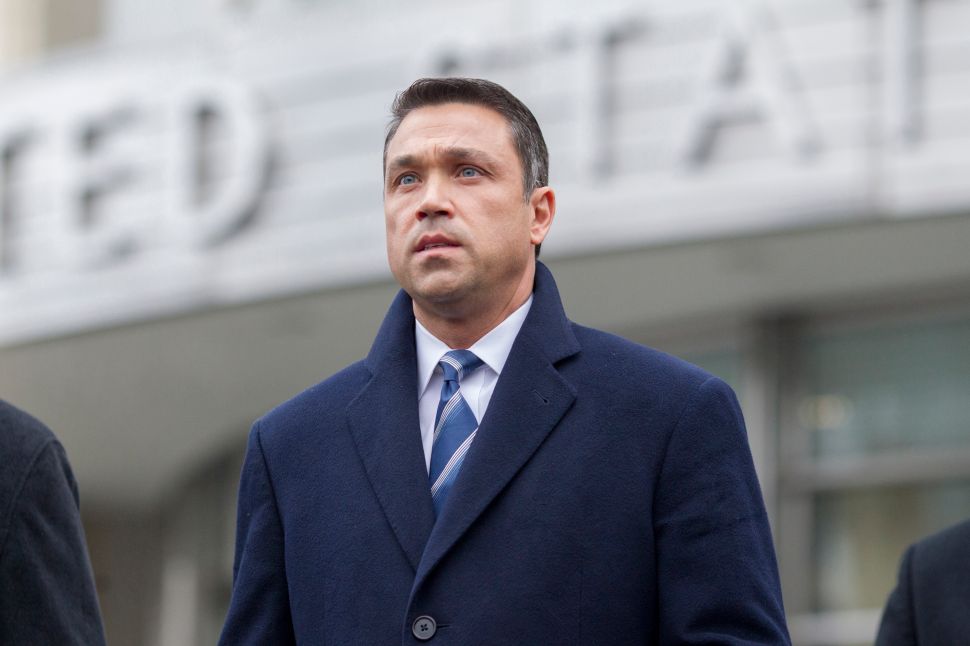 Former Congressman Michael Grimm sought to rally Trump supporters by calling for a retaliatory campaign that would involve reopening investigations of Hillary Clinton. What he and others who hope to target Clinton don't realize is that such a strategy may be just what Democrats want.
Stung by criticism of Donald Trump and his own ouster from Congress, Grimm is itching for a chance to take on Democrats. He had this to say:
"President Trump needs to fight fire with fire. Republicans do not unify or circle the wagons like the Democrats do, so he needs to go it alone and be offensive. Since his opposition are so concerned with the handling of classified information and the statute of limitations has not yet run, the attorney general should consider reopening the Hillary Clinton matter. The unmasking investigation should be pushed to full throttle, and a thorough review of everything concerning Loretta Lynch should be front and center to even include her private meeting with Bill Clinton on the tarmac, and her refusal to empanel a grand jury to investigate the e-mail issue or the Clinton Foundation."
Grimm also recommends investigating the "Uranium One" deal Clinton was involved with, connecting herself the Russians, to deflect attention from Trump's links to the Russians.
He's not alone, as others have offered the same argument. This strategy operates on the theory that (1) Hillary Clinton is directing and controlling the opposition (2) Clinton is the leading candidate for the Democrats and (3) such a move would hurt Democrats.
None of these assumptions are correct, however.
First of all, Hillary Clinton is very much a "Johnny come lately" to the protests, organizations and mobilizations. After months of complaining about her loss and otherwise laying low, she's only now starting to get back into the PAC and fundraising game with her "Onward Together" organization.
Second, Hillary Clinton may have won the 2016 Democratic Party nomination and has the best name recognition, but she's hardly the favorite for 2020. Bernie Sanders fans, bitter about how the primaries went down, are unlikely to shed many tears for her. Even with all of these advantages, Democrats are far more likely to look for a fresh face, like New York Governor Andrew Cuomo, Massachusetts Sen. Elizabeth Warren, New Jersey Sen. Cory Booker or others. They may even want a different nominee who has run before that they think will fare better against Trump, like Joe Biden (who had this to say about Clinton) or even Sanders.
Third, for the previously mentioned reasons, Democrats may not mind having Hillary Clinton investigated. There are plenty who would like to see her on the sidelines. Her brand is pretty toxic, owing to a brutal 2016 campaign and some self-inflicted wounds. An investigation would show Democrats that they can police their own, and rid themselves of an imperfect future nominee.
So those who hope to solve GOP woes by going on the offense against Hillary Clinton won't be helping their party. If anything, they might well be helping Democrats. As the old tale from Uncle Remus goes, this would be the political equivalent of tossing Br'er Rabbit into the briar patch, a metaphor for giving an opponent exactly what he or she wants.
John A. Tures is a professor of political science at LaGrange College in LaGrange, Ga.  He can be reached at jtures@lagrange.edu. His Twitter account is JohnTures2.