To be honest, I never expected Better Call Saul to be as riveting as the series has proven itself to be. Yet here we are. Halfway through Season 3 of the Breaking Bad prequel/spinoff, each week I'm reminded of the brilliance of the show creators Vince Gilligan and Peter Gould. The cast they've brought together to explore the beginnings of Saul Goodman (Bob Odenkirk), Mike Ehrmantraut (Jonathan Banks) and Gustavo Fring (Giancarlo Esposito) aren't too shabby, either.
And while these names are the main players in the Better Call Saul game, it would simply be unfair to not speak on the ongoing morality struggle of one Ignacio Varga – better known as Nacho (Michael Mando).
Monday's (May 15) episode checked back in with Nacho as he continued his climb on that oft bloodied Cartel ladder. The seeds may have already been planted that will eventually see Mike and Gus team up – leading Jimmy closer to becoming Saul Goodman.
As each character deals with their own struggles between right and wrong, dark and light, and all the gray area in between, what we're left with is one hell of an engaging law drama. And needless-to-say, Nacho's return to the story just adds one more layer to AMC's complex and quirky series.
To help me unpack the events of the latest episode, Michael Mando hopped on the phone for a quick chat about his return to the series and further breaks down Nacho's internal struggle – while also explaining an exciting new entertainment venture he's presenting to the fans, as some extra, unexpected bonus content.
It's Season 3 and Nacho's still here. Congratulations!
Thanks so much it's good to be alive.
Nacho's story takes a turn in Monday's episode that makes the audience feel a sense of empathy for the man. He's not a good guy – but it's hard not to feel sorry for him. Did you know this conflict was coming?
I'll be very honest with you, I had no idea. The first season, [Nacho] was supposed to be in it a lot more than he actually was. Vince and Peter called me halfway through and they said they were watching the rushes – especially in the relationship with Jimmy and Chuck (Michael McKean) – and realized that Chuck was going to be sort of Jimmy's antagonist. That wasn't the way they had originally planned it. So that kind of shifted things a little bit around. But I believe good things come to those who wait … and I couldn't be happier with where Nacho is right now and his storyline this season.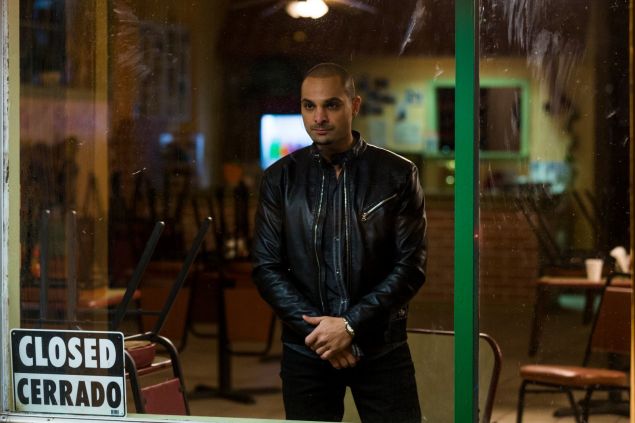 They really do a great job at populating both the good and bad aspects of each character on the show. And while Nacho has done some bad stuff, it's hard not to see his empathy shine through.
I've come to really fall in love with this character. I find him very mysterious and I find that he has a very rich tapestry. Here's a guy who joined the cartel, I imagine, at a very young age. He was looking for prosperity and freedom outside of his father's tapped reality – he was born with a wooden spoon but has always aspired to be in shining armor. And his mentality has always been: Why me and not them?
Despite Hector (Mark Margolis) recognizing him as a prodigy, he refuses to allow him to strive because he's not of Salamanca blood. And this has led him to a very heightened struggle between morality and survival; between the way of the outlaw and the way of the higher man. On one side, he has this very vicious and dangerous — but rich — cartel Dad. And then, on the other side, there's his very god-loving, god-fearing biological father that is nowhere as successful, financially … I think he's desperately trying to reconcile that within himself.
That's an easier said than done scenario, to be sure.
Here's the thing: Nacho is a person who is confident, who has ego, who is able and who is, at the same time, capable of restraining his ego. He's someone who has his eye on the long endgame and that's one of the reasons why Nacho is able to survive this long – and do it under the radar.
Leave it up to Hector Salamanca to throw a wrench in Nacho's plans…
Yeah! What happens now is that Hector puts this demon — or sort of obstacle — in his path as he brings his father into it. It forces [Nacho] to have to go through his father to attain the prosperity he's looking for. In other words, he finds himself in a place where he has to get Hector's love. And this is probably — as far as we know with Nacho — the only thing that could completely steer him the opposite way.
You know in Season 1 and 2, Nacho had been unwilling to dive into that dark ocean of the criminal world – he's just been walking on the edge of the cliff. This season, Hector literally pushes him off and he's free-falling. He realizes that, man I might not be able to make it out alive when I land! And the other thing that is even deeper in his soul is, he asks himself, Is this going to turn me into the monster that I'm trying to avoid? It's kind of a Greek tragedy, about this man who chooses light and becomes darkness.  It's almost like the antithesis of Walter White. You know, Walter White is a man who was considered innocent and pure and who, deep down, was craving the thrill of darkness and power. I think Nacho is, in a way, the antithesis of that.
That morality struggle between good and evil is something you've explored a lot in your work. And now, you're doing something that's never been done before: Performing an original short film live on social media. Explanation, please!
I got into acting sort of later in my life … I didn't grow up wanting to be an actor and I really got into it because I thought it was, probably, the most complete tool to self-expression — you know, to sort of figure out what life is really all about. That always pushes you towards the edge of what you know and how to go further …
We thought that, with Nacho having his comeback in Better Call Saul, what is the best way to give something to the fans? We contacted Instagram and Facebook and realized this has never actually been done before: It's an innovative idea which obviously made us want to do it even more. So, it's a six-minute short film that is shot in first-person shooter mode where the audience is the main character. It's all done in one take – a very, highly choreographed take. And I t's done live. It's called Gateway and it stars myself, Madeline Zima (Californication) and Craig Olejnik (The Listener) and I really hope that people get to tune in. It's about a man who highjacks his higher consciousness to break his bad habits and cross over to the next level of consciousness.
Well that sounds … deep.
Yeah, and we're doing another thing that's never been done: We're shooting a first-person POV on two different cameras simultaneously – it's the same POV for Instagram and Facebook Live at the same time.
Aside from doing the Cartel's dirty work and exploring new avenues of social media storytelling, Michael Mando can be seen in the upcoming Spiderman: Homecoming. Until then, you can find him walking the line between good and evil on Better Call Saul, which airs every Monday at 10 p.m. ET/PT on AMC.