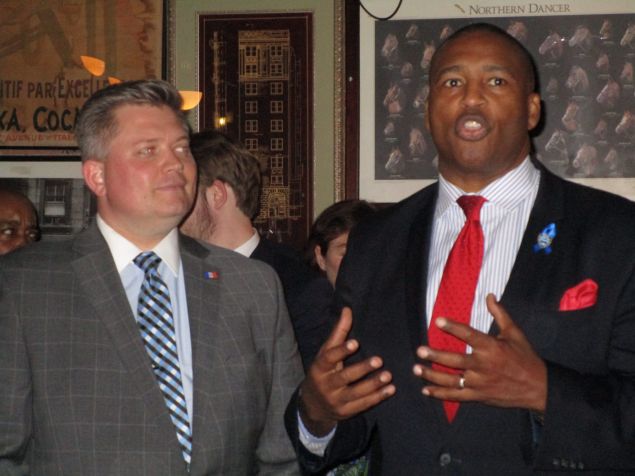 Rev. Michel Faulkner, the former Jets lineman-turned-minister-turned mayoral candidate, has a long way to go in his bid to win the Republican nomination and oust Mayor Bill de Blasio—but he's already out backing GOP contenders for open City Council seats.
Faulkner appeared and offered and unexpected endorsement at a Manhattan fundraiser for Liam McCabe, former aide to Congressman Daniel Donovan and one of three Republicans running to represent Brooklyn's 43rd Council District. The seat covers the neighborhoods of Bay Ridge, Bensonhurst, Bath Beach and Dyker Heights—one of the city's more conservative precincts, but one that has nonetheless re-elected now-term-limited Democratic Councilman Vincent Gentile for the past 14 years.
"I am very proud to call Liam my friend, and very proud to endorse him—if I can say I endorse him, I don't know, I don't know what the rules are," he said. "We can work together in City Hall and help drain the swamp."
Faulkner's most recent filing with the city's campaign finance board showed his account more than $50,000 in the red, and with most of the $217,641 raised coming from loans he has made himself. This puts him at a considerable disadvantage to real estate executive Paul Massey, who has amassed more cash than even de Blasio.
Nonetheless, the Harlem pastor gave McCabe a $100 donation.
A sizable portion of the seat McCabe aspires to represent sits in the district of another of Faulkner's rivals for the Republican line: Assemblywoman Nicole Malliotakis.
Unlike Massey—who says he wrote in former Mayor Michael Bloomberg for president last year—and Malliotakis, who chaired Florida Sen. Marco Rubio's New York campaign, Faulkner has enthusiastically embraced President Donald Trump.
McCabe faces competition in his own primary from John Quaglione, an aide to State Senator Martin Golden, and Robert Capano, an aide to grocery store magnate John Catsimatidis—a billionaire who declared on Monday he would not seek the mayoralty himself.
On the Democratic side, Gentile aide Justin Brannan faces off against Lutheran minister Rev. Khader El-Yateem and district leaders Kevin Peter Carroll and Nancy Tong.
Gentile, meanwhile, has launched his own longshot bid to become Brooklyn district attorney.