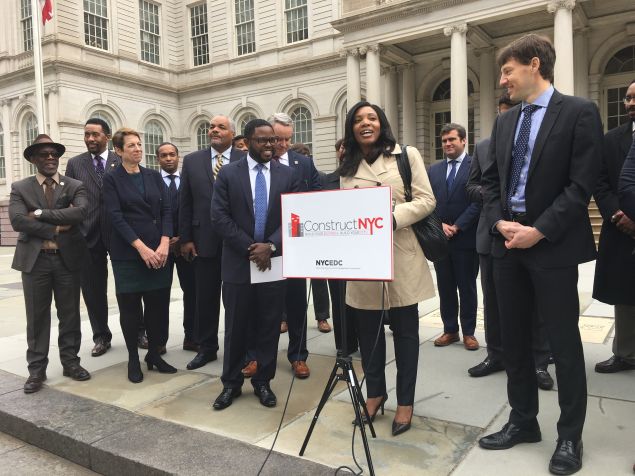 Nearly seven months after Mayor Bill de Blasio unveiled his new vision for giving more work to minority- and women-owned business enterprises, the city says it's "moving fast" toward its goal of giving 30 percent of contract dollars to the emerging class of entrepreneurs—while some proprietors report slight progress and others complain of sluggish implementation.
At the end of September, the mayor announced the appointment of Deputy Mayor of Strategic Initiatives Richard Buery—who previously spearheaded de Blasio's Pre-K For All initiative—as the city's MWBE director, and an MWBE office to be headed by senior adviser Rev. Jonnel Doris. The mayor also launched the Contract Financing Loan Fund, which gives eligible MWBEs the opportunity to apply for low-interest contract financing loans of up to $500,000, part of a larger $10 million city fund for helping historically marginalized business owners.
De Blasio also vowed to double the number of MWBEs certified by the Department of Small Business Services from 4,500 to 9,000 by 2019, and the EDC recently awarded $80 million in contracts to three MWBE construction management firms.
The new enthusiasm for procurement diversity followed scathing criticism from city Comptroller Scott Stringer and Black Institute founder Bertha Lewis.
"I think we're moving fast…we're delivering on increased utilization rates, we're delivering on creating more opportunities for MWBEs to connect to more opportunities," Buery told the Observer in a phone interview. "We're delivering and everybody knows that if they have an idea, something they want to see, we're accessible. I talked to every advocate, every person who criticizes us: we remain open business for people who have ideas on what they want to see."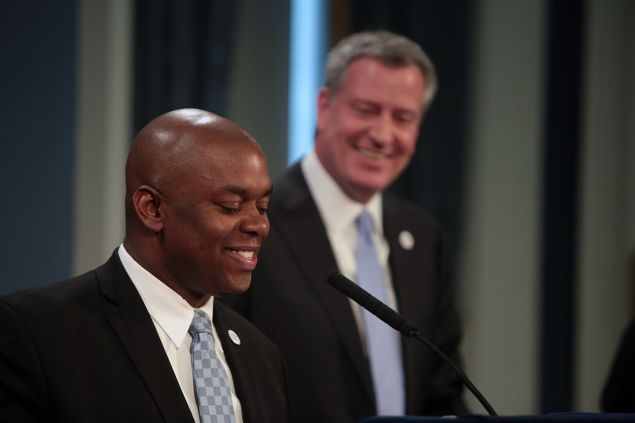 Getting Down to Business
Buery said Doris does the "day-to-day nuts and bolts work," noting that Doris "thinks about this 24 hours a day, compared to his own "three, six, seven hours a day."
"Like everything else in city government, we work as a team and I'm really blessed to have his partnership," Buery said.
They communicate regularly with MWBEs and advocates "to get a lay of the land," understand the obstacles and inform them of business opportunities—including ones they are qualified to do but of which they are not aware—through resource fairs, workshops and open houses.
And Buery said the two of them have continued to push for Albany to extend tools the state uses to benefit MWBEs to the municipal level. These reforms include doubling the city's small purchase discretionary funding for MWBEs to $200,000, increasing the capacity of city agencies to offer mentoring programs to MWBEs and changing state law to allow the city to recognize MWBEs registered with the state—as well as those it has certified itself—when awarding contracts.
The city's approach, Buery said, is rooted in four key concepts: access, capacity-building, accountability and sustainability. 
"We really are sort of driven by these four pillars and it's really informed by the conversations we have with minority- and women-owned businesses every day—both those who have been successful in getting contracts and those who haven't to really understand what is getting in the way," he said. 
The mayor has set a goal of awarding $16 billion in contracting opportunities to MWBEs by 2025—a deadline well beyond the end of de Blasio's tenure, even if he wins a second term. The city has awarded $3.54 billion of that goal so far.
At the end of the second quarter of fiscal year 2017, the city's prime and subprime utilization rate was up to 18 percent. In fiscal year 2016, the utilization rate was 14.3 percent—an 8 percent increase from fiscal year 2015. During FY 2016, the city says it awarded about $700 million in prime and subcontracts to MWBEs, compared to $460 million the previous fiscal year.
The city also said that nearly 66 percent of MWBEs that have won city contracts between fiscal years 2014 and 2016 had previously taken advantage of SBS capacity-building programs and other services, and that there are more than 4,600 certified firms—a 31 percent increase since the beginning of the de Blasio administration.
Firmer Footing
"The thing that is most striking about the difference between this period since he came on and in earlier years of the administration is the visibility that he provides," said B. Seth Bryant, managing partner of Bryant Rabbino LLP and member of de Blasio's MWBE Advisory Council. "He makes it his business to be in the community, to be engaged on these issues and to hear what businesses are looking for and expecting and so I think that has been very, very important."
Bryant highlighted the "uneven reception from various administrations" following former Mayor David Dinkins, who started the city's MWBE program.
Several business owners spoke glowingly of the administration's efforts.
Joycelyn Taylor, CEO of Taylor Made Contracting LLC—an MWBE-certified general contractor—is one of the beneficiaries of the loan fund, which she described as "amazing." Taylor is also a founding member of the NYC MWBE Alliance, which supports MWBEs by cultivating relationships with government agencies.
"I think the steps are going in the right direction, and by virtue of the fact that we're having different conversations and we're open to saying the mindset has to change, the culture has to change, the language around it has to be changed," Taylor told the Observer. "When we're open to that and we get people to buy into that, then we'll get to see the change."
Manuel Burgos, founder and CEO/senior analyst of By the Numbers Consulting Services Corp.—whose firm conducts official reviews of city and state projects to see if they are meeting their MWBE participation goal—predicted the city will meet its 30 percent goal "much sooner than 2021," given that the projects he has studied are already allocating a quarter of funds to nonwhite and female firms.
"So you think about, 'Well wow, what does that mean?" Burgos said. "It's not just the hard cost, meaning the construction cost, it's also the soft cost. So everything is subject to that 25 percent goal on their current projects. That's a lot of money."
He also said that the city is pressuring contractors to show a genuine "good faith effort" to recruit MWBEs, that the city's certification unit is responsive and that SBS has estimators on staff who can help MWBEs ensure that they have the most accurate estimate of a bid's cost.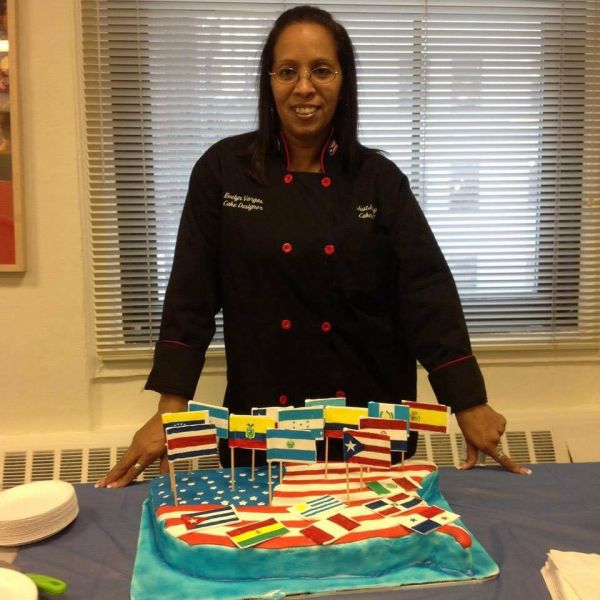 Making the Grade
Some, however, remain unconvinced.
In October 2016, Stringer gave the city a D+ on MWBE spending for the second year in a row in his annual report card—and said only 5.3 percent of $14 billion the city spent on goods and services went to MWBEs. Buery has disputed those numbers. 
"We keep highlighting this issue because we need to pick up the pace—we need to deliver more results, faster," Stringer said in a statement. "The mayor and Deputy Mayor Buery have launched important new steps, and we need to see them come to fruition."
Stringer's analysis looks at the overall amount of money spent on projects, whereas the city looks only at the percentage doled out through contracts.
Lewis, a former de Blasio ally, said Buery and Doris are "wonderful people" but complained that they lack real power to set or change policy. She called the $10 million loan fund "ridiculous and laughable" because it only serves 40 MWBEs, and said that the mayor has not fulfilled a November 2015 promise to set up a meeting between depository banks and MWBEs.
The activist alleged that de Blasio takes a lackadaisical approach to MWBEs because he does not recognize it as related to his central concern of income inequality, and complained that he "keeps insulting communities of color." 
"He just turns a blind eye and says, 'That should be good enough, I'm gonna do it my way and everyone should just shut up, sit down,'" Lewis told the Observer. "I'm not gonna sit down and I'm not gonna shut up and I'm gonna keep bugging him about it."
Evelyn Vargas, owner of Bronx-based Jazzy Cakes 212—which is city-, state- and Port Authority-certified—and an MWBE specialist for the Washington Heights and Inwood Development Corp., got just one order from a city agency and can't afford another employee. 
She praised the new goal but suggested the city get a "poster child out there to talk about how well they're doing" and better utilize social media. 
"A lot of clients that I get in my day job are not even aware of the MWBE program, and that's just across the board," Vargas said. 
Adjua Mantebea, president of A Delight Production, which delivers commercial and personal visual media services and products, received two requests for bids this year but has not yet won one. She's "not seeing anything yet," but likes "what Stringer's doing." 
She called on the city to offer more feedback to MWBEs when they lose bids, and for it to set up larger forums for businesses to showcase their work to private interests.
Mantebea suggested the MWBE designation has become limiting.
"I'm a company, I'm not an MWBE," Mantebea said. "I'm a company that produces quality work. I'd like to be recognized for that, percentile or not."
Raul Contreras, manager of external affairs for the MWBE office, argued that the loan fund is "nothing to gloss over" and stressed that the 30 percent goal stems from a study of disparities between MWBEs and other businesses. He also pointed up a $250,000 SBS campaign that led to a nearly 75 percent increase in certification applications in the first quarter of fiscal year 2017 compared to the previous year.
"You're talking to the first external affairs people at the Office of MWBE," Contreras said. "So you're gonna see this continued growth of getting the word out, making sure MWBEs are informed of all opportunities out there."
Buery encouraged people to focus less on "organization charts" and more on results.
"At the end of the day, the proof is in the pudding," he said. "We already—from '15 to '16—we've shown what can happen when the city really focuses on this work."