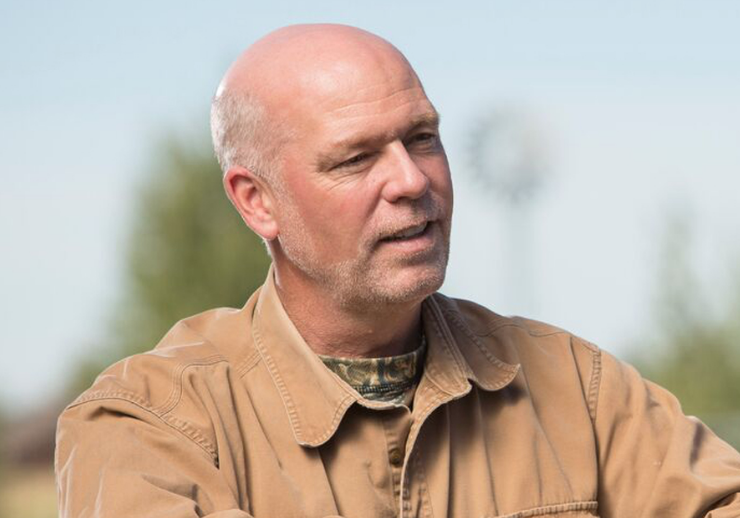 Conventional wisdom suggested the race would be a cakewalk for the GOP's Greg Gianforte. Instead, the race went down to the wire against political palooka Rob Quist. Was it the punch, Trump, or the health care repeal that made the match go 15 rounds? The answer could decide no less than the 2018 mid-term election.
In Corner A with the red boxing trunks was Republican Greg Gianforte, a candidate who had run for statewide office before, having narrowly lost a race for governor. His state, Montana, backed Donald Trump by 20 points and Congressman Ryan Zinke by 16 points. One of the two senators is a Republican. Two-thirds of the statewide elected offices are held by Republicans. Plus, this technology executive has a lot of money.
In Corner B with the blue boxing trunks was Rob Quist. He plays a banjo.
Ok, ok, so Quist, a Democrat, also got $600,000 from the Democratic Party at the last minute to help even the odds, and Bernie Sanders likes him. But he's never run for—much less held—elected office before.
This should have been a first-round knockout for the Republicans. Instead, it was a boxing match that nearly went the distance, like a Rocky movie or a Muhammad Ali-Chuck Wepner fight, the inspiration for that boxing movie. Why was it so close?
Potential Reason A is Donald Trump. The argument is that President Trump, whose approval ratings have fallen nationwide, must be dragging down Gianforte. Though Trump's numbers have dipped in Montana, he still has at least a 48 percent approval rating there, well-ahead of his numbers nationwide. So Trump is unlikely to be the culprit behind Gianforte's poor showing.
Potential Reason B is the body slam. With Fox News reporters as witnesses, Gianforte body-slammed Ben Jacobs of the Guardian, a reporter in his campaign office trying to interview the GOP congressional candidate. Gianforte's version of events was directly contradicted by the audio tape of the events, which is a chilling listen. He's been charged with assault. It's bad enough to assault someone, but to get physical with a member of the press and lie about what happened is on another level.
There's one problem with this explanation: Many voters had already cast their ballots, thanks to early voting. Some peg that number at 36 percent, while a Fox analyst claimed it was as high as 65 percent. Whatever the number, the events didn't happen until after early voters had cast their ballots. CNN claimed a voting official received a dozen requests for the opportunity to change their vote. It would have needed to be many more to make a difference.
Potential Reason C is the American Health Care Act. The question Jacobs was trying to ask that angered Gianforte so much that he physically assaulted him was about health care—specifically the Congressional Budget Office (CBO) report that 23 million people would lose health insurance under the AHCA, while increasing premiums for many people.
Repeal of Obamacare by the House and its replacement by the AHCA has been a nightmare for Republicans. A Quinnipiac poll indicates it has barely 20 percent approval from the public, with disapproval exceeding whatever Obamacare had. Quist was able to turn bad news about his debts into a story about how health care problems were responsible for his plight.
No wonder Senate Majority Leader Mitch McConnell said that his branch of government was going to have a hard time with the repeal. To stay away may be a wise choice for Republicans, facing an increasingly tough landscape—even in red states like Montana. If Republicans blame Trump or the punch and proceed with the AHCA, they are likely to get a body blow in 2018 from the voters.
John A. Tures is a professor of political science at LaGrange College in LaGrange, Ga. He can be reached at jtures@lagrange.edu. His Twitter account is JohnTures2.