When Red Bull Music Academy New York announced they were partnering with The Met to host renowned, intrepid filmmaker Werner Herzog in conversation about the music in his movies, nerds and amateur auteurs alike snatched up tickets almost instantly.
From frequent musical collaborators to seemingly left-field choices in song selection, the soundtracks in Herzog's films create space and illuminate sentiments in his work that enliven his narratives. As with most RBMA programming, the chance to see Herzog discuss his process through a musical lens made for a wholly unique and enlightening evening, made all the more special at The Met upon discovering that Herzog doesn't really dig museums all that much. In fact, he confessed last night was his first time at The Met.
"En route to the theater I have seen extraordinary things, and I might actually come without fears," he said in his signature, singularly matter-of-fact accent. "I'm a little bit scared because I always have the impression that a quasi-eternity is staring at you."
Upstairs at The Met, "The Mysterious Landscapes of Hercules Segers" exhibition led Herzog into a discussion about the enigmatic Dutch landscape artist, whom Herzog claims was implementing techniques about 400 years ahead of his time—"So extraordinary that we have the feeling this is the beginning of modernity."
Herzog explained his disgust for contemporary art through recalling The Whitney trying to book him for his first-ever installation in 2012, when they didn't know who Segers was and he claimed, "I'm not an artist—I'm a soldier," before hanging up on them.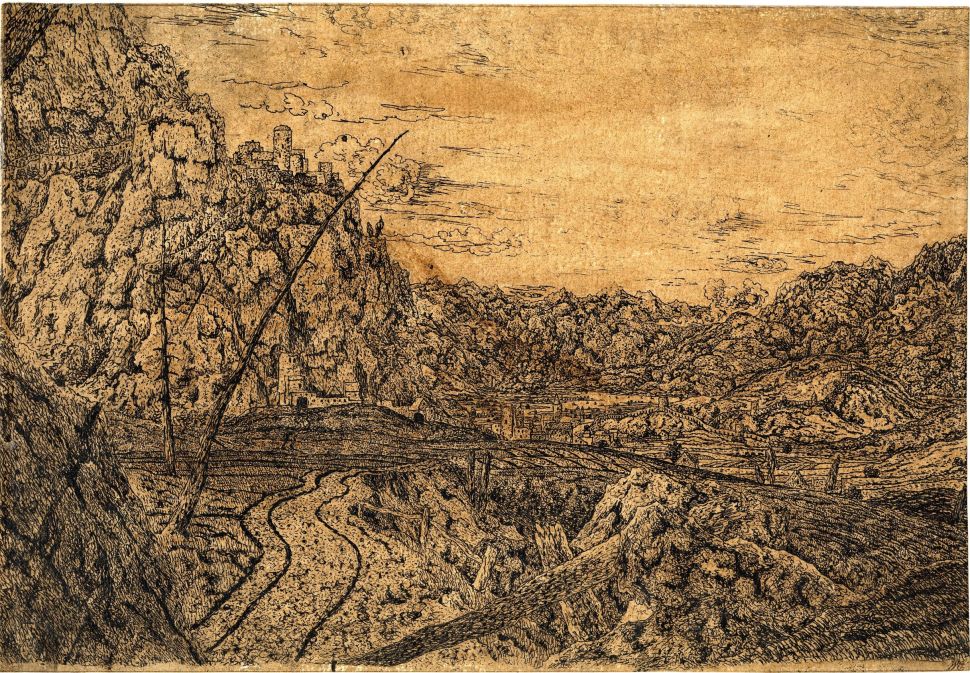 Herzog's wife eventually talked him into doing the installation, accompanying Segers' landscapes with Sardinian music and of Herzog's frequent collaborator, Ernst Reijseger, whom he discovered while doing a deep dive into the Sardinian music that accompanies several of his films. "A wonderful, great musician and I do believe he's one of the finest composers that we have at the moment," said Herzog. "I owe him a lot."
That multimedia installation became Hear Say of the Soul, eventually making its way to The Getty and allowing Herzog to present Segers' work to thousands. Through understanding Herzog's relationship with Reijseger, beginning around his 2004 film The White Diamond, the audience started to learn about music's effect on his work.
"I was looking into music of Sardinian voices and found a recording of Sardinians together with a cello player," recalled Herzog. "I have a feeling this is a man with whom I need to work. These recordings in Paris, some of them were done before the film was made. The music was first…" Herzog put earphones on the cameraman and explained that the camera should move like the music—it had to float. "How do I place a crescendo correctly?" he asked the crowd rhetorically.
Though Herzog's love of music spans the globe, he doesn't feel married to selecting music specific to the subject of a film.
When giving advice to a young filmmaker, he recommended she replace the Japanese music that echoed her subject's late, Japanese husband be replaced with Schubert's Notturno, which he'd once used in his 1990 film Echoes From a Somber Empire. Similarly, in his 1997 film Little Dieter Needs to Fly, Herzog avoided using Vietnamese music despite the fact that Dieter Dengler was a POW freed from the Laotians during The Vietnam War. He found that some music from 1930s Madagascar instead best expressed the tone of Dengler's wonder and whimsy in a particular scene when he's completely enraptured to be surrounded by thousands of planes.
[youtube https://www.youtube.com/watch?v=edxvznzklCA]
Dengler's voice, much like Herzog's, had a cadence to it, and Herzog explained that he continues to be fascinated by the music of speech.
He explained his particular interest in making a short film about livestock auctioneers, 1976's How Much Wood Would a Woodchuck Chuck, because the auctioneers had "a fast sing-song of voice…it's like music, and in a way, the lyrics are the only poetry of capitalism. I found a deep, music, extraterrestrial quality in this language. For a long time I had the feeling that I wanted to stage Hamlet, but all of them should be…livestock auctioneers. I would like to bring Hamlet down under 14 minutes."
Herzog discussed his perhaps most famous compositional collaborator, the late Florian Fricke, who led the German electronic avant-garde band Popol Vuh from 1969 until his passing in 2001. Their relationship was singular, says Herzog, and not informed by any knowledge he had of krautrock or the German avant-garde music scene.
"We would listen to music, and he would show me certain things," remembered Herzog. "He'd say, 'I'll play Wagner for you,' first time I really listened to Wagner. He pointed out how it was built up, how the very tender, almost inaudible violins are keeping playing, unperturbed by what's going on, then other voices come in and it gets into a crescendo. I learned the inner-structure of music."
[youtube https://www.youtube.com/watch?v=zdeIN3sYcfk]
Herzog went back to when their relationship began in '68 when Herzog made his first film, Signs of Life.
For 1972's Aguirre, the Wrath of God, Herzog remembered Fricke's approach to a proto-synthesizer that perfectly captured the otherworldly, devotional vibe he was going for. "You have to imagine a machine that runs parallel sound tapes, each tape has a different pitch of tone," said Herzog. "Create the space, create the mystery, create something we've never heard."
He shared stories of playing soccer with Fricke, and illustrated Fricke's playfulness with an anecdote about receiving a call that a large cash grant he had received had been mistakenly sent to the wrong recipient, only to discover Fricke was pranking him. "I have a communication defect," said Herzog to the biggest laugh of the evening. "I understand jokes but I do not grasp irony."
"Later we sort of drifted apart, he was going in a sort of New Age direction, which I never liked," explained Herzog when asked why they stopped working together. "There's this pseudo-philosophical babble going around, and I don't like that kind of stuff, and I told him. Of course, it's his life."
Other sonic insights into Herzog's work included his use of silence to underscore everything from danger to remoteness. "Very notable moments of silence in Cave of Forgotten Dreams," he said. "Twenty-eight thousand years of silence, you can hear your own heartbeat." Elsewhere, he discussed how the soundtracks flows through the film's curiosities with Reijseger's bizarrely gorgeous, overtone-laced score.
[youtube https://www.youtube.com/watch?v=vd3P5HIEyAk]
Asked during the Q&A why, between choral and organ sounds, he returns to devotional sounds so much in his work, Herzog likened it to his use of the word "God" in several of his film titles: he said that he had a brief, intense religious period when he was younger, and though he doesn't practice religion anymore, some remnants of divine consequence likely creep into his work from back then.
Herzog occasionally cited pop culture influences, too, much to the audience's surprise. He professed his love for Hans Zimmer's score to The Lion King, it being one of the only scores to appropriately merge region-specific music with its subject and not be pedantic, to his ears.
After confessing he knows nothing about krautrock, Herzog said he was equally unfamiliar with Elvis until he saw an Elvis film and witnessed young men rip the seats out of a movie theater.
Similarly, he recalled seeing the original Rolling Stones, with Brian Jones in tow, during his first trip to America in the '60s. "It was Brian they loved," he said. "After the concert, they had these plastic seats, and as we walked out we saw every third, fourth of these plastic seats was steaming from urine. The girls had peed themselves, and it was steaming. I thought, 'This is gonna be big.' "