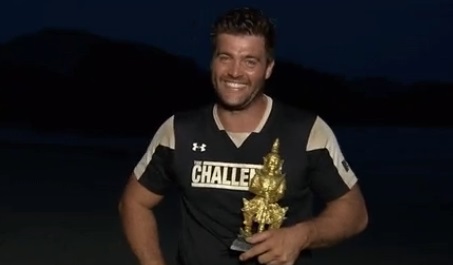 CT won.
No need to bury the lede here.
Dad-CT with his "hashtag dad-bod" pulled off his second career win. A feat that eluded him so many times in his "smash your face and eat it" Rob Gronkowski-physique heyday. I didn't see the movie Logan but I saw the trailer a lot and what I think that movie was about is CT winning Invasion of Champions while the Johnny Cash version of Hurt plays softly in the background. I know from the previews of The Challenge: Champs vs. Pros—which starts next week and pits ten Challenge winners against ten pro athletes—that CT is competing there. But still, I can't help but feel like I'm about to be that little kid in the desert yelling at Alan Ladd to come back like CT was also the star of Shane.
And then we have Ashley. Fantastic addition to the Challenge franchise Smashley who somehow turned a three-episode stint on Real World: Ex-Plosion into one of the most entertaining runs on The Challenge and a championship within like three tries. Ashley will party, freak out, cry, hook up, hallucinate make outs, scream, win—all while still coming off as generally likable. When everyone walked off the podium but Ashley stayed and broke down crying at the end and TJ was like "you get to keep this, you won." That was a great moment. Her calling her mom from TJ's phone in the credits? Also great. It's a true talent to stay likable and I'm thrilled for her win for many reasons but mostly because it means we're going to get more Ashley.  
It's really hard to recap a final challenge because basically it's like: they had to run a bunch and then swim and there was a canoe and it filled up with water and Nelson and Camila went the wrong way. But I'll say this, the beading all night time dump was dope as hell. Especially when TJ caught all three teams taking a break to eat. One thing that doesn't necessarily translate is how tiring it is to do all these events. Like you know they're exhausted but you can't feel it yourself. So to have them go through a full two days and then keep them up all night doing a repetitive task like threading a string for five hours—no wonder Camila went delirious. But then to have TJ come and yell at you—TJ being disappointed in me is my worst nightmare. If he ever read one of these and was like "you didn't try very hard on this one" that would be the end—I'd retire my keyboard forever and go live in that "resort" they send John Cusack to when he has his nervous breakdown in America's Sweethearts. If TJ said that to me on zero hours of sleep, I'd immediately hallucinate myself into an Escape From Tomorrowland-like paranoia and my cause of death would be "scared to death / died of a broken heart. 
This was a long season. Did you remember that this Challenge started during the first week of February? That's like over forty-Twitter beefs ago for Amanda. There are things that happened before the Champions invaded that feel like they were from another season. Kailah and Cory? Wasn't that on like The Gauntlet or something? Speaking of Cory, this was a pretty tight race. I mean Nelson and CT were separated by two minutes and twenty-two seconds. That is double the five-minute penalty from the late-night beading challenge. But Cory, my man. Right before the fourth portion when everyone was solo, Cory was like "I feel like I'm probably in third." Yeah, Cory, you came in third in every part so far. There is literally no mathematical way you are not in third when everything is added up. Cory will win one eventually. Just not when he comes in third in every leg.
Nobody has ever wanted to win anything more than Nelson wanted this win. 2:22. Unbelievable.  
Nicole got Laurel out of this season. And we all got Camila's "middle-finger twerk" dance so really we are all champions now. And also CT won.