As the world's biggest Kenneth Fan-agh (Kenneth Branagh fan) I am so goddam excited for this new adaptation of Murder on the Orient Express you have no idea. Kenneth Branagh dominates franchise stand-alones. He knocks them out of the park. He swaggers up to a big-budget studio flick like he's gliding onto the stage at the Globe Theater and he kills star-studded blockbusters deader than Mercutio at the end of Act 3. Thor? Could have been an awkward, atonal misstep. Instead, Branagh deftly navigated comedy and emotional grounding and gave us the best single Marvel movie in the whole damn panorama. Cinderella? Should have been weak and forgettable. Instead, Branagh delivered a sweeping epic that managed to be romantic without being saccharine (and so much better, as a film, than Beauty and the Beast, just objectively.)
And now Henry V himself is back to give us all another gift: a modern adaptation of Agatha Christie's most famous mystery starring her most famous Belgian detective and his glorious mustache.
I mean, scroll back up and look at that thing.How can a movie that features that mustache be bad?
Check out the whole cast, featured on the cover of Entertainment Weekly, turned sideways for your convenience: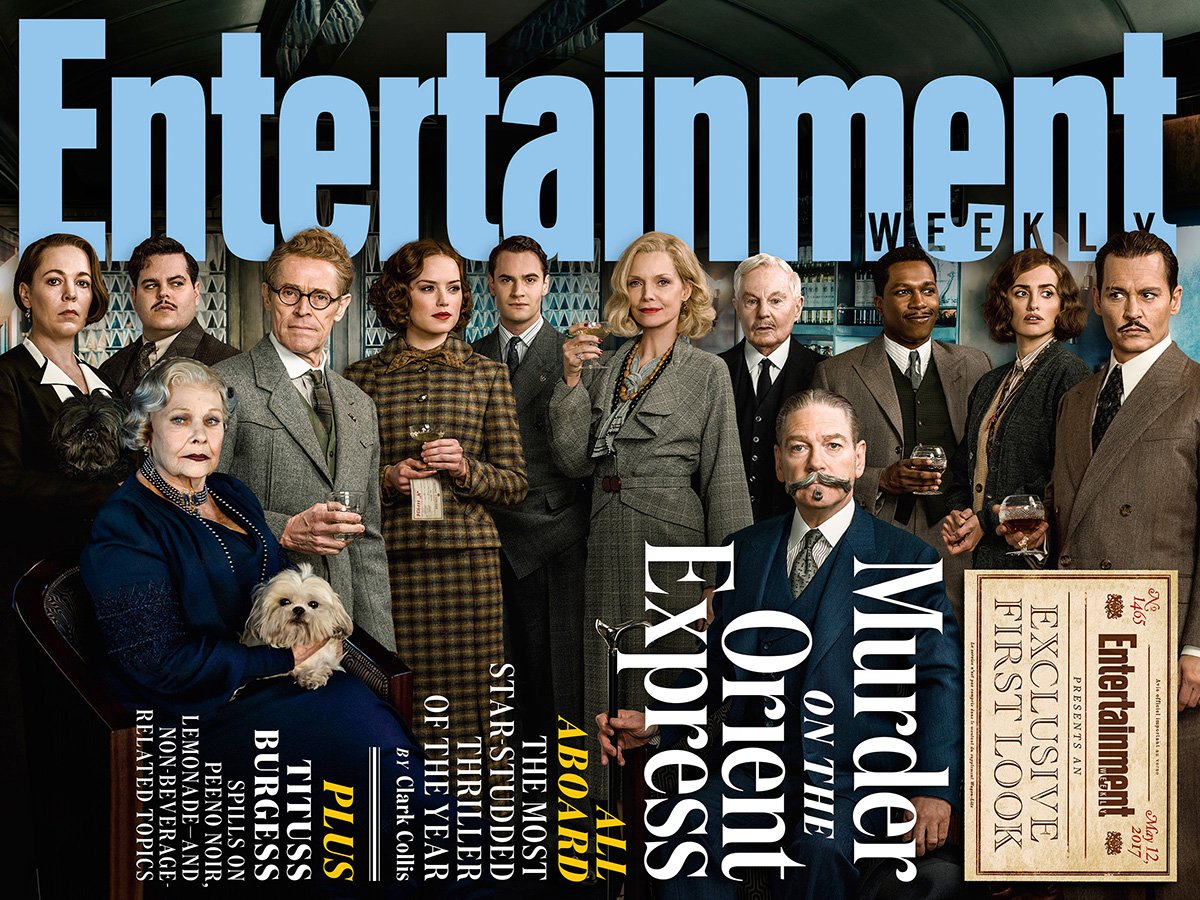 Ubiquitous British treasure Olivia Colman? Check.
Dame Judi Dench? You bet your ass.
Josh Gad, coming off his Disney all-star run? He's there.
Star Wars goddess Daisy Ridley? Yup.
Willem Defoe? Willem DeHELLO!
Oh, did you want another acting legend in there? Okay sure no problem, how about Sir Derek Jacobi? 
Michelle Pfieffer, Penelope Cruz, and Hamilton's Leslie Odom Jr. are also there, looking suave AF.
I have no idea who that handsome boy in the middle of the cover is, right underneath the T and the A, but I'm sure he's a delight.
(For some reason, Count and Countess Andreyni didn't get to make the cover, but the Countess is played by Lucy "The Riddle of the Model" Boynton herself).
I know what you're thinking: Ugh, Dana, but look at Johnny Depp in the corner, with that hideous mustache, clearly cosplaying Mortdecai. I don't need this. Oh yeah? Well, then I guess you won't be interested when I tell you that you're going to get to see Johnny Depp stabbed violently and multiple times! Uh-huh, I thought so.
November 10 cannot come soon enough.  I guess I have plenty of time to get some custom "Kenneth Fan-agh" t-shirts made.