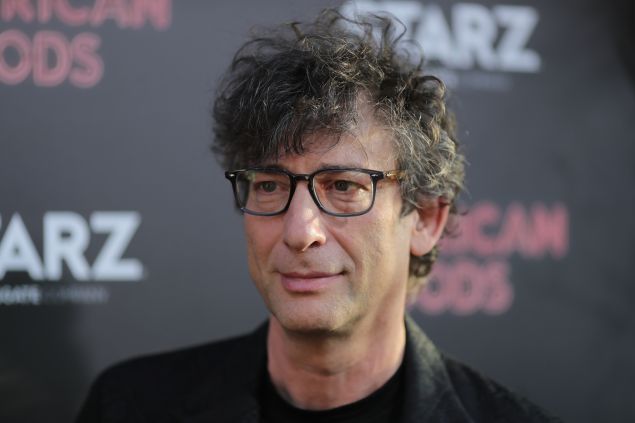 Neil Gaiman. Crowdfunding for Syrian refugees. A menu full of artery-clogging entrees and decadent desserts.
These are all good things on their own, but one writer is betting that they'll be even more delicious together.
Comedian and author Sara Benincasa (who's also a former Observer contributor) wanted to find a novel way to raise money for charity. So she enlisted the help of one of her favorite writers:
"I enjoy cheesecake, Neil and doing things for a good cause," Benincasa told the Observer. "It was half-joking, half-serious. But knowing Neil a little bit and loving his humor as well as his writing and his devotion to doing good in this world, I had a feeling he might say yes."
And indeed, in less than five hours the author had agreed:
"I'd like to say divine intervention was involved, which would make sense for the man who brought the world American Gods and a whole lot more," Benincasa said. "But actually, I just asked."
The Crowdrise campaign for the event (which has been dubbed #NeilCake) went live yesterday and will be open through World Refugee Day (June 20). Proceeds will benefit UNHCR, the United Nations Refugee Agency. The page's goal is $510,000 to cover Crowdrise's processing fee.
"You think you loved American Gods or Sandman or Good Omens or his Doctor Who episodes or the other 18,000 great things he's written?" the pitch asks. "This will almost certainly be better or at least involve more Snickers and Oreo references."
If the campaign reaches its goal, Gaiman will perform the reading within the next year—it will either be an onstage event where ticket sales benefit UNHCR or a livestreamed reading where viewers can "(weep) at the beauty of Neil Gaiman saying 'avocado egg rolls,'" the pitch reads.
Cheesecake Factory itself has gotten in on the fun, probably because even they realize they have the biggest restaurant menu known to man:
Many people commented on the post, asking the restaurant to match donations to the Crowdrise campaign.
Benincasa admitted that raising $500,000 "as a nerd family" is a tall order—the campaign has raised about $55,000 so far. But even if the campaign doesn't reach its goal, any money raised will still go to UNHCR.
While tying the refugee crisis to dessert might seem "silly," Benincasa said she hopes the campaign would help people understand the refugee issue, which is "not funny in the least." She compared her project to the HBO "Comic Relief" specials hosted by Robin Williams, Billy Crystal and Whoopi Goldberg in the 1980s.
"If it makes more people aware of the fact that we're in an era of unprecedented displacement for vulnerable and impoverished peoples, I think it's a good endeavor," Benincasa said.