It's been disparaged as a hodgepodge, a crazy quilt, patched together from a slew of songs recorded over a three-year period, between December '74 and April '77, but since it was released 40 years ago on May 27, 1977, in many ways American Stars 'n Bars has become the quintessential Neil Young album.
Cut in four sessions across the country, from L.A. to Nashville to Neil's La Honda ranch, many of the songs from American Stars 'n Bars were culled from a pair of legendary unreleased projects entitled Homegrown and Chrome Dreams. In a bold stylistic decision, rather than avoiding the transient nature of the project, Young didn't just own up to his piecemeal recording sessions—he proudly displayed the spread-out recording dates for every song on the album jacket.
When he first began putting together the songs that would become American Stars and Bars, Young had been writing fast and furiously following the recent breakup with his wife (and mother of his son Zeke) actress Carrie Snodgress. Love, loss and lust were weighing heavily on his soul. (To make things worse, Snodgress' mother committed suicide soon after the couple split up.) In this ragged emotional state Young composed some of the most intensely personal songs of his career.
Unlike Dylan who publicly chronicled his divorce on his best mid-'70s albums, Blood on the Tracks and Desire, Young initially felt uncomfortable wearing his heart on his sleeve and shelved the album that would have been Homegrown. The album was said to have been stylistically akin to Harvest and included an acoustic duet recorded with Robbie Robertson in England, as well as a handful of impressionistic travelogue songs simply titled "Florida," "Kansas" and "Mexico."
Known as "Shakey" by friends and bandmates, not just for his quavering voice but for his unpredictability, Young is famous for abruptly changing his mind, whether bailing on Buffalo Springfield, his spontaneous departure from the Stills-Young band or his bizarre batch of recordings for Geffen Records in the '80s, when he randomly hopped from country to rockabilly to R&B and electronica at the drop of a hat. (No surprise that each flopped or that David Geffen eventually sued him for artistic irresponsibility.)
True to his impulsive nature and the bitter disappointment of producer Elliot Mazer, Young, after a stoned listening session with The Band's bassist Rick Danko, decided to release the raw and doom-laden Tonight's the Night album in 1975 instead of Homegrown, which for the most part stayed in the can.
Two years later, Young finally realized his original vision in American Stars 'n Bars. Showcasing a smattering of musical styles, Young captivates with everything from country-rock, folk ballads to smoldering electric six-string workouts, but it's the album's strong lyrical focus that burns long after the notes have faded.
A play on the nickname of the Confederate flag, at the time of its release the album's title seemed like a sly retort to Lynyrd Skynyrd and other New South rockers offended by Neil's blunt commentary on life below the Mason/Dixon line in songs like "Southern Man" and "Alabama."
The album cover by actor Dean Stockwell features a plastered Neil, face-down on the saloon floor. Photographed through glass, the lens peers up the red dress and black fishnet stockings of a faceless barroom tart grasping a half-empty whisky bottle. The flip side provides a stark contrast with a collage of an Indian squaw about the size of the Empire State Building looming over a landscape of snowcapped mountains and tepee.
[youtube https://www.youtube.com/watch?v=NxxpePEjQaI?list=PLD432DB5E81E20781&w=560&h=315]
The opening number the "Old Country Waltz" kicks off with a weepy fiddle and Young's dejected, weary voice, telling the sorrowful tale of how he got the news second-hand that his gal let him go. He sounds like he's about to die. Stunned, the only thing he knows how to do at this point is to keep on playing with his band in an empty bar, hoping the pedal steel guitar "echoing off the wall" will somehow pull him through. A cowgirl chorus comprised of Linda Ronstadt and a then-unknown Nicolette Larson sound more daunting than comforting, more tequila-fueled siren than blue-jeaned angel.
It doesn't take Young long to "Saddle Up the Palomino" and bounce back, as he begins lusting after his neighbor's wife, Carmelina. Co-written with legendary New Orleans songwriter Bobby Charles ("See You Later Alligator"), the tune features a great guitar riff, some fine advice—"If you can't cut it, don't pick up the knife"—and a memorable metaphor for unrewarding love as "a cold bowl of chili."
Although now a free man, Young's thinly-veiled protagonist reveals his overwhelming insecurity, in "Hey Babe," as Young, in this bouncy country rocker, gently begs, "I need it oh so bad…"
"Hold Back the Tears" sounds like the kind of advice a friend helplessly offers following a crushing breakup, perhaps trying a bit too hard when they optimistically offer, "Around the next corner may be waiting your true love."
A greasy, country-rock pounding follows up next with "Bite the Bullet," celebrating Young's obsession with "a bar hall queen" with one of the greatest vague rock references of all time. The phrase, "bite the bullet," which first appeared in a Rudyard Kipling novel 85 years earlier, meant to endure something both painful and unavoidable. In Young's case, it's sexual: he hankers for a "walking love machine," and he'd "like to hear her scream when he bites the bullet."
The album credits list back-up singers Ronstadt and Larson as "The Bullets" on the tune. Young soon had a brief affair with Larson, who would have a Top 10 hit with her rendition of Young's "Lotta Love," a tune originally earmarked for theStars 'n Bars album, but forgotten by Young, and resurrected by Larson after she found a cassette tape of it lying on the floor of his car.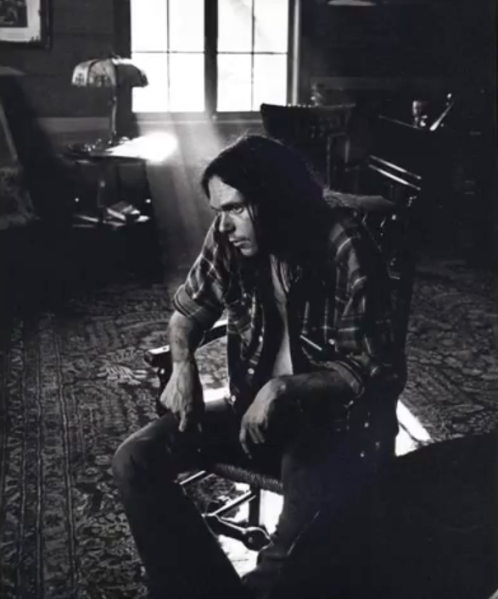 Recorded in Nashville in November 1974, "Star of Bethlehem" was originally meant for the aborted Homegrown album. An acoustic meditation on a lamp gently glowing down the hall, the song (featuring Emmylou Harris on harmony vocals) captures the ethereal fleeting quality of life, as Young recreates the sense of mystery and wonder one experiences while gazing up at the Milky Way.
Young's songs have always been a mixed bag of images. Since his days with Buffalo Springfield, Young's lyrics have evoked a mythical North American landscape, where anything can happen within the elastic boundaries of his imagination. Native Americans ("Broken Arrow," "Pocahontas, Marlon Brando and Me,") aliens in silver spaceships and knights in armor ("After the Gold Rush") all coexist whether in a timeless frontier town or on a desolate beach at the edge of the world.
With its gentle, chiming vibes and stoned, candle-lit atmosphere "Will to Love" sounds more like a demo tape from Curtis Mayfield's junk drawer than a "finished" track. Neil considered the song, which he recorded at home on a two-track cassette deck, "one of the best records I ever made."
Following an operation to remove nodes on his throat, a temporarily speechless Young conjured a William Blake-like vision of Jimi Hendrix's specter haunting "a crowded hazy bar," with his epic "Like A Hurricane." While he wrenches emotionally drenched distorted leads from his Les Paul, Young's riffs always remain melodic. He doesn't try to impress with a virtuosic display of chops. While loyal cohorts Crazy Horse give solid support on seven tracks of the album, they really blaze on the album's eight-minute hit single.
"Homegrown" is Young's tip of the hat to the organic/grow-your-own crowd (whether growing food or weed) who turned their back on the rat race and moved to the country to lead a more natural life. "It's a good thing," as Young would sing.
Young, along with Willie Nelson and John Mellencamp, backed up his words—he helped start the annual benefit for America's farmers known as Farm Aid in 1985.
Listening back to American Stars 'n Bars today, it's clear that the enigmatic Neil Young blazed the trail for every alt-country rocker to come. As he fittingly sings on "The Star of Bethlehem," "The star wasn't a star at all"—like Young's best music, it's a spark in the darkness.