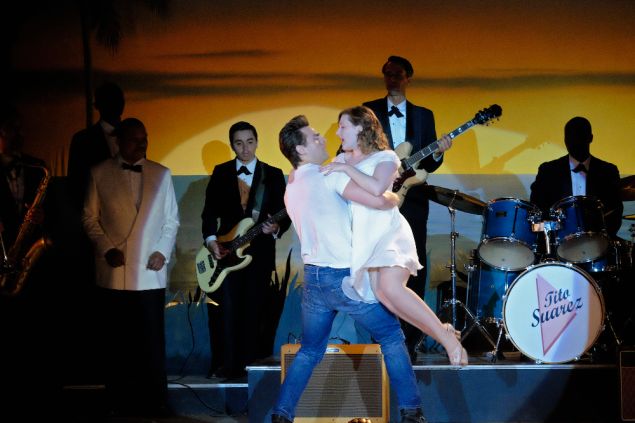 It's an iconic film; one that became an unlikely hit. When first theatrically released, it was actually a small movie, with no big name stars and a slightly controversial storyline. And, there was dancing, lots of dancing.
In 1987, that little film took off in a way no one expected and now, because of its enduring popularity, exactly 30 years later, Dirty Dancing has been re-envisioned for a new generation.
The story has been modified into a three-hour television musical event that features an expanded plot, additional musical numbers, and has its stars not only dancing but singing as well.
For the uninitiated, Dirty Dancing is the story of Frances "Baby" Houseman, a Jewish teenager who, during a summer vacation with her family in the Catskills, falls in love with the camp's dance instructor, the tough but tender Johnny Castle.
Tasked with expanding the film into an "event," writer Jessica Sharzer explains, "When we started out we knew that we basically wanted to add six scenes so we talked a lot about the themes of the movie. It's a bittersweet story about the end of innocence – for individuals, for the country at that time—and how that's both a good thing and a bad thing. We also wanted to tap into that real first wave of feminism that was going on at that time. With these things in mind, the story expanded very organically from there."
Sharzer felt from the start that she was the right person to update the script for Dirty Dancing because, "When the original came out, I was a teenager in New York and my father is a doctor, so I really identified with the movie. It was a movie that I knew by heart way before I got involved with it."
In taking on the iconic story, Sharzer immediately realized that "you don't want to ruin what's been done and you don't want to change it so much that it's unrecognizable. So, it's really about finding a balance that honors the original piece and expands it without changing it too radically."
To accomplish the necessary expansion, Sharzer says, "It meant giving a deeper story to Baby's parents and her sister, and examining Johnny's backstory as well. We wanted it to feel seamless with the original."
Sharzer believes that the addition of the parent's storyline gives the film an adult love story that parallels the young love story of Baby and Johnny in an interesting way.
In a fascinating turn, Sharzer found that the passage of time gave her a new perspective on the elder Houseman's' love story. "When [the movie] first came out, I was Baby's age and now I'm the parent's age, so that part was very personal to me. It was a really satisfying story for me to tell."
Debra Messing, who stars as Houseman matriarch, Marjorie, says, "The fact that it was 30 years ago is mind-blowing to me."
She adds, "This is a beautiful story that addresses racial issues, sexual issues, and women's issues, and it's all very relevant right now."
Starring as Baby, Abigail Breslin, believes that the themes explored in the film are all universal, "Whether it's Johnny and Baby's relationship, a parent having to let go of their kid, or a child having to separate from their family's hold, or just experiencing a first love, it's all extremely relatable."
For choreographer Andy Blankenbuehler updating the famous film was challenging in many ways. "It's with very gentle hands that you take a product like [this] that people love so much and that they have such a passion for. You [don't want to] break a mold that worked so well before. It's a very delicate balancing act of wanting to put your stamp on it but [still keep] the things that people romantically loved so much [about it]."
Bruce Greenwood who stars as Dr. Houseman, Baby's stern father, says that this version is, "true to the original but it lifts the lid on all kinds of questions you may have had about the original and you get to revisit the family and get a little closer [to them]."
One of those questions—what happened to Baby and Johnny after the summer ended—is answered in this version of the story.
All of it still holds up three decades later according to Sharzer because, "It's about these big universal themes. It's about breaking away from your family, finding your identity and becoming an adult. It's also a class love story. Those always work because both sides are learning from each other. And, it's a family summer vacation movie; this family goes away together for the summer and by the end, each of them has been transformed for a different reason. There's something that feels very real about all of this and that's why it's a truly a timeless story."
To further encourage viewers to tune in, Sharzer says, "I know that people are used to seeing the original movie with those familiar actors in it, but I'd really like people to open their hearts and minds to this version."
She laughs a little as she adds, "I'm well-aware that people will 'hate-watch' this and I'm O.K. with that. Just come and watch it. I think you'll truly find it uplifting."
Dirty Dancing airs Wednesday night at 8 p.m. e/p on ABC.