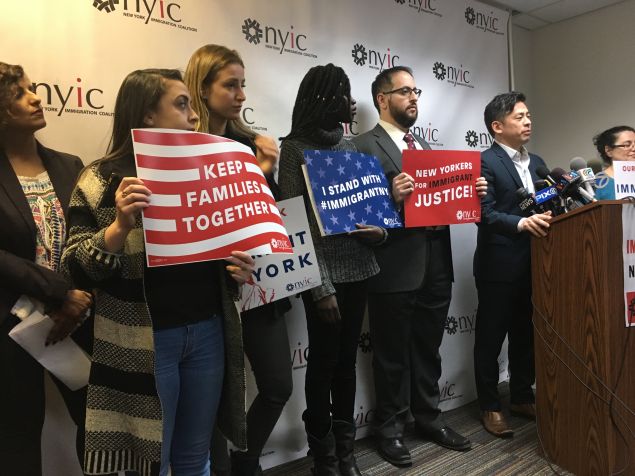 The New York State Immigrant Action Fund—the political arm of the New York Immigration Coalition, an immigrant advocacy group—announced its endorsement of Rev. Khader El-Khateem, the first Palestinian-American Christian to ever run for the City Council, for the seat that will be vacated by Brooklyn Councilman Vincent Gentile.
El-Yateem, a Lutheran minister born in Bethlehem in the West Bank, was one of five candidates year that the NYSIAF backed in the Democratic primary this September. A 22-year resident of the district covering Bay Ridge, Dyker Heights, Bensonhurst and Bath Beach, El-Yateem spent six years working in the public relations department of Maimonides Medical Center, helping fellow immigrants from the Middle East negotiate the healthcare system.
He also recently came out in support of the controversial Boycott, Divestment and Sanctions movement, which seeks to isolate Israel from the international community over its operations in the Palestinian territories.
"Immigrant Action is dedicated to supporting candidates and elected officials who will fight for immigrant communities and support humane immigrant policies," Steve Choi, executive director of Immigrant Action, said in a statement. "These six candidates represent the values that Immigrant Action fights for."
The group also endorsed Acting Brooklyn District Attorney Eric Gonzalez to retain his job; Carlina Rivera, a former staffer for Councilwoman Rosie Mendez, who is running for Mendez's seat; Democratic Bronx District Leader Marjorie Velazaquez for Bronx Councilman James Vacca's seat; sitting Brooklyn Councilman Carlos Menchaca, who is an incumbent; and Dylan Schwartz, a Democrat seeking to challenge Staten Island Councilman Joe Borelli.
"Carlina Rivera, Marjorie Velazquez, Dylan Schwartz and Rev. Khader El-Yateem, will all bring an immigrant-focused and fresh perspective to the New York City Council," Choi continued. "The districts they are running to represent span four of the five boroughs of New York, Manhattan, the Bronx, Staten Island and Brooklyn, and showcase the diversity of immigrant communities and needs in New York City."
The seat El-Yateem seeks has traditionally been a stronghold of conservative-leaning white ethnic Catholics, but is now also home to a growing population of Arabs, Asians and Eastern Europeans.
The other Democratic candidates include Gentile aide Justin Brannan and district leaders Kevin Peter Carroll and Nancy Tong.