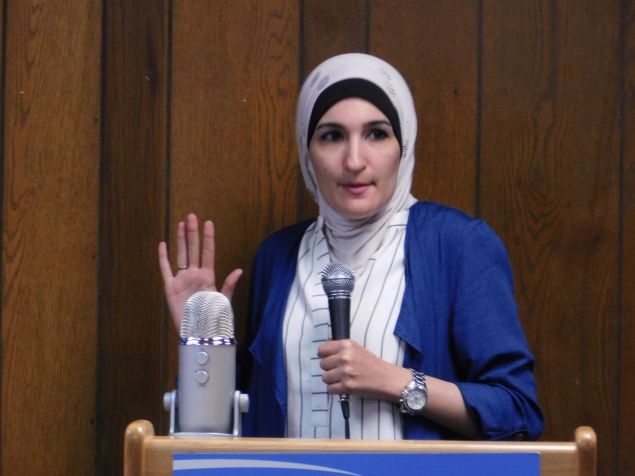 Staten Island Assemblywoman and GOP mayoral candidate Nicole Malliotakis told the Observer last night that she returned campaign contributions from Palestinian-American activist Linda Sarsour—and condemned the City University of New York's Graduate School of Public Health and Health Policy for inviting the Women's March organizer to speak at its commencement next month.
The activist donated $150 to Malliotakis' "Nicole for New York" committee in June 2011 and another $150 in May 2012, according to state Board of Elections filings. Malliotakis told the Observer that she returned the donations before jumping into the Republican contest for mayor last week—and before issuing a statement calling on CUNY to cancel her appearance.
"Well I returned them already so that was about three, four years ago," Malliotakis said after an unrelated event in Manhattan.
Malliotakis's Staten Island-based district stretches into the Bay Ridge section of Brooklyn, where until recently Sarsour led the nonprofit Arab-American Association of New York. The pol said that she, Sarsour, State Senator Martin Golden and Councilman Vincent Gentile were part of the Bay Ridge Unity Task Force, which addressed racial and religious tensions in the swiftly diversifying neighborhood.
But Malliotakis said that she believes Sarsour, who gained national prominence in 2014 for her work in the Black Lives Matter movement, has since become alienating.
"Whenever those things happened, this unity group came together and they spoke as one community in Bay Ridge and during that time period, all of us, Senator Marty Golden, Council member Gentile, myself, worked with Linda," Malliotakis said. "But in recent years, she's become divisive and I don't, I feel like we've gone different, separate ways."
Sarsour did not immediately respond to a request for comment. The outspoken activist is also known for her opposition to Zionism and Israeli military operations in the West Bank and Gaza Strip, and for her involvement in Vermont Sen. Bernie Sanders' presidential campaign.
"It should be just a day to encourage these young graduates and to be united in their quest to make our world a better place," Malliotakis said. "And look, I'm totally for, you know, obviously free speech and advocating for what people believe, I just believe it's a little divisive for CUNY to be selecting as a commencement speaker."
Sarsour praised the assemblywoman online in 2014 for her opposition to racial prejudice.
[protected-iframe id="e157b1c4d4de91f1a8bc3fcd87d18b5b-35584880-66645959″ info="//platform.twitter.com/widgets.js" class="twitter-tweet"]
And when the congressional seat covering Bay Ridge and Staten Island became vacant following the resignation of the disgraced Michael Grimm, Sarsour encouraged Malliotakis's bid to fill the post. The Staten Island Republican Party ultimately decided to run then-District Attorney Daniel Donovan, who had become nationally famous after a grand jury he impaneled declined to indict the cop who killed Eric Garner, a black man, on the borough's North Shore.
[protected-iframe id="af5296e13bf86e674f3c42a6bf01083e-35584880-66645959″ info="hash" class="twitter-tweet"]
But the relationship has since soured. In November, in the immediate aftermath of the election, Sarsour blasted the assemblywoman—who is the daughter of Greek and Cuban immigrants—when she tweeted that the Council should focus "half as much effort on the citizens that actually elected them" in response to a tweet by City Council's account emphasizing New York City's status as a so-called "sanctuary city" for immigrants.
Last year, Malliotakis and Assemblyman Ronald Castorina—a fellow Staten Island Republican—sued the city to try to prevent it from deleting the files of its IDNYC municipal identification program, believed to contain the personal information of thousands of undocumented immigrants. A Staten Island judge ultimately decided the pair did not have legal standing to make its case.
Castorina recently clashed with Sarsour online after calling for CUNY disinvite her to the commencement.
Sarsour has received support from numerous activists and elected officials, including Sen. Kirsten Gillibrand, Brooklyn Councilman Jumaane Williams, Brooklyn Councilman Brad Lander and Bronx Assemblyman and Democratic National Committee Vice Chairman Michael Blake.
A spokesman for Mayor Bill de Blasio tweeted recently that while he does not agree with Sarsour's stance on Israel, it "doesn't mean she should be banned from public life."
When asked why she believes that it is a mistake for Sarsour to speak at the commencement ceremony, Malliotakis said that Sarsour is "being very divisive" and that a commencement ceremony "shouldn't be a day for political purposes."
Sarsour's allies will hold a press conference tomorrow afternoon at City Hall to defend the scheduled address.