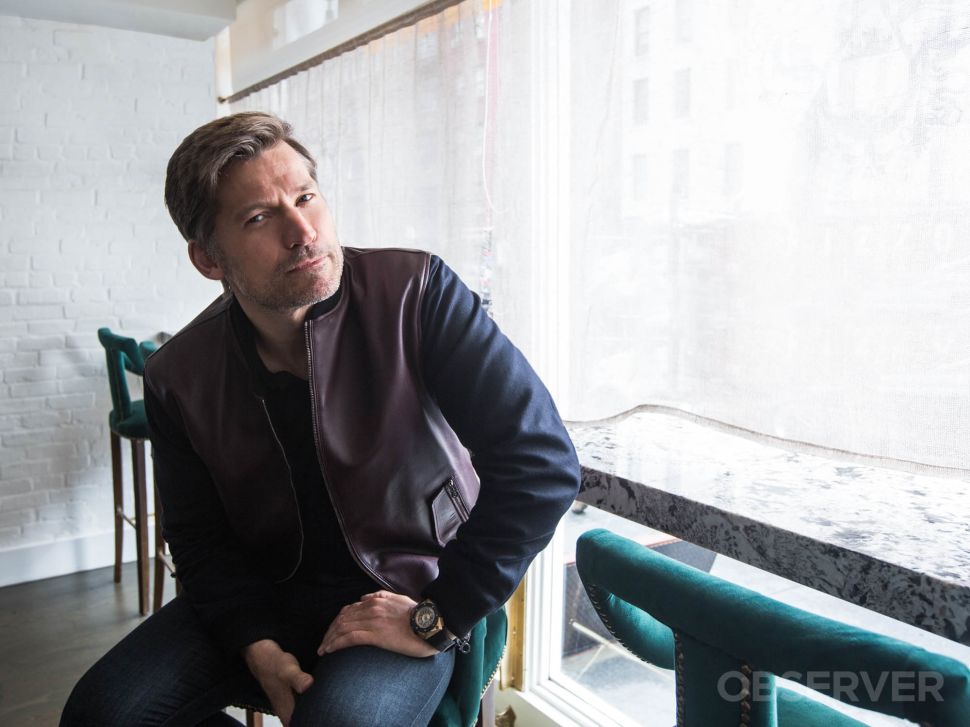 If Nikolaj Coster-Waldau has his way, Jaime Lannister will depart Game of Thrones in a brilliant flash of dragon fire. "It has to be a dragon death," he tells me, grinning. "It's got to be the dragons that get him."
We're on the third floor of Greenwich Steakhouse, the Village melting outside under Manhattan's first truly warm day of the year, sitting surrounded by wine racks at a table long enough for a Lannister's living room. Coster-Waldau, his Danish accent far more pronounced than it is in Westeros, his eyes a White Walker shade of piercing blue, eats a single cookie off a tiny round plate, something I probably wouldn't even notice if it were not being done by the six-foot-two result of a sketch artist being asked to draw Prince Charming. This cookie should be baked with gold, and there should be hundreds more; thousands more; enough to make A Song of Ice and Fire author George RR Martin spend at least four pages describing them.
Coster-Waldau is in town to promote Evan Katz's low-budget noir Small Crimes, streaming now on Netflix, but one doesn't get Jaime Lannister in a room without discussing HBO's fantasy mega-hit; and one doesn't discuss Game of Thrones, period, without eventually discussing death. Which is how we land on the actor's desire for his own character—the Lannister family's stone-jawed golden boy, incestuous father of two with sister Cersei (Lena Headey), a.k.a. Kingslayer, Oathbreaker and a whole host of other unsavory epithets—to wave his one-handed farewell to the consistently kill-happy series by being burnt to a crisp by Daenerys Targaryen's (Emilia Clarke) massive, CGI dragons.
"Just fried," he says, clearly relishing the idea. "He has to burn. Has to."
Of course, whether this is speculation or spoiler is known only by an extraordinarily exclusive crew; the series, debuted in 2011 and quickly ballooned into a worldwide phenomenon, has since surpassed its A Song of Ice and Fire source material. When it returns in July for its penultimate season, we will be over The Wall and into the unknown, the plot-points existing for now only in the heads of the cast and crew, series co-creators David Benioff and D.B. Weiss, and George RR Martin himself.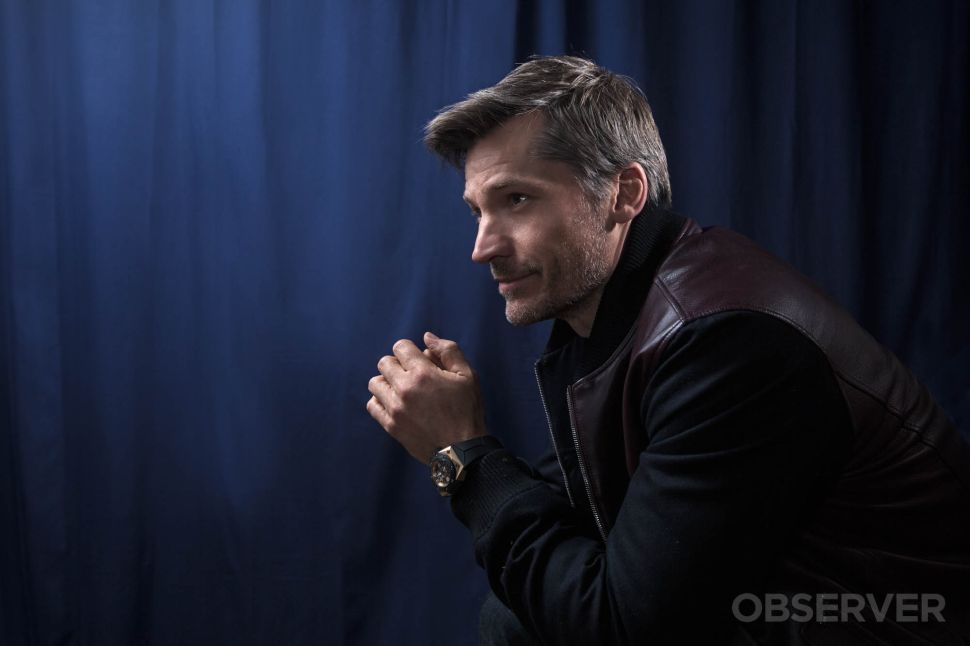 But there's something important to know about talking to Nikolaj Coster-Waldau: the man is a sharer, to say the least, perhaps the result of being raised in Tybjerg, a tiny village situated in the countryside of southern Zealand. Within an hour of meeting him, I knew the TV series the actor was currently hooked on (Silicon Valley, loved the premiere); I knew the poster that hung on his childhood bedroom wall (the album cover of David Bowie's "Heroes"); I heard the story of a young Coster-Waldau serenading his schoolmates with a Rod Stewart cover ("Do Ya Think I'm Sexy," of course) and was filled in on some hot Tybjerg gossip from circa 1980 about the time the principal of his middle school's wife started an affair with another teacher. "No, no, it gets even better," Coster-Waldau says before I could interrupt, fully headed down memory lane at this point. (For the record, it did get better. Small-town Denmark scandal is my new favorite scandal).
So, surely, nabbing a few spoilers from the biggest show on television by conversation's end wouldn't be out of the question, would it? "For years there was the whole thing with 'book readers' who knew what was going to happen. But it is more intense now, because nobody knows," Coster-Waldau says. "There has been a couple times where I've actually, by accident, said something I shouldn't have. But because nobody knows, they don't necessarily pick up on it."
I get what he's saying; the anticipation for more Thrones—both show and book series—has reached such a fever pitch of online hypothesizing and fan theories that an actual correct guess would be lost in the noise like a musician playing the wrong note in concert.
"If you go online you can definitely read every plot point that's going to happen," Coster-Waldau says. "You can find the ending of Game of Thrones on the internet. It's there. But you wouldn't know. Of course, nobody really wants to know."
Here, I throw the journalism ethics book out the third floor Greenwich Steakhouse window to abruptly correct my interview subject; I'd very much like to know, on the record, the ending of Game of Thrones. He laughs. "Maybe I should try it one day. Just say, 'Yeah, here is exactly what happens.' You'd probably just go, 'Pfffft, no, it's not.'"
He's right, of course. There is no way Jaime Lannister actually dies by dragon fire, no way the actor who plays him just came out and told me because, hey, how would I even know?
Right?
The look on his face at this point, so self-assuredly charming in victory, is so Lannister-esque I half expect him to pick up that cookie—that one single cookie off that tiny, tiny plate—with a hand made of solid gold.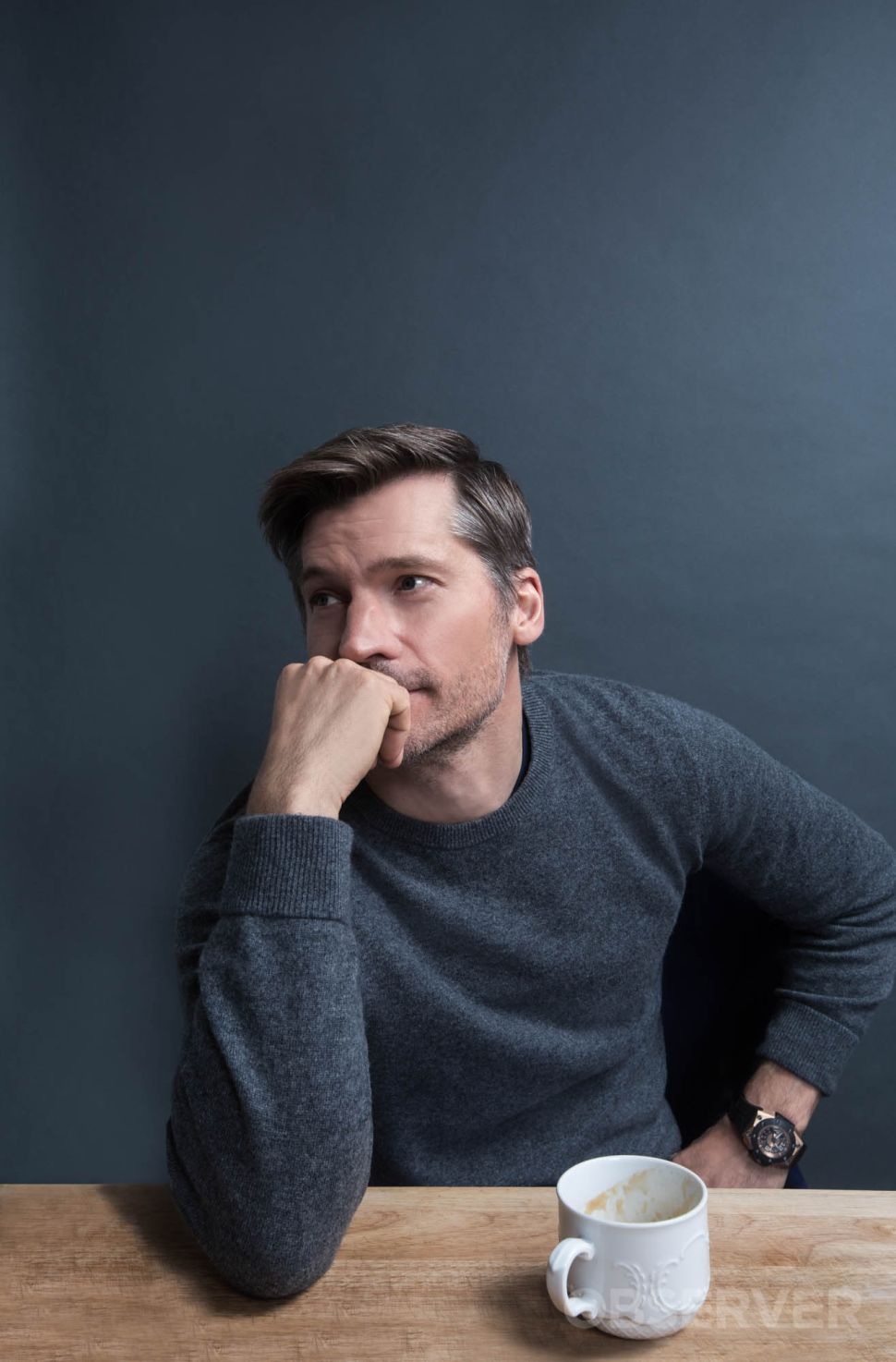 In the odd-ball dark comedy Small Crimes, Coster-Waldau plays ex-police officer Joe Denton, a world-weary five o'clock shadow with legs pretty much the exact diametric opposite aesthetically of Jaime Lannister's flowing hair'd gallantry; where people call Jaime "Kingslayer," the press calls Joe "Slash Cop," a nod to the knife-wielding assault charge that landed him a six-year prison sentence. We meet Joe fresh out of jail for a bloody, brutal little film that often manages to simultaneously be quite funny, in which Coster-Waldau spends a great deal of screen time getting his ass kicked with everything from a stun gun to a pair of nunchucks.
"I love that stuff," the actor smiles. "It's funny, because he deserves it. What we tried to do, and I spoke to [writer-director Evan Katz] about this, I said 'we have to lean into that aspect of it, because it is such a dark story and Joe is such a scumbag.' You think it's going to be one of those movies where a guy turns his life around, and he then goes and makes every wrong decision you can possibly make. So you have to be able to laugh at him."
"We tried to find the humor even while he's getting beaten up. Like, when [co-star] Gary Cole tases me, it's like, you know…" Coster-Waldau trails off and instead convulses in his chair, tongue out and eyes bulging, in a comically over-the-top rendition of a man being tased in the stomach by well-known character actor Gary Cole.
That is another important thing to know about talking to Nikolaj Coster-Waldau: he's simultaneously animated and engaged, an interviewer's delight. He will answer with a specific story, a detailed childhood memory or thought-out rumination on life itself, and in lieu of an actual anecdote he'll act out an answer for you.
Perfect example: When discussing his fondness for his truly immoral Small Crimes character—and that fondness is delightfully palpable throughout—Coster-Waldau begins by saying "even though Joe is suck a fuck-up, I still…well I don't care for him but I still want to know what happens to him. I don't want to be his best buddy, but there's something about him. He's like, what's the word…"
At a loss, Coster-Waldau simply does a spot-on impression of a fishing lure staying afloat, bobbing relentlessly above the water's surface. "Joe is like that," he goes on afterward. "He's always like, 'I'm back, I can still make it no matter what.'"
A running theme throughout Small Crimes is that abstract idea of "second chances"; whether or not they exist, and what it then would mean to truly earn one.
"I do believe in second chances," Coster-Waldau says. "God knows I believe in third chances as well. But the thing is, do you believe you can actually change? Fundamentally change the person you are? I'm not so sure about that."
But when I press for specifics, a moment in time when the actor, be it professional or personal, was given a second chance, he draws a blank. He puts his face in his hand and thinks about it, really thinks about it because if Coster-Waldau is going to properly answer an interview question—no, if he's going to offer a life lesson, he's going to find the right words. Right now, though, the only thing popping into his head is a 2014 film he starred in, quite literally titled A Second Chance.
I posit, only half-jokingly, that perhaps he simply does not make mistakes.
"No, I do. I do," he says. "God no, I have made mistakes. We all do. But I don't know about the whole idea that forgiveness is a one-off/ I've gotten a lot of second chances. You kind of have to earn it. We have this weird belief, which is very fundamental to our culture, that forgiveness is to be given. You can just get it, you can be forgiven for anything. Which would be wonderful, because guilt is a bitch to carry around."
He brightens suddenly. "I do remember one thing."
The actor launches into a story that occurred not in his career, or on the set of Game of Thrones, or even over the course of his now-19-year marriage to Greenlandic singer Nukaaka Coster-Waldau, but during his grade-school years. A classmate stole a Swedish exchange student's video game—Coster-Waldau calls it "one of those beep beep games," which is endlessly endearing—which then ended up in his own possession.
"I couldn't deal with the stress of it," he remembers of harboring the contraband 'beep beep game.' "I called another friend, and he said, 'You have to bring it to the principal.' It was beautiful, because it was so innocent. 'You have to.'"
The problem, Coster-Waldau tells me, is that the principal was "a psychopath" (one-third of the aforementioned scandalous affair, actually). But still, the young Coster-Waldau summoned his courage and returned the exchange student's console, and life in small-town Denmark moved on.
"Well, no," Coster-Waldau laughs. "The principal actually made me feel terrible, like I was on my way to prison for probably the rest of my life. He kind of just took the game back and said 'you're a piece of shit, you little scumbag.'
"My point," he continues, now beaming, "is that he did not give me a second chance. But just the fact that I did it actually made me feel better. It was the action, not the forgiveness. I knew that I did the right thing. Not him."
Which, oddly enough, brings us right back to Jaime Lannister.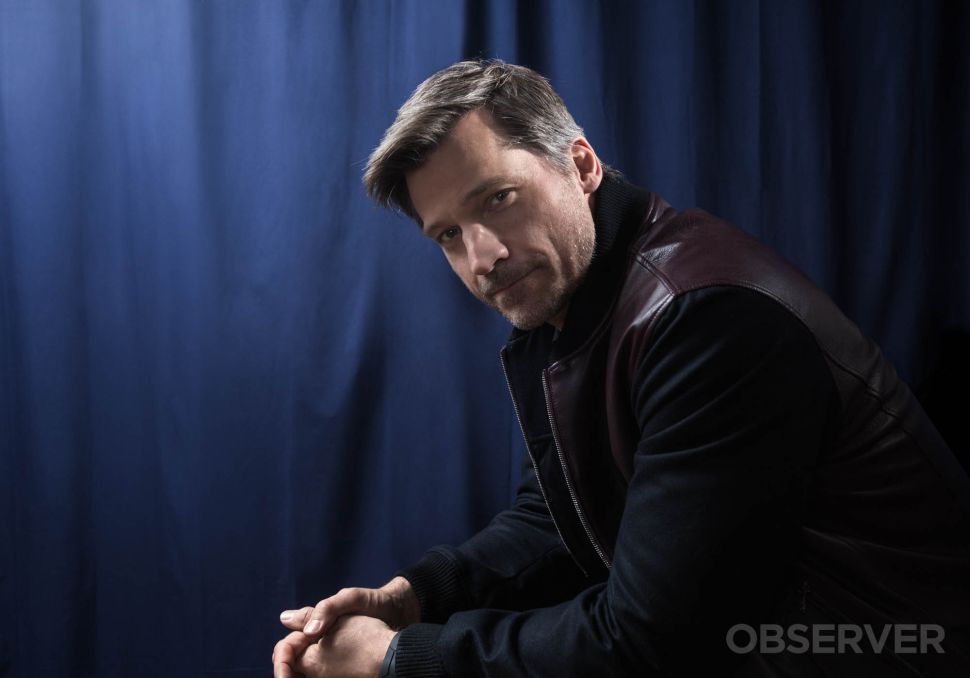 You see, the incident that gave the character the title of "Kingslayer" occurred before the events of Game of Thrones began; Jaime, still captain of the Kingsguard, drove a sword through the very king he swore to protect, Aerys II Targaryen. Which, yes, is not the best career move. What Jaime's detractors do not know is Aerys had given the order to ignite countless caches of wildfire hidden throughout the city, killing thousands of innocent people, when Jaime stepped in to stop him; a crucial fact we do not learn until a season 3 bath tub confession from Jaime to Gwendoline Christie's Brienne of Tarth.
"If this is true, why didn't you tell anyone? Why didn't you tell Lord Stark?" asks Brienne, referring to Sean Bean's ultra-moral Eddark Stark.
"You think the honorable Ned Stark wanted to hear my side?" Jaime answers, one line of a performance that landed Coster-Waldau on many an Emmy Snubs list in 2013. "He judged me guilty the moment he set eyes on me."
Now, not to outright compare regicide with the theft of a middle-schooler's video game system, but there is a certain parallel. Jaime Lannister as a character lives a life condemned—is "Oathbreaker" really that far off from "little scumbag"?—because of a choice he made, that he and nearly he alone knows was right. It is, as Coster-Waldau said, the action that defines him, not anyone's forgiveness.
Four seasons later, and this parallel still colors the way Coster-Waldau plays Jaime.
"That scene in season 3 was a very important moment," he tells me. "The most important for Jaime, I think, was in that bath with Brienne. It was called 'Kissed by Fire,' that episode.
"Which is why," he concludes, "I think Jaime should be killed by fire."
It would be poetic, in its way. A perfect circle. Maybe a little…too perfect? "Well, I guess we'll see what happens," Coster-Waldau says. "You'll remember this when you're watching next season. You'll be like, 'Oh, fuck.'"
He's kidding, of course. Jaime Lannister isn't going to be burned to death in season seven of Game of Thrones. That is not, as Coster-Waldau joked before, "exactly what happens." Right?
Pffft, no, it's not.