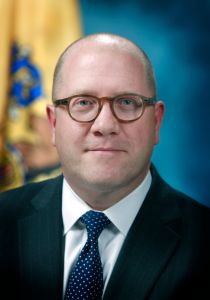 Attorney General Chris Porrino announced a new anti-corruption effort Tuesday, including a maximum $25,000 reward for members of the public who submit tips.
The rewards will be funded by the Attorney General's Office using funds drawn from criminal defendants' seized assets. Government employees who are bound by law to report corruption offenses would not be eligible for these rewards, he added.
Porrino said he also will offer low-level participants in a corruption scheme the opportunity to avoid prosecution if they blow the whistle on higher-level participants. Porrino said the changes will give the state more leverage against "bad actors."
"Our whistleblower program strategically allows secondary players in corruption schemes to come clean and avoid prosecution," Porrino said in a statement.  "Whether we're talking about a skilled public worker assigned to act as a personal handyman for his boss, or a contractor asked to pay bribes to a local code inspector, or a corporate employee pressured by executives to make illegal political contributions, we're offering a way out of such predicaments for those who come forward first and are less culpable."
Anyone with knowledge of a potential offense can call a 24-hour hotline at 866-TIPS-4CJ, or visit the Department of Criminal Justice's website to submit an online report.