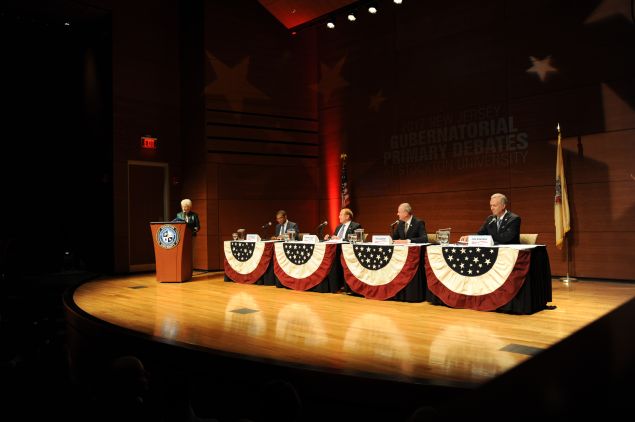 The four Democrats vying for their party's nomination for governor debated for an hour Tuesday — if you can call it a debate when everyone sort of agrees on how to tackle the biggest problems facing New Jersey.
The debaters were Jim Johnson, a former undersecretary of the U.S. Treasury; Ray Lesniak, a state senator from Union County; Phil Murphy, the former U.S. ambassador to Germany under President Barack Obama; and John Wisniewski, a state assemblyman who blew the lid off the Bridgegate scandal.
The prize is a big one this year — political analysts and pollsters say the Democratic nominee is favored to win in November after Gov. Chris Christie's lackluster two terms.
But any distinctions between the candidates were mostly lost in a sea of questions about school funding, the state's pension-funding crisis, environmental protection, and legalizing marijuana.
The night did begin with some focused fire on the front-runner, Murphy, by Johnson and Wisniewski.
"A state bank in New Jersey would be a disaster," Wisniewski said, attacking one of Murphy's big ideas. "If Mr. Murphy wants to create a state bank, maybe he should go back to Wall Street." (Murphy spent 23 years at Goldman Sachs.)
And the debate ended the same way.
"The old playbook got us the highest property taxes in the nation, the highest rate of foreclosures," Johnson said. "It got us Jon Corzine. It got us Chris Christie. It got us Chris Christie again … and it will get us Phil Murphy."
The main criticism is that Murphy secured the endorsement of New Jersey's all-powerful Democratic county machines, who control the top ballot position in primary races. The endorsements made Murphy the odds-on favorite for the nomination. Johnson and Wisniewski said it was politics at its worst.
But most of the debate was a big salad of liberal wish lists that served to emphasize how similar all the campaigns are on policy terms.
The Democrats agreed some taxes on wealthy earners or estates needed to rise in order to patch up a $135 billion hole in the state pension system, according to Bloomberg data. All four said the state should fully fund a formula for state aid for schools devised in 2008, which has never been fully implemented amid court challenges and budget cuts by Christie. They all support raising the minimum wage to $15 an hour.
"I would bring back the millionaire's tax," Lesniak said. Christie vetoed it five times before Democrats gave up on him.
All four candidates said they would legalize marijuana. And all four emphasized the need for environmental protections in the Garden State.
One of the most novel proposals in the governor's race so far is Murphy's idea to create a public bank, owned by taxpayers, to finance relatively small projects and, he says, spur economic growth.
"I'm a big believer in the notion called the public bank, a bank that we would all own as citizens," Murphy said, adding that it would issue "small business loans, working with community banks" and "small-scale infrastructure loans in communities."
Wisniewski pounced. New Jersey has made a mess of its pension system and its budget, while its schools have been chronically underfunded, he said. The public bank was the same kind of "shiny object" — or gimmick — that has ended up weighing down the state's finances, he argued.
North Dakota, the only state with a public bank, has said no other states should try it because it has the luxury of booming oil and natural gas revenues to underwrite their operation, Wisniewski said.
Murphy defended the public bank proposal, saying "bankers' opposition" and U.S. Sen. Bernie Sanders's support for the idea gave him "great comfort." (That was a veiled shot at Wisniewski, who led Sanders's presidential campaign last year in New Jersey but has not been endorsed by the progressive senator.)
When Christie was a first-term governor during the height of the tea party fervor, he pulled New Jersey out of a regional cap and trade program, the Regional Greenhouse Gas Initiative. At the time, Christie said that climate change was real and that human activity contributed to it, but he added that RGGI was too onerous for New Jersey's economy.
But now it seems inevitable that no matter who wins the governor's race, New Jersey will be rejoining RGGI.
Johnson said he would rejoin RGGI. Wisniewski said Christie "dismantled our environmental protections" by "eviscerating our clean energy fund." He wants the state to rejoin RGGI and "expand that as a regional compact to promote the installation of alternative energy."
On the Republican side, Lt. Gov. Kim Guadagno also has come out in support of rejoining the cap and trade agreement.
Most Democratic voters polled by Quinnipiac University last week had not made up their minds about their horse for the June 6 primary. But Murphy led the pack among those who did have a candidate, with 26 percent support. Next up was Johnson, with 7 percent.