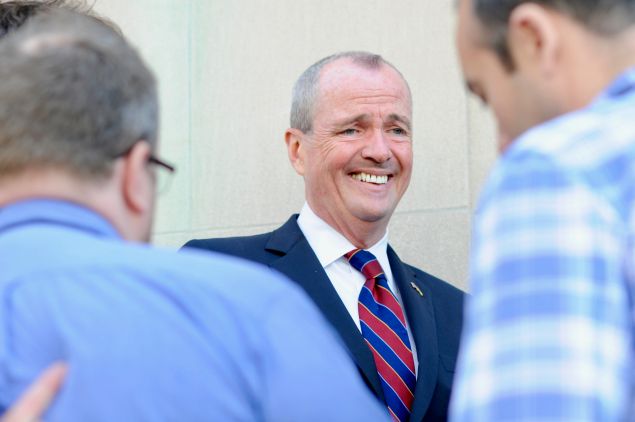 The first primary debates in the New Jersey governor's race will be a key test for the Democratic and Republican front-runners, Phil Murphy and Kim Guadagno, who have the most to lose from any gaffes, according to political experts.
Murphy, the former U.S. ambassador to Germany, and Guadagno, the state's lieutenant governor, both lack name recognition despite leading in their respective contests. The back-to-back primary debates on Tuesday will bring their platforms and personas into the public eye for what will be, for many, the first time.
Rider University political science professor Ben Dworkin said he expects Murphy will face attacks for his background as a Wall Street executive who made millions at Goldman Sachs. And Guadagno will have to continue distancing herself from Gov. Chris Christie and his low approval rating, he said.
Tuesday's primary debates at Stockton University will not air on any major broadcast television stations, which could depress ratings. But Dworkin said news outlets and social media would make up for the smaller viewership on NJTV if either Murphy or Guadagno makes a serious gaffe.
"In an era of YouTube, anything that's controversial, even when it's on at 4 o'clock in the morning, can get prime-time coverage," Dworkin said. "I don't think the fact that it's on NJTV will make much of a difference."
Murphy could face a united front of opposition from Assemblyman John Wisniewski (D-Middlesex) and former U.S. Treasury undersecretary Jim Johnson, while Guadagno will be sparring with Assemblyman Jack Ciattarelli (R-Somerset), a frequent critic of the governor.
"I think on the Democratic side we'll expect attacks by everyone not named Murphy, and going after him for his Wall Street background, his claims of outsider status, et cetera," Dworkin said. "But unless somebody makes a major mistake I'm not sure whether the dynamics of the race are really going to be altered."
Of the Republican debate, he said, "The giant presence in the room will be Chris Christie."
Matthew Hale, a political science professor at Seton Hall University, said opponents would seize on Murphy's sudden rise within the Democratic Party and his relative newcomer status as someone who has not held elected office. Johnson and Wisniewski have been attacking the boss-run party machinery in New Jersey that has given Murphy the coveted county lines in all 21 counties.
"Murphy and Guadagno win if it's a draw," Hale said. "He won all of the county endorsements; they're going to try to paint him as an insider. And I think that Kim Guadagno is going to get attacked because she's been around Chris Christie for seven years."
But Hale said Ciattarelli's approach may be to press Guadagno on specifics rather than highlighting the Christie connection. The assemblyman has needled Guadagno frequently for a vague promise to "audit Trenton."
"I think he's going to come out against her as not having done anything. 'She doesn't have a plan,'" Hale said. "I would try to get her flustered, to get her to be on the defensive and to make her look quiet, meek and weak."
The debates will air from 6:30 p.m. to 9 p.m. on NJTV.