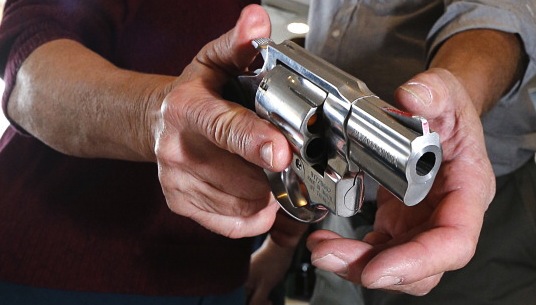 A bill narrowly expanding the kinds of retired law enforcement officers who may carry handguns in New Jersey passed the state Senate on Thursday and is headed to Gov. Chris Christie.
New Jersey's Legislature is better known for trying to tighten the state's gun control laws, some of the toughest in the nation.
But the Democrats who control it made a small exception with a bill that opens up the handgun permit process for retired New Jersey Transit officers, state park police officers, parole and juvenile corrections officers, and others.
The bill was sponsored by Sens. Gerald Cardinale (R-Bergen) and Jeff Van Drew (D-Cape May) and the vote was 27-7 on Thursday. The no votes came from Sens. Richard Codey (D-Essex), Sandra Cunningham (D-Hudson), Nia Gill (D-Essex), Joe Kyrillos (R-Monmouth), Ray Lesniak (D-Union), Robert Singer (R-Ocean) and Shirley Turner (D-Mercer).
The Assembly passed the bill 77-0 in December.
"We as a state have been stepping on people's right to protect themselves for too long," Cardinale said in a statement. "These individuals have spent their careers protecting our citizens. Let's give them the chance to continue that after they retire."
Christie has tried to loosen New Jersey's handgun permitting laws much more broadly, proposing changes that would water down a state regulation that requires people to show a "justifiable need," or an urgent ongoing threat, in order to get a carrying permit. Christie would require people to show only "serious threats."
But Democrats are in the process of blocking Christie's changes with their power to veto regulations that defy "legislative intent."
Under current law, retired law enforcement officials who had "broad carrying privileges" during their careers are among the very few who may get concealed-carry permits for handguns, from the time they retire and until reaching the age of 75.
The list currently includes local, county or state police officers, members of an interstate police force, state or county corrections officers, county park police officers, county prosecutor's detectives and investigators, and federal law enforcement officers.
The Senate gave final passage Thursday to a bill that would add retired special agents of the Division of Taxation and retired police officers for state parks, human services, New Jersey Transit and railways and college campuses. State conservation officers, Palisades Interstate Park police officers, Burlington County Bridge police officers, housing authority police officers and parole and juvenile corrections officers would also be included.
Spokesmen for Christie did not respond to a request for comment.
"We commend the legislators' efforts to expand concealed carry," said Alexander Roubian, president of the New Jersey Second Amendment Society. "However, we would never support legislation that creates separate classes of citizens. In normal states, they have permit processes for all residents and government officials to be able to exercise their Second Amendment rights, and that's what we're fighting for in New Jersey."
Bryan Miller, executive director of the gun control group Heeding God's Call, declined to comment.