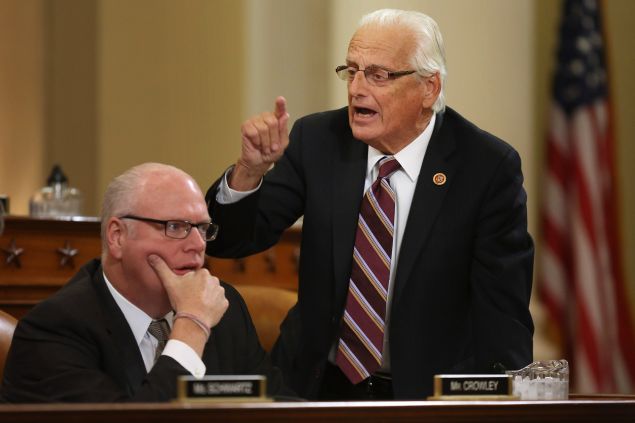 It was the Republican gubernatorial candidates' turn to mix it up Thursday, as Jack Ciattarelli and Kim Guadagno clashed on the best way to reduce the state's crushing property tax burden.
The news that former FBI Director Robert Mueller was selected as the special prosecutor investigating the White House got bipartisan support from New Jersey's often-divided delegation.
And lawmakers opposed to the Christie administration's rush job on financing an unpopular state renovation project say they will be in court today seeking a restraining order to stop work from moving forward.
Quote of the Day: "Former FBI Director Mueller has broad bipartisan support in Congress & across law enforcement & legal communities." – Rep. Frank LoBiondo.
Taxes, Taxes, Taxes at GOP Debate
The dreaded tax man loomed over the final Republican primary debate between Assemblyman Jack Ciattarelli and Lt. Gov. Kim Guadagno on Thursday night, with both candidates vowing dramatic restructurings of the state's finances while distancing themselves from Gov. Chris Christie.
Alyana Alfaro, Observer Read more
Live Blog: Last Republican Debate in NJ Governor's Race
Guadagno had the most to lose tonight, and seemed to successfully defend her lead in the polls. And she has the fundraising advantage over Ciattarelli heading into the June 6 primary.
Salvador Rizzo, Observer Read more
What N.J. lawmakers (and Trump) said about new special counsel for Russia probe
Deputy Attorney General Rod Rosenstein on Wednesday named former FBI Director Robert Mueller as a special counsel to oversee the current investigation into Russian involvement in the U.S. presidential election.
Jonathan D. Salant, NJ.com Read more
Lawmakers to seek restraining order to halt $300M Statehouse renovation
Several state lawmakers who are suing to stop Gov. Chris Christie's $300 million Statehouse renovation say they will seek a temporary restraining order on Friday to prevent the work from moving forward.
Ryan Hutchins, Politico Read more
GOP governor candidates argue over N.J. property taxes in final debate
The two leading candidates for the Republican nomination to succeed Gov Chris Christie agreed on at least one thing in their second and final primary debate Thursday night: New Jersey desperately needs to lower property taxes.
Brent Johnson, NJ.com Read more
Guadagno Takes Lead in Public Matching Funds
Lt. Gov. Kim Guadagno's campaign for governor has received nearly $1.78 million in public matching funds and that total surpasses all the other candidates from both parties, according to the Election Law Enforcement Commission.
Alyana Alfaro, Observer Read more
GOP Candidates Cool to ACA Replacement Bill
When it comes to federal efforts to reform healthcare, New Jersey's two main Republican gubernatorial candidates agreed during their first debate that Obamacare might be flawed, but the replacement plan proposed by GOP congressional leaders would be even worse for Garden State residents.
Lilo H. Stainton, NJSpotlight Read more
Why Democrats are pulling for Guadagno in the GOP primary
With the Republican gubernatorial primary tightening, a large group of New Jersey insiders is rooting for Lt. Gov. Kim Guadagno to maintain her edge over Assemblyman Jack Ciattarelli.
Matt Friedman, Politico Read more
N.J. State Police sues gun maker for $2.5M over 'life threatening' jams
The New Jersey State Police has sued a major firearms manufacturer, claiming the company gave state troopers defective guns and failed to fix the problem.
S.P. Sullivan, NJ.com Read more
Bayonne mayor hit with sexting scandal
A texting scandal is sending Mayor Jimmy Davis and his allies scrambling to defend bawdy messages he sent to a woman the city fired in December.
NJ.com Read more
Eye on Your Taxes: Overtime doubled 14 state employees' salaries in '16
The buck stops with New Jersey Gov. Chris Christie.
Just not all of the bucks.
Susanne Cervenka, Asbury Park Press Read more
NJ lost 300 jobs, but these companies are hiring
The state's unemployment rate of 4.1 percent was down from 4.2 percent from the previous month.
Michael L. Diamond, Asbury Park Press Read more
For a fast-rising Booker, can positivity sell to Dems eager to battle Trump?
Cory Booker arrived in Washington pledging to heal festering political divides, writing a book called "United" and lighting up social media with pictures of his dinner with the hard-right Texas Sen. Ted Cruz.
Jonathan Tamari, Inquirer Read more
Trump's tax returns stay secret as Republicans reject another Pascrell request
As the Justice Department named a special counsel to investigate Russian involvement in the 2016 election, House Republicans on Wednesday again refused to seek President Donald Trump's tax returns.
Jonathan D. Salant, NJ.com Read more
The guy Christie told to sit down and shut up wants a seat in Congress
Former Asbury Park Councilman Jim Keady, who famously was told to "sit down and shut up" by Gov. Chris Christie, wants to take on Rep. Chris Smith next fall.
NJ.com Read more
East Rutherford woman speaks out on social media on being choked by Turkish security guard
A young woman from East Rutherford said she was threatened and choked by the bodyguards of Turkish President Recep Tayyip Erdogan at a protest outside the Turkish embassy in Washington, D.C. on Tuesday — a melee that left protesters bloodied and politicians demanding answers.
John Brennan, The Record Read more
N.J. Indonesian man deported by ICE leaves behind young citizen son
An undocumented immigrant who said he escaped religious persecution was deported to Indonesia Thursday afternoon after living in the U.S. for 16 years.
Karen Yi, NJ.com Read more
Horizon CEO Marino on attacks from Christie
In this excerpt from an exclusive interview with NJBIZ from his office in Newark, Marino talked about how he has been handling the personal criticism.
Anjalee Khemlani, NJBIZ Read more
Top Dem urges Rider U. to keep Westminster Choir College open in N.J.
A top Democratic lawmaker is calling on Rider University to "make every effort" to keep Westminster Choir College open and in New Jersey.
Cristina Rojas, NJ.com Read more
Will N.J. ban employers from asking your salary history?
New Jersey may soon join New York in what's becoming a nationwide fight to ban employers from asking you about your salary history, according to Senate Majority Leader Loretta Weinberg (D-Bergen).
NJ.com Read more
New lower speed limits near NJ schools: Safety or speed traps?
Speed limits on roads near schools may be lowered if a bill advanced Thursday by an Assembly committee makes into law.
Michael Symons, NJ101.5 Read more
Atlantic County gets ratings boost on economic outlook
Atlantic County's economic outlook got a ratings boost from Standard and Poor's Global Ratings this month.
Press of Atlantic City Read more
First assistant Monmouth County prosecutor among Christie's picks for Superior Court
The Monmouth County prosecutor's right-hand man, Marc LeMieux, was nominated Thursday to the Superior Court bench, Gov. Chris Christie announced in a statement.
Alex Napoliello, NJ.com Read more
Paterson ex-councilman said to want $15K to settle
Former Councilman Julio Tavarez wants a retraction and $15,000 to settle the defamation lawsuit he filed against his former colleagues involving the "no confidence" vote they took against him in 2015, officials said.
Joe Malinconico, Paterson Press Read more
Chris Christie for Drug Czar? Let's hope the Donald cuts that out of the budget
Hardly a day goes by without Chris Christie showing up at some drug-rehab center to repeat his assertion that drug abuse is a disease and should be treated as such.
Paul Mulshine, NJ.com Read more
Opinion: NJ's Marijuana Push Could Bring New High in Special Interest Spending
As the push to legalize marijuana intensifies, New Jersey residents could see a significant increase in issue advocacy, direct lobbying and election-related spending.
Jeff Brindle Read more