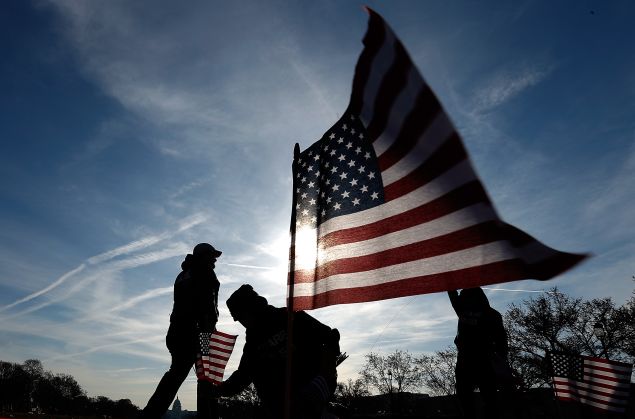 Veterans with mental health problems might get a break under a plan to create a diversion program to keep them out of court and jail. NJSpotlight reports that New Jersey is one of several states seeking to implement such programs.
Even as federal lawmakers are congratulating themselves for reaching a pact that avoided a government shutdown, in Trentonm Senate President Steve Sweeney is threatening to shut down state government unless everyone agrees to shift education dollars away from districts that are overfunded under the terms of state law.
With primary day approaching, the race to replace Gov. Chris Christie is heating up, with a Monday night forum featuring nine candidates taking questions and Lt. Gov. Kim Guadagno rolling out her first TV ad. It doesn't mention she's lieutenant governor, but she does take credit for economic growth in the Christie years.
Quote of the Day: "The Senate is not going to pass a budget that doesn't start to address the unfairness in this funding formula." – Senate President Steve Sweeney, threatening a shutdown of state government.
New Jersey to Create Diversion Program to Keep Vets Out of Court
New Jersey will join dozens of other states that seek to divert nonviolent veterans with mental health challenges from the criminal justice system into a network of treatment and support services.
Lilo H. Stainton, NJSpotlight Read more
Guadagno's first TV ad doesn't mention she's lieutenant governor
Kim Guadgano has released the first television ad of her campaign for governor, but the 30-second spot, titled "Better" leaves out at least one major biographical detail: That she's the state's first lieutenant governor and has been for the last seven years.
Matt Friedman, Politico Read more
NJ Gov Race: A Primer on All the Candidates
A few leading lights have so far dominated the discussion of the New Jersey governor's race, with Assemblyman Jack Ciattarelli, Lt. Gov. Kim Guadagno former U.S. Ambassador Phil Murphy and Assemblyman John Wisniewski racking up the most headlines.
Alyana Alfaro, Observer Read more
9 things we learned from listening to 9 governor candidates on 1 stage
With New Jersey's primary election barely a month away, nine of the 11 major party candidates hoping to replace Gov. Chris Christie gathered on Monday night to field questions about how they'd lead the nation's most densely populated state.
Claude Brodesser-Akner, NJ.com Read more
After Failure to Qualify, GOP Gubernatorial Candidates Plan Alternate Debate
Republican gubernatorial candidates Nutley Commissioner Steve Rogers and Joseph "Rudy" Rullo did not qualify for the May 9 primary debate to be held at Stockton University. Now, the two candidates are planning to broadcast an alternate debate online.
Alyana Alfaro, Observer Read more
Lawmakers to airlines: Improve service or Congress steps in
Frustrated Republicans and Democrats on Tuesday warned top airline executives to improve customer services or face congressional intervention after a passenger was dragged from a United Airlines flight in an incident the company's chief executive called a "mistake of epic proportions."
Associated Press Read more
Will N.J. medical pot panel allow more patients to qualify when it meets next week?
The advisory panel to the state's medical marijuana program is scheduled to meet next week to discuss which illnesses should be added to the list that qualifies people to buy legally-grown cannabis.
Susan K. Livio, NJ.com Read more
Christie's crusade on pot is all bluster and hypocrisy
Keep the faith: Gov. Chris Christie has less than nine months left in office, meaning that a New Jersey baby conceived today may be spared the burden of living a single day under his demented rule.
Tom Moran, Star-Ledger Read more
House vote on Obamacare repeal still possible. Where do your N.J. lawmakers stand?
Despite President Donald Trump's assurances last weekend that people with pre-existing medical conditions will be covered under the latest version of a bill that repeals and replaces Obamacare, there aren't enough Republicans willing to vote yes, according to published reports.
Susan K. Livio and Jonathan D. Salant, NJ.com Read more
5 ways the budget deal could affect New Jersey
In a sign that the government is not totally broken, House and Senate leaders reached an agreement over the weekend and expect this week to pass a $1 trillion bill that funds the federal government through the end of September.
Herb Jackson, The Record Read more
Feds will reimburse local governments for Trump security costs
U.S. Rep. Leonard Lance (R-N.J. District 7) announced Tuesday that the federal Department of Justice is permitting New Jersey, New York and Florida to apply for funding to reimburse costs for protection of President Trump during the presidential transition.
Mike Deak, Daily Record Read more
New Jersey Lawmakers Join Effort to Raise Federal Minimum Wage
A debate over the federal minimum wage that appeared to have ended last year as the national election results came in has now been renewed in Washington, D.C., and several lawmakers from New Jersey are among those who are attempting to breathe new life into the issue.
John Reitmeyer, NJSpotlight Read more
Sweeney threatens N.J. government shutdown over school funding
New Jersey Senate President Stephen Sweeney on Tuesday threatened to shut down state government next month, declaring he would block a budget that doesn't change the formula the Legislature uses to fund schools.
Andrew Seidman, Inquirer Read more
NJ Lawmakers Question Amtrak's Scheduling Decisions for Penn Station Repairs
Amtrak's preliminary plan for construction at New York Penn Station would make for a long, hot summer for NJ Transit riders with 44 days of weekday work including most of August.
JT Aregood, Observer Read more
Christie rejects bill regulating puppy mills, saying it goes 'too far'
Gov. Chris Christie has rejected legislation aimed at preventing puppy mills from selling animals to pet shops and private breeders in the state, arguing the penalties were likely "unconstitutional" and the state's role in policing the industry would be too burdensome.
Susan K. Livio, NJ.com Read more
Half the people in NJ drink water from a troubled utility
Can you trust that the water flowing from your kitchen faucet is safe to drink? For millions of New Jerseyans, the answer is "no."
Russ Zimmer, Asbury Park Press Read more
Berkeley mom: state cutback puts disabled son at risk
Berkeley resident Pat Falotico tried to take her developmentally disabled son Johnny to a local gym, so he could get some exercise. Instead, he got overwhelmed.
Jerry Carino, Asbury Park Press Read more
Randolph cop wanted $4.75M to settle lawsuit but got $87K from jury
Randolph Police Officer Melissa Bailey, whose two attorneys want a total of $2.77 million in legal fees and costs after winning an $87,403 jury award against the township in December, had offered to settle her gender discrimination/retaliation claims during the trial for $4.75 million, according to court records.
Peggy Wright, Daily Record Read more