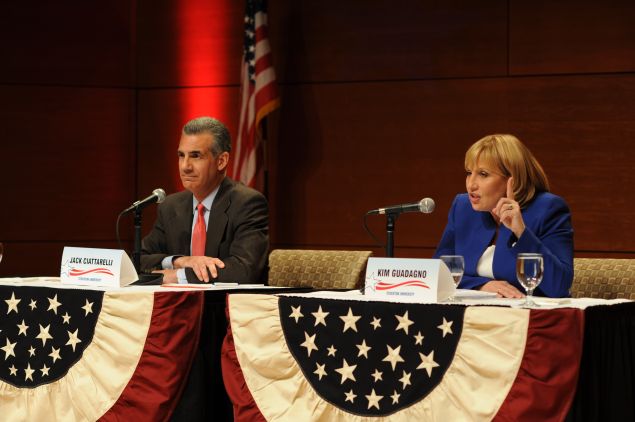 GALLOWAY — In their first real duel as Republican primary candidates for governor, Lt. Gov. Kim Guadagno and Assemblyman Jack Ciattarelli launched a series of calibrated attacks at each other during a discussion that focused primarily on New Jersey's sky-high property taxes.

Both candidates came to Stockton University's primary debate armed with sharp attack lines and detailed policy talking points, and each held their ground without committing major gaffes.
For Ciattarelli, the attacks were mostly aimed at Guadagno's proposed property tax plan and her service under the unpopular sitting governor, Chris Christie.
He repeatedly bashed her "circuit breaker" proposal — which would give state residents a credit of up to $3,000 off their property tax bills — again and again. Guadagno doesn't have a plan to cover the $1.5 billion yearly cost in a strained $35 billion budget, he charged. "Taxpayers do not want to hear excuses," Ciattarelli said. "They do not want to hear promises of tax relief based on fantasy and phantom revenues."
The lieutenant governor defended the plan as the only significant and immediate way to cut taxes and cast herself as the only candidate on either side of the aisle who would block tax increases.

The assemblyman says the better way to attack the property tax problem is by rewriting the state's school funding formula to redistribute aid away from urban districts and toward suburban and rural areas that have complained of being underfunded for years.
But New Jerseyans need relief now, Guadagno argued, not in "two or three years when Jack Ciattarelli gets his school funding formula through the Legislature."
"The circuit breaker that we have provides benefits to 1-to-1.5 million people," Guadagno said.
Ciattarelli did not hesitate to remind viewers and audience members that Guadagno was part of Christie's administration. With the governor's approval rating stuck below 20 percent, both Guadagno and Ciattarelli have distanced themselves from Christie during their gubernatorial campaigns. Ciattarelli zeroed in on the Christie connection and implied that Guadagno had to ask for the governor's "permission" before making her own stances known.
Guadagno called that an evasion given that Ciattarelli voted for Christie twice. 
Neither Guadagno nor Ciattarelli supported Christie's deal with the Legislature last year to hike the gas tax by 23 cents per gallon in order to fund the state's near-bankrupt Transportation Trust Fund. But they still found ways to accuse each other of hypocrisy on that issue. Guadagno noted that Ciattarelli supported an earlier hike proposed in 2012 before he opposed a larger one in 2016.
"The lieutenant governor sat by silently," Ciattarelli said. "It wasn't until after the whole deal was done that she spoke up with opposition."
But they agreed on law enforcement issues, with both taking a hard line on sanctuary cities. And both said they would favor decriminalizing marijuana, but not full legalization as the Democratic candidates want.
When asked about the recent House victory of the American Health Care Act — the controversial GOP plan to repeal and replace President Barack Obama's Affordable Care Act — both Guadagno and Ciattarelli agreed that a health care plan that would rollback a 2013 Medicaid expansion signed by Christie would be detrimental to New Jersey residents.
Under the GOP plan, 500,000 New Jerseyans and 24 million Americans who are Medicaid-dependent could lose coverage, according to an analysis of an earlier version of the legislation by the Congressional Budget Office.
"As I read it now, it is a disaster and we have to fix it," Guadagno said of the AHCA. But she added that Obamacare as it is was "slowly going broke." The focus should be on a way to fix the law rather than defunding it.
Ciattarelli withheld judgment on the AHCA due to the changes that will likely be made to the bill in the U.S. Senate. However, Ciattarelli did say that the next governor needs to work with the New Jersey congressional delegation to make sure that the state's working poor do not lose coverage.
When the debate ended, Guadagno's campaign sent an e-mail blast declaring victory. Ciattarelli's campaign spokesman Chris Russell disagreed and said Ciattarelli won the debate "hands down."