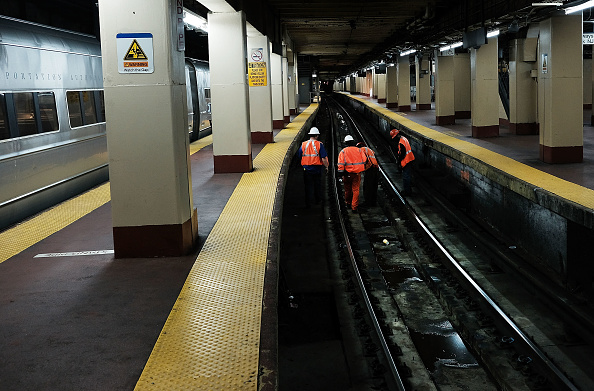 NEWARK — Rail commuters in New Jersey can expect delays of up to an hour and a half on some days this summer as Amtrak makes urgent repairs to tracks at Penn Station, according to testimony taken Wednesday at a hearing of a special legislative committee investigating a rash of NJ Transit derailments and delays this year.
NJ Transit's top official cast blame on Amtrak and defended a plan announced by Gov. Chris Christie to reroute trains on the Morris and Essex line through Hoboken starting in July, which will force an estimated 7,500 commuters to switch to PATH trains at the end of their commute or take extra buses in order to get to New York, adding 60 to 90 minutes to their commute on some days.
Steve Santoro, the executive director of NJ Transit, testified that his agency had not been made aware of the most recent rail issues until two train derailments earlier this year shined a spotlight on the frayed conditions at New York Penn Station. The imminent traffic morass this summer while Amtrak repairs a series of tracks has become one of the biggest issues for New Jersey lawmakers and gubernatorial candidates this year. Critics say although Amtrak owns and operates Penn Station, Christie also has been neglecting NJ Transit for years.
"New Jersey Transit was not aware of the level of degradation that exists right now at New York Penn Station," Santoro said. He called on Amtrak to include NJ Transit in the decision-making process in the future to avoid similar issues.
Christie last week announced a plan to cut fares as much as 63 percent for affected commuters. That fare cut, and cross-honoring for passengers who take alternate routes to get into New York City, could cost the state budget as much as $15 million for fiscal year 2018, Santoro said. He said that because Amtrak created the issue, NJ Transit is "keeping options open" in order to recoup costs from Amtrak.
Amtrak officials said they should not be responsible for the cost.
"As far as I am aware, we haven't had that kind of agreement with any agency," said Scot Naparstek, Amtrak's chief operating officer.
When asked about NJ Transit's claims that Amtrak did not share information about the degradation of the tracks, Naparstek said that now that NJ Transit is contributing "their fair share," there would be broader discussions on investments.
"The focus here is how do we move forward," he said. "I think the specifics of our plan have been primarily conversations around outages and the work."
Assemblyman John McKeon (D-Essex), who co-chairs the legislative committee along with state Sen. Bob Gordon (D-Bergen), said that communication lapses appeared to be a "chronic issue" for the two agencies.
Gordon said that he hopes federal investments on transit projects in the region are forthcoming, something that could quell funding issues for the transit agencies.
"For many, many years, the Congress has not adequately invested in Amtrak," Gordon said. "I think what we are seeing now is the result of that. … I hope that members of Congress are listening and will get the message."