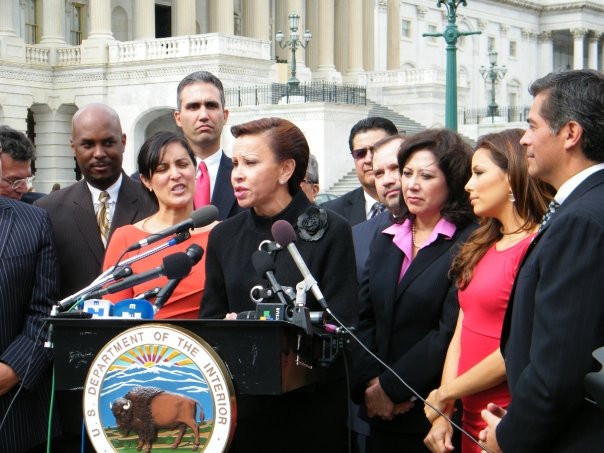 Congressman Hakeem Jeffries and Congresswomen Yvette Clarke and Nydia Velazquez tore into the State Senate's eight-member Independent Democratic Conference, which has held a power-sharing agreement with the Republican caucus since 2012.
WNYC's Brian Lehrer asked the three members of the House Democratic minority whether they supported running challengers against the turncoat coteries, which receives committee chairmanships—and the attending salary stipends for leadership roles—in exchange for bolstering GOP control of the upper chamber. Jeffries answered first, tentatively, specifically targeting State Senator Jesse Hamilton, whose district overlaps with his own and who joined the IDC just before Election Day last year.
"I would have to evaluate every individual on a case-by-case basis, but I'm deeply troubled by the membership of at least one of the state senators from the Central Brooklyn area who recently joined the IDC, and the implications that has on blocking progressive legislation in the State Senate," Jeffries said.
Clarke, whose turf also overlaps with Hamilton's, offered even stronger words.
"I agree with Hakeem, but I think that there needs to be a real intervention, because this new system that's been set up in the State Senate had not benefited the state overall," the congresswoman maintained. "And with this construct is very difficult to say that we are progressive, when we're caucusing with Republicans who are clearly not working in the best interests of the entire state."
Clarke and Jeffries both backed Hamilton's primary opponent, Rubain Dorancy, in 2014. The two Congress members are rivals with Brooklyn Borough President Eric Adams, who held the State Senate seat before Hamilton and is seen as the Albany lawmaker's mentor and political patron.
Velazquez highlighted the provisions in the American Healthcare Act, which the House GOP passed yesterday, which would deny New York federal reimbursement for Medicaid funds it raises from upstate and Long Island counties. This would impact some $2.3 billion that currently flows into the program annually, and likely force the burden for sustaining the low-income insurance program onto taxpayers in the five boroughs.
The AHCA, which would abrogate Obamacare, awaits the approval of the Senate, where it faces uncertain prospects. But Velazquez, whose Brooklyn-Manhattan district also overlaps slightly with Hamilton's, argued the state needs to be prepared to exert maximum leverage upon insurers to force them to continue covering as many people as possible—which she suggested was only possible with a unified Democratic government.
"We need progressive senators to support such an offense, or such legislation," she said. "If you run as a Democrat, you should behave as a Democrat."
A special election in Harlem this month will almost certainly give registered Democrats a one-seat numerical edge in the State Senate. However, Brooklyn State Senator Simcha Felder—who is not part of the IDC—has sat with the Republicans since his election in 2012.
The IDC has argued that their coalition with the GOP, which began when Republicans were voted into the minority almost five years ago, allows them to advance liberal initiatives: among them, recent increases in the minimum wage, the state's paid family leave program, a new statute that prevents prosecutors from trying minors as adults in most—but not all circumstances—and a $10 million fund in this year's state budget that will provide free legal services to undocumented immigrants facing deportation.
"This is a signal of a functioning government, and Senator Hamilton has a stellar record of fighting for the people of New York," said IDC spokeswoman Candice Giove.
Further, Hamilton and State Senator Marisol Alcantara, another newly minted member of the renegade faction, have asserted their critics are racists opposed to people of color holding positions of power.
The mainstream Democratic conference and liberal groups have maintained the liberal-leaning legislation the State Senate approves under the IDC-GOP accord comes out badly diluted by concessions to Republican priorities. Gov. Andrew Cuomo has stated he is indifferent to the arrangement, even though he is known to enjoy a close relationship with Bronx State Senator Jeffrey Klein, leader of the IDC.
Klein has sponsored a number of the governor's signature initiatives in the State Senate, and Cuomo often praises IDC members in speeches and allocates money for projects in their districts.
Congressman Jerrold Nadler also attacked the IDC last month.