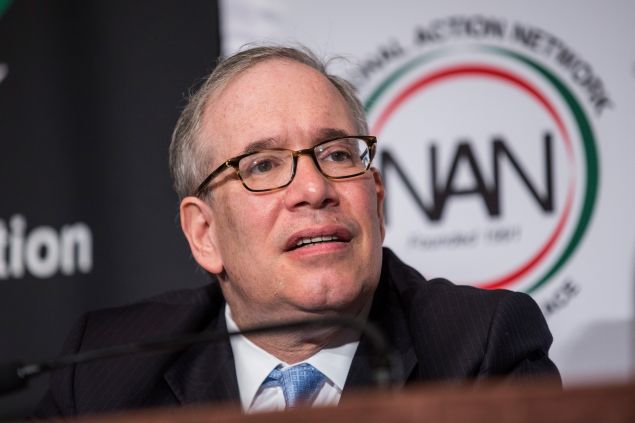 In a preliminary analysis released today, Comptroller Scott Stringer anticipated that the city could lose at least $850 million in key funding for social services, education and housing in its budget should President Donald Trump's budget proposal become reality.
On Tuesday, Trump released his fiscal year 2018 spending plan, a more detailed version of the so-called "skinny budget" that he unveiled in March. The second draft includes an additional $600 million in cuts to Medicaid and would slash initiatives like the Women, Infants, and Children program, the State Children's Health Insurance Program, and Temporary Assistance for Needy Families.
The budget also eliminates the $48 million Community Services Block Grant that funds rental assistance, summer youth employment and adult literacy programs.
"This president is trying to shred our social safety net—from outright elimination of programs like Community Development Block Grants and the Home Energy Assistance Program, to cuts to workforce training and public housing," Stringer said during a City Council budget hearing.
The results, the city financial officer warned, would be devastating for New York's social systems and programs. CHIP provides healthcare to nearly 128,000 children in New York City.
And the president's longstanding call for the complete elimination of all funding for the arts and the humanities, would impact museums and education services "in all of our communities," Stringer said.
Trump's proposed budget also would pare back federal reimbursements for Medicaid, which provides healthcare to 3.5 million city residents and nearly $20 million in yearly federal funding to healthcare providers. The cuts would go into effect starting in fiscal year 2020, with reductions eventually reaching 24 percent by 2027.
"On top of that, the Trump administration is proposing even deeper cuts to Medicaid funding that will add a major burden to our state and city budgets and strain our Health + Hospitals system to the breaking point," Stringer continued. "We have to anticipate the impact of these significant cuts, and be prepared with a sound and responsible city budget."
The plan also features a 38 percent shrinkage of Workforce Innovation and Opportunity Act grants for employment, education, training and support services for job seekers, and a 10 percent bite out of Temporary Assistance for Needy Families grants.
The budget cuts the federal contribution to the New York City Housing Authority public housing operating budget by 20 percent, resulting in a $165 million cut to its operating fund. And Trump has proposed cutting the public housing capital fund by two-thirds, which comes out to at least $200 million annually to NYCHA. In March, the Wall Street Journal reported that NYCHA would face at least $35 million in federal funding cuts this year.
And Trump's proposed budget also requires a 25 percent non-federal match for Homeland Security Grants that support the NYPD's counterterrorism work, or $27 million; eliminates Subsidized Student Loans, which benefited nearly 19,000 City University of New York students and reduces the Federal Work-Study Program by 50 percent. It also limits Social Security Disability Insurance benefits and reduces Supplemental Security Income benefits.
At the end of April, de Blasio presented his $84.68 billion budget proposal. The liberal Democrat maintained that the "uncertainty" in Washington would not prevent him from once again boosting municipal spending—and that he was counting on activist pressure across the country preventing Trump's vision from becoming reality.
Economists recently indicated that Trump's claim that the budget proposal will cut the United States' deficit in 10 years is dubious.