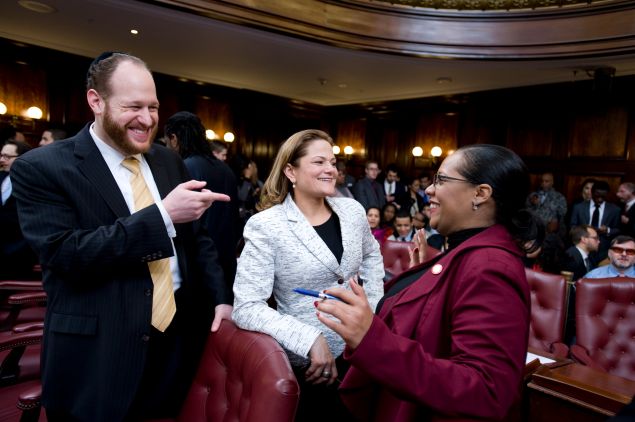 Council Speaker Melissa Mark-Viverito today argued Councilman David Greenfield, her chairman of the powerful Committee on Land Use, has a legal right to use a state campaign account to circumvent local regulations barring politicians from raising money from real estate companies.
The Observer revealed on Monday that the councilman has maintained GreenfieldNY, a political committee for an undeclared state office, since his campaign for re-election to the Council in 2013. Greenfield received the Land Use Committee chairmanship in the next year in exchange for the Brooklyn Democratic Party's support of Mark-Viverito's speakership bid.
The post has given him oversight of all projects in which a developer seeks changes or exemptions to zoning regulations—and real estate money has poured into GreenfieldNY during the intervening years.
"My understanding is that everything is, is legally done. You can have your questions, those questions would be better directed to Council member Greenfield," Mark-Viverito told the Observer at a press conference at City Hall today. "Everything that's been done, you can have your—your implication of it, but everything that's been done is legal."
As of January, GreenfieldNY had a balance of $308,641.71. Of that, $86,600 came from corporate donors, all but a few of them directly tied to development interests—donations that city Campaign Finance Board rules explicitly forbid, but which state Board of Election regulations allow.
Another $90,000 came in contributions exceeding the $2,750 ceiling the CFB imposes on candidates for local office. Most of that money also came from real estate company principals and investors.
A number of the donors have proposed projects that would ultimately have to come before the Land Use Committee for a vote.
Managing and profiting by the account is operative Kalman Yeger, the husband of Jennifer Berger, a Mark-Viverito staffer. Yeger himself, with help from his boss, has amassed cash for a Council campaign of his own—against Brooklyn Councilman Chaim Deutsch, whom Greenfield has long perceived as a rival.