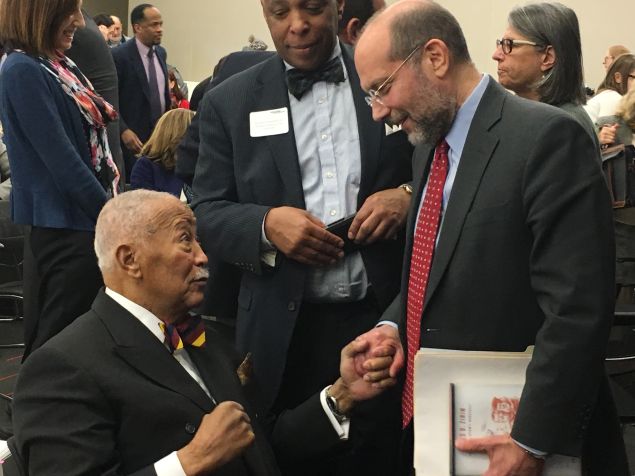 Council members representing low-income minority districts blasted Department of Social Services Commissioner Steve Banks and Mayor Bill de Blasio's plan to dramatically expand the number of homeless shelters, arguing that it will adversely affect districts that are already overburdened and oversaturated with shelters.
At the end of February, de Blasio announced his long-awaited plan to contain the explosion of homelessness across the city, which aims to lower the record 60,000 people currently living in city shelters by 2,500—about 4.17 percent—over the next five years. The mayor said the city would open 20 new shelters this year and 20 new shelters next year, building toward a goal of opening 90 such facilities over the next half-decade.
In response to questions from Bronx Councilman Rafael Salamanca, the commissioner said he agreed the city had "built up" too many temporary housing facilities—particularly notorious "cluster-site" shelters: often-decrepit apartments the city rents for indigent families, with no on-site social services—and that the administration intends to close 39 of 65 sites in the area.
"The growth of these cluster sites over 17 years in your district presented problems," Banks said during the Council's hearing on the Department of Homeless Services, incorporated with the Human Resources Administration into the Department of Social Services since last year. "But on the other hand, as we implement the plan, there's a real need for us to close things and open things and the timing can't always be the same."
De Blasio wants to close 360 cluster-site shelters by 2021 and discontinue the controversial use of commercial motels as shelters by 2023. The mayor has acknowledged that in order to close site shelters, the city will have to continue lodging individuals and families in commercial motels, and even temporarily increase its use of such facilities.
The professed aim of the mayor's plan is to locate enough shelter beds in each neighborhood of the city to cover all homeless people originating in that neighborhood. The administration has argued that this would result in a fairer distribution of shelters—but representatives from poor communities assert this will continue to disproportionately place shelters in their home areas, since more indigent families come out of low-income neighborhoods.
When Salamanca asked Banks if DHS has a system that identifies when communities are overburdened, Banks said the city's plan pushes for equitable siting at the end of the five-year period but that "in order to close places we have to open places."
But Salamanca noted that in his district, he has 484 cluster-site apartments, which house 1,700 individuals. He added that his district has 25 shelters of various varieties, including nine converted hotels, eight Tier II nonprofit family shelters with on-site social services, five adult shelters and two Safe Haven sites—a low-threshold temporary housing option for chronically street homeless individuals.
He said that the city is planning to open up a third Safe Haven site in his district and that neither his office nor the mayor's office have responded to a May 8 letter he sent them. The city, he said, is housing 1,222 individuals in his local community board area, despite only 705 of them being from that community—and 1,142 people in Community Board 3 with only 840 from that community.
"So in those two community boards alone, we're over-capacity of 819 individuals that do not live in these neighborhoods," Salamanca said. "Commissioner, can you explain that to me? I see that as an overburdened community."
Banks said the Council received a briefing on the cluster closure program but that he can give Salamanca a full briefing "if we haven't been responsive." Salamanca said the administration has "failed" to understand the issue and that he is "totally opposed" to their plan.
"I understand that we wanna keep our families in their communities and we wanna keep our children near their schools to see their friends and to see their healthcare providers," he said. "But when you're bringing in other families from outside other communities, I need to speak up and that's what I'm doing."
Banks insisted that the administration's plan seeks to address that problem.
The commissioner said that as of the 2018 executive budget plan, the HRA budget is $9.7 billion for fiscal year 2017, including $7.3 billion in city funds, and $9.9 billion for fiscal year 2018, which includes $7.5 billion in city funds. The DHS budget is $1.6 billion—$883 million of which is city funds—in fiscal year 2018.
Brooklyn Councilman Robert Cornegy said that the plan costs four times the amount it would take to "temporarily house an individual and/or family as opposed to long-term sustainable housing." He said that his district—which he called the "epicenter of gentrification right now"—feels oversaturated.
"I'd love to be an advocate on behalf of the administration's plans but it's difficult for me to do when there's no real coordinated effort to do that," Cornegy said. "I am probably the greatest credible messenger on behalf of the administration in my district alone and the lack of coordination is a little disturbing to me. I'd like to talk about the fiscal impact of the proposed shelters."
Banks told Cornegy that the funding for the 90 shelters comes out of the current expense budget that the city is using to provide shelter as part of its projections.
When Councilman Bill Perkins asked Banks whether the city can end homelessness, Banks said the plan is "aimed at addressing homelessness in the way it's never been addressed before." He also said that the new plan gets the city away from treating the homelessness crisis as merely an emergency situation and actually coming up with a plan that says "we can do better" and have a smaller shelter system.
"I think we've come to accept homelessness as a fact of life in this city and I don't want to accept that," Perkins said. "I want us to challenge that."