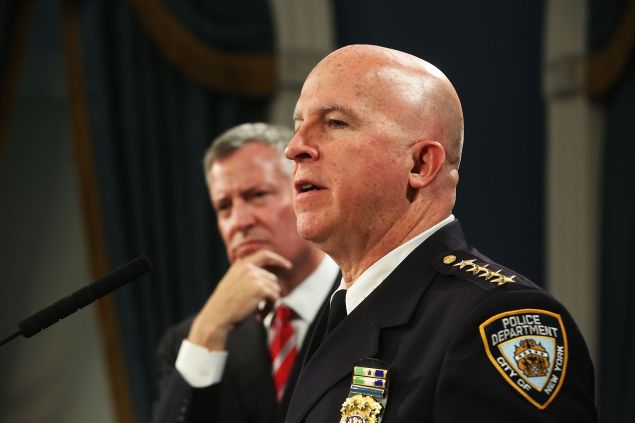 Police Commissioner James O'Neill told reporters today that he will not march in the 60th annual Puerto Rican Day Parade because of its plans to honor recently-released Puerto Rican nationalist Oscar López Rivera—breaking with Mayor Bill de Blasio, City Council Speaker Melissa Mark-Viverito and a number of activists who have all defended the former member of theMarxist-Leninist Fuerzas Armadas de Liberación guerrilla faction.
Earlier this month, the parade's leadership—which includes Mark-Viverito, a longtime López Rivera supporter—announced it will give  its first-ever "National Freedom Hero" designation to the leftist leader the parade, which will take place on June 11 along Fifth Avenue. In January, former President Barack Obama commuted the sentence of Lopez Rivera, sentenced to 70 years for seditious conspiracy, robbery, transportation of explosives and firearms and an attempt to escape federal prison.
The NYPD Hispanic Society has announced it will not participate in the festivities because of López Rivera's presence, and Goya Foods has pulled its usual sponsorship.
"I usually do march in most of the parades with the fraternal organizations, but I'm not going to be marching this year," O'Neill told reporters following a City Council hearing this morning.
"I cannot support a man who's the co-founder of an organization that engaged in over 120 bombings," he continued.
But he said that he will be in attendance at the parade to "probably say hello to them."
"We have thousands of police officers that police the event and I probably will attend but it will be to talk to the police officers at the event," he added.
O'Neill's comments contrast with those of Mayor Bill de Blasio, who recently defended the organizers for planning to give the designation to López Rivera. City Council Speaker Melissa Mark-Viverito has said she is "really proud" of the fact that López Rivera is "returning to us."
This morning, Mark-Viverito joined 1199 SEIU, Boricua Human Rights Network, Free Oscar López Rivera Now, El Puente, 35 Mujeres NYC, LatinoJustice PRLDEF, UPROSE, Hispanic Federation and Positive Workforce to stand up for the Puerto Rican Day Parade in light of opposition.
The FALN admitted that it was responsible for at least 70 bombings in New York, Chicago and Washington, D.C. between 1974 and 1983—including the blast that killed four people at the Wall Street-area Fraunces Tavern in 1975. But López Rivera and his arrested comrades insisted that they are enemy combatants, and as a result cannot be subject to the American criminal justice system.
His sentence was connected to his work as a bomb-maker, smuggler of weapons and a trainer of armed guerrillas, and not for personally detonating any of FALN's lethal armaments.
In 1999, outgoing President Bill Clinton offered to commute López Rivera's sentence as well as those of all but two of his co-defendants given that he was never convicted of specific crimes that resulted in deaths or injuries. The only condition was that that he renounce violence.
But López Rivera rejected Clinton's offer because he did not want to leave other members of his community behind. If he had agreed, he would have been released from prison in 2009.